Destination Green: India's sustainability policy journey
The country's efforts towards achieving its Zero Carbon commitments are progressing, but the inconsistent and unpredictable nature of policy changes are among the key bottlenecks.
Nitin Gadkari, the Minister for Road Transport and Highways — is a true ambassador for sustainability in the country. Naturally, he arrived at the recently held automotive industry's annual convention of SIAM, ACMA and FADA in New Delhi mid-September in his FCEV Mirai urging the industry to move towards zero emission vehicles adopting multiple technologies — right from bio-fuel, Ethanol, Hydrogen, battery electric vehicle — and do it locally for India and the rest of the world.
Addressing the entire ecosystem that includes vehicle makers, parts makers and automotive retail fraternity over three days in his own inimitable style, Gadkari cajoled at times, made veiled threats at times, but assured that the government is keen on working alongside the industry to move towards a safer and cleaner environment, where India can become reliant and do away of massive fuel import bill that keeps on rising.
'India's fossil fuel import bill will surpass Rs 25 lakh crore in the next five years, a significant rise from the Rs 16 lakh crore': Nitin Gadkari, Minister for Road Transport and Highways
Applauding the industry for their intense work down towards BS VI vehicles and pushing the zero-emission vehicle bandwagon, Gadkari says the automotive industry is very critical for the growth of India's GDP, but it has to happen in a "sustainable manner," and he is ready to work with the industry to rapidly transition towards zero-emission future.
Carrot-and-stick policy
Gadkari cheekily reminded the audience of his remark in 2017. He had said at the time that if the industry does not align, he is even willing to drag the industry along. But he assuaged the audience that the government will be working in tandem with the industry.
"Either convince me or get convinced by me," told Gadkari to the biggest CEOs and CXOs of the Indian automotive industry congregated at the National Capital.
For Gadkari, hydrogen represents the fuel of the future, and he envisions reducing the cost of green hydrogen from the current Rs 300 per kg to just US$ 1.00 per kg (current exchange rate is Rs 83). "We want to be a major exporter of green hydrogen," he declared at the event. But hydrogen is just one amongst almost half a dozen cleaner alternatives that the government is looking to incentivise.

The Union Government in February this year inferred that 5.9 million tonnes of lithium reserves had been found for the first time in the country in Jammu and Kashmir.
What's the rush?
Anuraag Bharadwaj, Vice President and Industry Platform Leader for Automotive – India at Capgemini says that with approximately 3.4 crore vehicles on road, India is facing a monumental challenge in controlling vehicular emissions. Vehicular emissions stand as a major contributor to air pollution in India's urban areas, accounting for 20-30 percent of particulate matter (PM) 2.5 at the breathing-level air quality. Achieving India's net zero ambitions hinges significantly on embracing clean mobility practices.
To be sure, India's Prime Minister, Narendra Modi, made a significant announcement during the COP26 climate summit, held in Glasgow in November 2021. India has committed to ambitious climate goals, including reaching net-zero carbon emissions by 2070 and expanding its non-fossil energy capacity to 500 gigawatts by 2030. This commitment involves reducing approximately one billion tonnes of estimated carbon emissions.
"To achieve these targets, India should consider a strategic shift in its transportation approach, with a greater emphasis on public transportation, specifically e-buses and rail-based systems, in addition to addressing private vehicle emissions. India is currently one of the world's top five automobile markets and has already demonstrated a strong commitment to promoting electric vehicle (EV) adoption within the country," explained Bharadwaj.
Rising air pollution and rising fossil import bills accelerating the transition to EVs
As the fourth-largest greenhouse gas emitter globally, India finds itself at a critical juncture with the need to fast-track the transition to environmentally safer fuels. According to recent environmental studies, the transportation sector alone accounts for approximately 8 percent of the country's total greenhouse gas emissions.
The findings of the Air Quality Life Index, a ground-breaking study by the Energy Policy Institute at the University of Chicago (EPIC), further emphasises the seriousness of the situation. Nowhere is this crisis more evident than in the densely populated mega-city of New Delhi, often dubbed the world's most polluted metropolis. In this concrete jungle, where the air hangs heavy with toxic particles, the average life span has plummeted by over 10 years.
While India, renowned for its highly polluted cities, is actively seeking a transition towards cleaner fuels to mitigate the adverse effects on public health, an additional concern arises from the escalating import bills for fossil fuels. Despite accelerating towards EVs, Gadkari predicts that India's expenditure on fossil fuel imports will surpass Rs 25 lakh crore in the next five years, a significant rise from the current Rs 16 lakh crore.
Holistic approach
Given the sheer hunger for resources needed for mobility — the Indian government, which has an ominous task of managing a nation of 1.4 billion people - is adopting a holistic approach towards climbing this Everest.
To accelerate towards zero emission vehicles, there are production linked incentive schemes that focus on various aspects such as lithium-ion cell localisation, semiconductor chip manufacturing to auto part and vehicle production. This has been further made attractive with a mere five percent GST on zero emission vehicles vis-à-vis 31-55 percent duty for internal combustion vehicles, and even state governments are chipping in with lower road tax etc. The FAME subsidies on the other hand, are helping to drive demand from the consumer side.
Gadkari further emphasised that the government's commitment to fortifying the EV value chain extends beyond policy measures. Recognising the criticality of rare earth materials, such as lithium, for the growth of the EV industry, the government is ramping up efforts to accelerate the exploration and mining of these resources. India heavily relies on imports, particularly from China, for its EV-related needs in terms of these crucial materials. By reducing dependence on imports, the government aims to enhance the country's self-reliance and security in the EV sector.
Gadkari's colleague, Piyush Goyal, the Minister of Commerce and Industry also hinted at a new EV policy that may allow for cheaper imports to make way for global giants like Tesla to set up a base, to export around the world and create a much-needed scale to address the cost challenges.
Goyal said the government would like to see more investments and a larger production output in India of electric vehicles "as soon as possible" in the near future.
"The idea being, if we get large scale production, we will start enjoying huge economies of scale, fruits of new technologies, innovation, R&D coming into India. The Auto component industry will not only produce for a larger India demand, but with the same models being sold in the rest of the world you will also start exporting those components — Tesla already sourced 1 billion dollars of components from all of you sitting here. This year the target is nearly 1.7 or 1.9 billion dollars," he explained.
The policy under consideration could allow automakers to import fully built EVs into India with a significantly reduced tax rate as low as 15 percent, compared to the current 100 percent for cars over US $40,000 and 70 percent for others, according to a Reuters report, while the same was denied by the Finance Minister in August. Goyal's reiteration in September hints at a new policy under works. While one expects the local automakers to oppose this proposal, Goyal assured that the new policy will be announced only after consulting with the industry stakeholders. Goyal has been vigorously negotiating with multiple countries for Free Trade Agreements, which may open new avenues for growth for the Indian automotive industry.
Ambitious targets to be met


India plans to introduce 10k e-buses across 169 cities through the Rs 57,613 crore PM E Bus Sewa programme.
India has set ambitious targets to transition to e-mobility. The government is aiming to electrify 70 percent of commercial cars, 30 percent of private cars, 40 percent of buses, and 80 percent of two-wheelers and three-wheelers by the year 2035. But there are numerous hurdles along the way. There are significant challenges of inadequate charging infrastructure, unfavourable total cost of ownership (TCO), high upfront cost, limited financing options, issues of supply chain scalability, impact cost by high charging time, limited product range, servicing, safety, and quality issues, and it is a long laundry list to address.
Kamran Rizvi, Secretary, Ministry of Heavy Industries, said, "Given the ever-increasing incentives being provided by the Government of India for EVs, compared to phasing down of incentives in China, UK and Europe, Indian companies should now become global leaders in electric." He requested the auto industry to launch campaigns on lowering the total cost of ownership (TCO) of EVs, which will automatically propel higher offtake of EVs.
India's EV policy vs evolved markets
While India's approach towards zero emission is all encompassing, "there is room for improvement in terms of the scale of subsidies, infrastructure development, and addressing challenges like range anxiety," says Harshvardhan Sharma, Lead Auto Retail Practice at Japanese management consulting firm Nomura. According to him, there is an increasing demand for stronger incentives across a wide range of vehicle categories, from two-wheelers to electric buses to zero-emission trucks.
The analysis by Nomura sheds light on the policies and incentives driving EV development in leading nations. For instance, Norway, often hailed as a frontrunner in the electric revolution, offers a comprehensive range of incentives that have propelled it to the forefront of clean transportation. Import tax exemptions, reduced registration fees, and the privilege of accessing bus lanes are among the significant incentives that have successfully incentivised EV adoption in the country.
China, on the other hand, has adopted an aggressive and multifaceted strategy to become the world's largest EV market. Substantial subsidies, preferential licensing, and robust investments in charging infrastructure have rapidly transformed China's automotive landscape. The Chinese government's support for the EV industry has yielded impressive results, with electric vehicles becoming increasingly common on its roads.
Likewise, renowned for its engineering prowess, Germany has positioned itself as a significant player in the global EV arena. Purchase subsidies, tax benefits, and substantial investments in charging infrastructure and domestic battery industry development are part of the country's comprehensive approach to driving both demand and supply of electric vehicles in the country.
Further, in the United States, the EV landscape is diverse, with varying incentives and support across different states. California, for instance, offers purchase rebates and access to carpool lanes for EV owners. At the federal level, substantial incentives and research funding demonstrate the country's commitment to sustainable transportation.
"India is still not at the top of the table in terms of incentives, market share, or infrastructure development," Sharma of Nomura added.
To be fair, given the constraint on the government's budget to prioritise health, sanitation and education, a freebie for personal mobility can be hard to justify and hence even in the FAME policy the larger emphasis on clean commercial transport.
India is playing catching up


Under the PLI (automotive) scheme, eligible original equipment manufacturers can avail of subsidies worth Rs 3,140 crore in the current year.
The government plans to produce and sell one million electric scooters by 2024, leading to an increase in the FAME II subsidy allocation from Rs 1,500 crore to Rs 2,000 crore. There is also a possibility of Rs 50,000 crore being allocated for the FAME III programme (under consideration), which aims to boost all industry segments related to electric vehicles, including EV charging and battery manufacturing. This initiative aims to sustain the growth of the segment as the FAME II programme concludes in FY24.
Additionally, India plans to introduce 10,000 electric buses across 169 cities through the Rs 57,613 crore PM E Bus Sewa programme, promoting green urban mobility and supporting the growth of city buses nationwide. The government's FAME I and FAME II subsidies have already resulted in around 5,000 electric buses on the road.
While there has always been a push towards electrifying the public, particularly the state-transported buses, the lack of a strong payment mechanism has been a hindrance to its wide adoption. The single most important reason for this was that most of the government transport bodies are currently financially sick and therefore unable to provide any guarantee of payment to the operators. Consequently, most of the OEMs such as Tata Motors and Ashok Leyland, among others, seem to have pulled away from participating in the tender process after the initial excitement.
To assuage this concern, the Indian government now claims to be developing a Rs 3,100 crore Payment Security Mechanism (PSM) to support the introduction of 20,000 electric buses in the next 12–24 months. This mechanism aims to provide additional comfort to e-bus OEMs and meet the requirements for the upcoming wave of green mobility.
If the efforts come through successfully, it will certainly help the OEMs rapidly tap the mass markets, especially in Tier II and Tier III cities, where state-run buses stand as the primary mode of daily transit.
Dr Aanchal Jain, CEO of PMI Electro Mobility, told Autocar Professional that such sophisticated PSM mechanisms are nearing completion with "bus OEMs now having an added layer of comfort to allow them to scale up operations to meet India's massive demand for electric buses." While, the Gurugram-based company currently has an order book of 2,500 electric buses, it is looking to foray into metro cities, starting with the national capital from January 2024.
As part of the 2021 CESL tender, PMI Electro Mobility Solutions has been awarded an order of 2,000 electric buses by the Delhi Transport Corporation (DTC), and the company is slated to begin deliveries early next year to fulfil the entire order in batches of around 150–300 buses every month. Claiming to be the largest electric bus supplier to Tier II cities like Rajkot, Surat, and Bhubaneshwar, PMI Electro Mobility Solutions also aims to double its revenues, which were pegged at Rs 600 crore in FY23, to Rs 1,200 crore by FY25.
On the PLI (auto) front, the government has also extended the Rs 25,938 crore production-linked scheme for the automotive industry by one year, which is a significant move. It means that the five-year scheme, which was earlier scheduled to end by FY27, will now continue until FY28.
During a review meeting on the PLI (auto) scheme held in August, a detailed presentation was given to showcase the progress and performance of the scheme. According to reports up until June 30, 2023, the applicants' investment is Rs 10,755 crore. Since then, two applicants, Tata Motors and Mahindra & Mahindra, have received domestic value addition (DVA) certification. Additionally, four more applicants have applied for DVA certification. By the end of September 2023, it is expected that another 23 applicants will also apply for DVA certification.
Only eligible advanced automotive technology (AAT) products with a minimum DVA of 50 percent and certification from MHI testing agencies (TAs) are eligible for the PLI-Auto scheme. This criterion shall reduce imports, facilitate deep localisation for AAT products, and enable the creation of domestic as well as global supply chains. Talking to reporters, Dr Mahendra Nath Pandey, the Union Minister of Heavy Industries stated that his ministry has also accepted other suggestions made by auto industry stakeholders pertaining to the scheme, including quarterly disbursement of subsidies and increasing the number of agencies testing domestic value addition from two at present to four. "The industry had expressed several requests, including an extension of the scheme's deadline by one-year, quarterly disbursement of incentives, and the addition of two more testing agencies—the Global Automotive Research Centre (GARC) in Chennai and the National Automotive Test Tracks (NATRAX) in Madhya Pradesh," Pandey reportedly said. Currently, tests for the scheme are exclusively conducted at the Automotive Research Association of India (ARAI) in Pune and the International Centre for Automotive Technology (iCAT) in Manesar, Haryana.
It is worth noting that under the PLI (auto) scheme, eligible manufacturers will receive subsidies worth around Rs 3,140 crore in the current year. Last year, about Rs 604 crore worth of incentives expired because both OEMs and component makers received the Standard Operating Procedures (SOPs) only in April 2023.
Now, with the one-year extension and a change in the payment period, the question arises: will this provide the necessary assistance? While the stance of individual companies remains unknown, the Society of Indian Automobile Manufacturers (SIAM), a prominent lobby body representing OEMs, has chosen to embrace the decision. In a statement, Vinod Aggarwal, President of SIAM, commended the ministry for implementing changes that include quarterly disbursal of fiscal incentives, the addition of more testing agencies for expedited clearances, and extending the PLI benefits based on industry requests.
Additionally, in another key move, the government has unveiled plans to rebid the unutilised 20 GWh (gigawatt-hours) of the Advanced Chemistry Cell (ACC) scheme. With the aim of strengthening the country's ecosystem
for electric mobility and battery storage, this groundbreaking initiative is poised to unleash a wave of innovation and competition in the industry. The ACC scheme, introduced in 2021, boasts a substantial budgetary outlay of Rs 18,100 crore.
Previously, the government had allocated a total bandwidth of 50 GWh to four noteworthy players: Ola Electric, Rajesh Exports, Reliance New Energy, and Hyundai Global Motors. However, Hyundai Global Motors faced difficulties in executing its assigned bandwidth, leading to the non-utilisation of 20 GWh. Seizing the opportunity to invigorate the sector, the government launched a consultative mechanism in July 2023, inviting fresh bids for the unused capacity.
Investment in public EV charging infrastructure has to be increased with greater participation of stakeholders.
Increasing EV penetration is making its way into Bharat
In the fiscal year 2022-2023, there were around 7.16 lakh registrations and a remarkable growth rate of 189 percent compared to the previous year. Further, the more recent figures indicate retail sales of EVs exceeding 700,000 units in the first half of 2023. Electric two-wheelers have emerged as the industry's "low-hanging fruits," accounting for approximately 60 percent of total EV sales. Three-wheelers have also made significant progress, capturing a major 34 percent share of the EV market. Electric cars and SUVs have contributed to the overall increase in EV sales, and commercial vehicles, including freight carriers and buses, are gradually gaining traction. Another significant development in India's EV story has been the demand gaining momentum and branching out beyond the major metros. As demand for electric vehicles (EVs) steadily spreads to Tier II and Tier III cities, which collectively contributes to 30 percent of the total sales volume, it becomes evident that the growth of India's EV industry is receiving a much-needed boost.
The fact that some of India's largest states, including Maharashtra, Karnataka, Gujarat, and Tamil Nadu have been at the forefront of implementing thorough EV legislation, further supports the positive trend. These states, accounting for an impressive 53 percent of all EV sales, have become focal points in the country's quest for sustainable transportation solutions.
'The idea being if we get large scale production, we will start enjoying huge economies of scale, fruits of new technologies, innovation, R&D coming into India': Piyush Goyal, Minister of Commerce and Industry. (Image: Sanjay Rawat)
Policy uncertainties leading to confusion
Even though India's efforts to promote EV adoption are commendable, the inconsistent and unpredictable nature of policy changes has been raising concerns and dampening the enthusiasm of stakeholders.
As per industry experts, the most recent policy change has seen the reduction of EV subsidies. Fame II was first introduced in 2019 and had a three-year timetable. Since then, it has undergone several revisions that have severely reduced the incentives offered to electric vehicle customers. The change in the FAME II subsidy scheme, reducing the benefits from 40 percent to 15 percent, has raised doubts among start-ups and investors. In fact, the Fame II policy has undergone three changes in the past three years.
The Covid-19 pandemic resulted in an unexpected two-year extension of the plan. In June 2021, the government increased the battery capacity subsidy and doubled the maximum vehicle subsidy. Experts believe that achieving 100 percent electrification of two- and three-wheelers and 65 percent electrification of state public transportation by 2030 is a challenging task.
It is anticipated that the recent reduction in subsidies will increase the payback period for premium electric two-wheelers (E2W) from three years to approximately five years if manufacturers raise prices to pass on the reduced subsidy to consumers, experts have suggested. According to Nemin Vora, Founder and CEO of Mumbai-based electric two-wheeler and motorcycle start-up Odesse Electric Vehicles, clarity, consistency, and continuity are required for OEMs, component makers, and investors to feel secure when making investments. "Companies tend to make plans assuming that the government's policies will be stable and consistent," Vora said.
Likewise, Harshvardhan Sharma, Lead Auto Retail Practice at Japanese management consulting firm Nomura, told Autocar Professional that long-term policy stability is the gold standard for increasing investor confidence, and any kind of uncertainty may only end up causing uneasiness amongst investors who may shy away.
Supply-side incentives remain crucial
The government's robust backing of the automotive industry is noteworthy, with a comprehensive package of demand and supply side incentives amounting to Rs 55,300 crore dedicated to fostering the zero-emission ecosystem. Notably, the implementation of FAME II subsidies has already resulted in Rs 10,000 crore being allocated, facilitating the adoption of 2.8 million electric two- and three-wheelers, passenger cars, and buses.
However, analysts emphasise that for India's transition to electric vehicles to succeed, supply-side incentives must also play a significant role. The industry will require a substantial capital investment of Rs 19.7 lakh crore over the next decade. For instance, in the case of the PLI (Auto) scheme, the Rs 25,000 crore supply-side benefits have been slow to gain momentum, as about 95 percent of the participating companies — both OEMs and component manufacturers — failed to make the necessary investments in the initial year of the scheme, apparently on account of significant difficulties due to the perceived burden of time and complexity associated with compliance. Moreover, the anticipated benefits of the Rs 18,000 crore ACC Chemistry Cells will only materialise in the forthcoming year.
Lithium mining project on fast track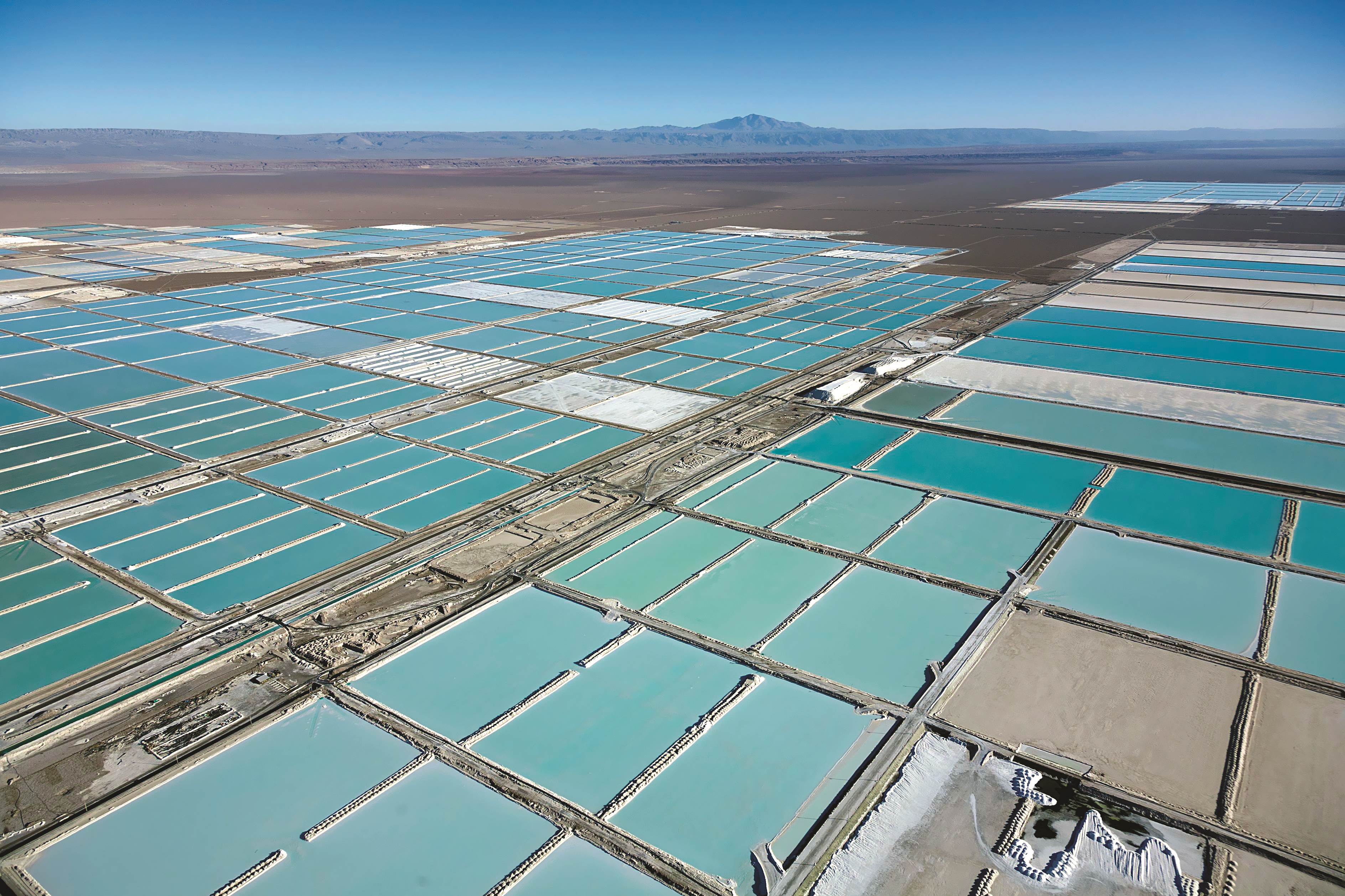 An open salt mine in Chile, the second largest lithium producer.
Gadkari revealed at the SIAM event in Delhi on September 12, 2023, that he had met Jammu and Kashmir government officials and asked them to speed up the efforts for lithium mining. He also asked them to seek assistance from the private sector.
In February of this year, India announced the discovery of 5.9 million metric tonnes of inferred lithium reserves in Jammu and Kashmir, the first in the country. Weeks later, in a RTI response to Autocar Professional, the Geological Survey of India (GSI), which is mandated with creating and updating mineral resource assessments, revealed that it is conducting the exploration of lithium and related materials in Rajasthan, Chhattisgarh, Jharkhand, Arunachal Pradesh, Nagaland, Meghalaya, Ladakh, and Gujarat, in addition to Jammu and Kashmir, in the field season 2022–23.
The new exploratory move to scout for lithium reserves assumes importance given that the country's electric vehicle (EV) sector is still totally dependent on imports, particularly from China, for its lithium requirements. If these discoveries prove successful, India may be able to substantially reduce its reliance on costly imports and could even become an exporter in the long term. India imported Rs 18,763 crore worth of lithium and lithium-ion during April-January FY23, data available with the Commerce Ministry suggests.
Currently, 47 percent of the world's lithium is produced in Australia, 30 percent in Chile, and 15 percent in China. However, China processes 58 percent of the world's lithium, Chile 29 percent, and Argentina 10 percent.
Using incentives to promote EV adoption
In a bid to expedite the nation's transition to cleaner automotive fuels and propel the automotive industry towards alternate propulsion technologies, the Indian government is considering a potential 10 percent additional tax on vehicles running on diesel. This move comes as part of a broader strategy that combines both incentives and deterrents to achieve the desired results.
Addressing the pressing environmental concerns surrounding diesel fuel, Union Minister Nitin Gadkari urged the automotive industry to take proactive measures to reduce diesel engine production. As a deterrent, Gadkari proposed an increase in the Goods and Services Tax (GST) on diesel cars by 10 percent, effectively imposing a pollution tax. According to Gadkari, "Diesel is a hazardous fuel for the environment, and it is our responsibility to curb its usage."
Currently, India imposes a 28 percent tax on vehicles, with an additional cess based on engine capacity. The penetration of diesel vehicles in the passenger vehicle segment has witnessed a significant decline, plummeting from nearly 48 percent in 2014 to a mere 18 percent in 2022. This decline can be attributed to the stricter BS VI emission norms, which have acted as a major deterrent for diesel vehicle adoption.
The mere mention of a potential tax hike on diesel vehicles had an immediate impact on the stock market. Shares of leading commercial vehicle manufacturers, such as Ashok Leyland, Tata Motors, and Volvo Eicher Commercial Vehicles, experienced a sharp decline in value. Minister Gadkari later clarified that no such proposal is currently under active consideration by the government.
Old vehicle scrappage to improve sustainability

Scientific scrapping of old motor vehicles can help industry recoup and repurpose various raw materials that are imported at a cost.
According to Nitin Gadkari, Union Minister for Road Transport and Highways, the vehicle scrappage programme, which was introduced earlier this year, not only holds promise for the government's coffers but also contributes significantly to India's sustainability goals by reducing environmental impact and promoting a circular economy.
Gadkari anticipates that the programme will generate an impressive Rs 40,000 crore in GST revenue, bolstering the nation's fiscal capabilities while simultaneously addressing the pressing issue of vehicle pollution.
A key aspect of this strategy lies in reducing India's reliance on imported metals like aluminium, copper, steel and rubber. During the 63rd SIAM Annual Convention, Gadkari emphasised that scrapping older vehicles will effectively curtail the need for these metal imports, fostering the development of a self-sufficient circular economy. By recycling materials from scrapped vehicles, India can harness the potential of its own resources and minimise its ecological footprint, he added.
The significance of this transformative strategy becomes apparent when considering India's heavy reliance on imported metals. With an estimated annual import value of US$ 34.7 billion, the nation is keen to reduce its dependence on external sources. By embracing a circular economy, India aims to minimise the cost burden on the automotive industry by recycling and repurposing materials such as aluminium, copper, steel, rubber, and plastic. Gadkari believes that this approach can lead to a substantial 20–25 percent reduction in automobile component costs, further incentivising the adoption of sustainable practices.
Auto industry's unanimous support for sustainability
Vinod Aggarwal, President of SIAM and Managing Director and CEO of Volvo Eicher Commercial Vehicles underscored the imperative need for sustainable mobility for India. He highlighted the six pillars of sustainability on which the auto industry is presently focusing in close association with the government, viz., Javik Pahal (biofuel), Vidyutikaran (electrification), Gas Gatisheelta (gaseous fuels), Harit Hydrogen (green hydrogen), Chakriyata (recycling), and finally Surakshit Safar (safe journey). He also mentioned the progress undertaken by the industry to increase its localisation content.
"We need to learn from the global strategies we have been witnessing in the automotive sector and examine their applicability in India. With increased focus on sustainability, prominent avenue for the auto industry's growth lies in the adoption and promotion of clean-energy vehicles. This includes embracing other powertrains, including eco-friendly flexi fuels and making vehicles compliant to it," he said.
Shailesh Chandra, Vice President of SIAM and Managing Director of Tata Motors Passenger Vehicles and Tata Passenger Electric Mobility, said, "The government's commitment to the Amrit Kal vision 2027, along with the imperative to achieve net-zero emissions, sets the stage for a forward-looking India. We are witnessing a remarkable transition towards electric vehicles (EVs), aligning our industry with global benchmarks."
Making Darwinian sense
Concluding his speech at the ACMA event, Gadkari underlined the enduring relevance of Darwin's theory of the survival of the fittest, drawing attention to the remarkable strides taken by various nations and corporations in the realm of sustainable mobility. Noteworthy examples include Brazil's pioneering use of ethanol as a fuel and the commendable advancements made by Japan, the US, and European countries in proven technologies such as electric vehicles and hydrogen-fueled vehicles. "Sustainability also makes business sense," Gadkari added before signing off.
This feature was first published in Autocar Professional's October 1, 2023 issue.
RELATED ARTICLES