Dassault Systemes banks on new mobility solutions
The software provider foresees immense opportunities with its 3D CAD, digital mock-up and PLM solutions, which help compress development times as well bring down the entry barriers for newcomers.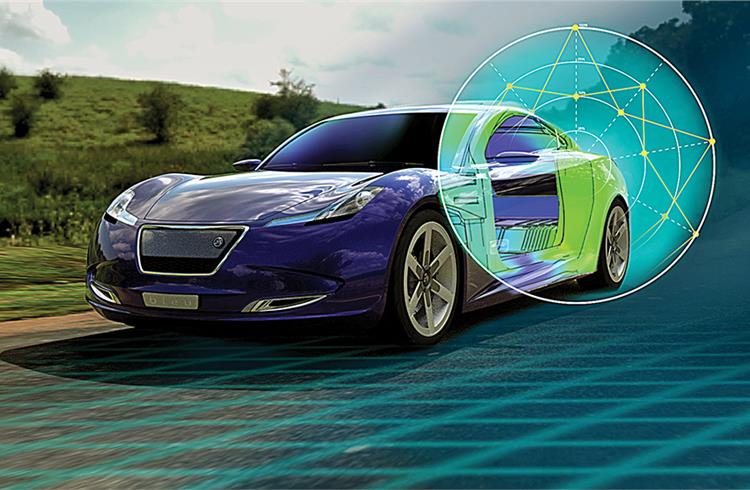 With electromobility gaining pace globally and considerable R&D activity underway in battery technology and EVs, the software provider sees immense opportunities with its 3D CAD, digital mock-up and product lifecycle management solutions, which aid in compressing development times as well as in bringing down the entry barriers for newcomers.
Dassault Systemes (DS), the French multinational software giant, which caters to diverse sectors with its design, simulation and Product Lifecycle Management (PLM) tools, is bullish on new mobility solutions that the ongoing disruptions the automotive world is throwing up. For the company, automotive brings a significant 31 percent of its overall global revenues, second only to the similar 31 percent contributed by a cluster of diversified industries. In India, DS foresees the automotive vertical single-handedly trumping its other divisions with an over 50 percent share of the business. The global systems solutions major has six offices in India and employs over 2,000 staffers with the Pune and Bangalore centres being two of its largest global research centres.
Ashok Leyland uses the 3D Experience platform for developing new-gen products.
The tectonic shift sweeping mobility demands collaborative efforts from all stakeholders of the industry. According to Guillaume Gerondeau, vice-president, Transportation and Mobility Asia, Dassault Systemes, "Simultaneous product development, rather than sequential flow, is the need of the hour and with the power of our virtual development offerings, Dassault Systemes has the vision to allow companies to hop on to a common platform, come together and collaborate to spawn innovative solutions for a sustainable future."
Endurance Technologies is among the leading Tier 1 suppliers who use Dassault Systemes' products.
With electromobility gaining pace globally and considerable R&D activity underway in battery technology and EVs, the software provider foresees immense opportunities with its 3D CAD, digital mock-up and PLM solutions, which help compress development times as well bring down the entry barriers for newcomers. "Prominent start-ups in the EV space including Tesla, Faraday Future, NextEV and Kreisel, which all thrive to seed innovation and can be seen crossing defined boundaries, are using Dassault's platforms and leading the charge into a new era in mobility altogether," reveals Gerondeau.
Guillaume Gerondeau: "We are witnessing a phenomenal amount of traction coming in from the automotive space in India."
Dassault Systemes is currently present in over 140 countries, with Europe bringing in 43 percent of its global revenues, followed by America (30%) and Asia (27%). While 71 percent of its business comes from recurring license renewals, 29 percent is through new license seats and product developments. In the automotive space, Renault is one of its biggest clients with Dassault Systemes having installed over 18,000 seats at the automaker's six global locations including France, Romania, Brazil, Korea, Russia and India. General Motors is also a big customer in terms of size, deploying the company's digitisation tools.
To enrich its model-based systems engineering (MBSE) offerings, Dassault Systemes, on October 25 2017, signed a definite agreement to acquire No Magic, a global solutions company in the MBSE and modelling solutions space for software architecture and business processes. With automobile development increasingly moving from mechanical systems to electronic design, analysis and control, Dassault's 3D Experience suite, including CATIA, which aids designing; Enovia, its PLM tool boasting of a host of technical and business applications; and Delmia Apriso, the company's manufacturing operations management solution, together aim to aid faster developments in a cost-effective manner, cutting down on the need of physical prototypes, as well as leaving scope to make errors in the virtual world and take away the learnings without getting pinched financially. 3D printing, manufacturing simulation and digital manufacturing are other new project drivers in the same vein.
Automakers take to 3D Experience
Indian commercial vehicle major Ashok Leyland is developing a series of next-generation trucks and buses utilising Dassault's 3D Experience platform. "The company sees all operations including its entire product planning, project management, design and verification, sourcing and logistics being run using our integrated software solutions and is preparing well for the future," adds Gerondeau.
Other CV players, including Volvo Eicher which holds over 5,000 Dassault seats for its design, development and manufacturing, as well as Sweden's Scania trucks, both of which are among the bigger clients for the company, are working on its solutions for their global truck and bus businesses.
On the supplier front, Tier 1 majors like Faurecia, Bosch, Valeo and Aisin Seiki are some of the major firms utilising the company's integrated platform tools to cut down on latency, seamlessly flow data and integrate updates instantaneously on the cloud with each passing level in the developmental hierarchy.
Aurangabad-based Endurance Technologies is a big customer for Dassault. Gerondeau says, "We are witnessing a phenomenal amount of traction coming in from the automotive space, where big suppliers like Endurance Technologies are eyeing the shift towards electrification. EVs and the need for charging stations are going to bring a huge impact on the overall business strategies and plans of the Indian automotive vendors in the times to come."
Software of things
With the increasing level of electronics inside machine architectures, software holds the nerve to a lot of the neurological backbones of these systems. "Software is going to be more important than hardware and has the capability to improve work efficiencies by up to 4-5 times. This is going to be extremely critical in the development of new technologies including lightweighting, autonomous vehicles and EVs," says Gerondeau.
Dassault's Autosar tool helps in integrating third-party software to the fundamental code running in a vehicle's ECU. While the early 2000s used to see just a digital mock-up of a vehicle under development, the increased level of software penetration has now led to the creation of a functional mock-up of a car and all its feature functions being simulated and checked.
With the gradual inclusion of ADAS into vehicles of all segments, use of multi-physics to simulate a crash and analyse the behavioural patterns of such safety technologies is going to play a key role in the vehicle design and development and will put software as the foundation of all such developments.
Vehicle testing solutions
"A regular new model generally undergoes roughly 10,000 different tests before it is brought into mass production, and a project usually involves US$ 800-1,000 million in testing expenses spent by OEs. Our 'Global Validation, Proven Performance' tool within the 3D Experience suite aims to enhance quality, save cycle time and reduce development costs by improving both the physical and virtual testing and validation," says Gerondeau.
The software sees orchestration of the typical workflows of the multitudes of tests and validations done at various stages of automobile development, and offers a standardised test process, also integrating data analytics and including real-time feedback to improve products.
Dassault's Enovia PLM tool also manages CAD data and makes one single BOM of the entire vehicle architecture, including the multiple variants and powertrain options. This helps easier control of global models, where system engineering forms the foundation and the design information at the component level could be controlled locally, based on which country the model is going to be localised and manufactured in.
Bullish on EV batteries
DS is looking to ride on the research happening globally in EV battery technology. Its Biovia material science platform has the necessary tools for researchers to simulate and ascertain the behaviour of different elements at their molecular level, and arrive at a breakthrough material technology for formulating long-lasting batteries for automotive application. "Biovia has given a launch-pad to researchers and companies to work towards extending the range of EV batteries and make them more suitable for use in the real-world conditions. Rare materials including lithium, cobalt, nickel and graphite are being heavily researched to be used in batteries of the future."
"Also, moving towards our aim to be a provider of holistic solutions relevant to the new-age mobility platforms, in 2016, we acquired Germany's CST, which is a leader in electromagnetic analysis. And in September 2017, we completed acquisition of the US-based Exa, which is a master in offering computational fluid dynamics capabilities. Making these moves and integrating them into the 3D Experience platform now completes our portfolio to offer a well rounded set of solutions for EV development."
Dassault's 3D Experience suite combines a host of CAD, CAE and computational fluid dynamics tools for holistic product engineering.
With a strong push from the government for EVs, Gerondeau explains, "In emerging markets like India, logistical and economic growth play a key role in defining the trends for the future.
With limited road infrastructure, India's current focus should be on developing public infrastructure. Public transport, shared mobility along with multi-modal transportation will be the best solution to the country's mobility problems amid the vast landscape and huge population size it carries."
Future mobility also lies in concepts like smart cities, platooning and V2X communication, which are aimed at reducing congestion, parking issues as well as reducing road accidents. "We have partnered with the government of Singapore and are working on creating a digital twin of the business city. Doing our analysis on the digital model, we have been able to see that kerb parking consumes around 14-15 percent of the usable space in Singapore. The digital mock-up also allows us to do a detailed study of bigger aspects like electricity consumption and the entire transportation network of the city. We are also participating in the Indian government's Smart City project, and offering our digitisation solutions, which can help in accident prevention and crunch data to infer smaller, yet relevant information like train time tables and their delays," Gerondeau added.
China, India, Japan and Korea are the top four critical markets for the company in the Asia-Pacific region. Dassault Systemes foresees a lot of demand coming in for testing and simulation solutions, with the host of contemporary mobility technologies, including autonomous driving, coming into the picture over the next decade.
(This article was originally featured in the 15 March 2018 issue of Autocar Professional)
RELATED ARTICLES