Continental looks to bring electric parking brakes to India
With a plant at Manesar and a localisation plan in place, Continental Automotive Brake Systems India looks to expand its range in India, reports Shobha Mathur.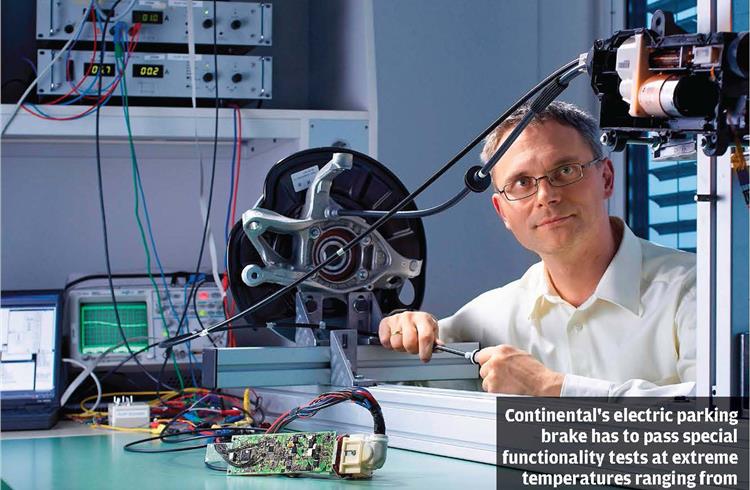 With a plant at Manesar and a localisation plan in place, Continental Automotive Brake Systems India looks to expand its range in India, reports Shobha Mathur.
Continental Automotive Brake Systems India Ltd (CABSIL) has chalked out a long-term growth strategy, following its recent move to a new manufacturing facility at Manesar in Haryana. With this fully owned manufacturing set-up, CABSIL plans to go solo in a bid to better support the evolving needs of local and global OEMs and to take faster decisions on catering to their requirements.
Although, CABSIL's core business is centered around supplies to OEMs, it is also exploring possible aftermarket opportunities. Potential growth horizons envisaged over the next five years are focused on new technologies and products suited for India. It will select these from its global portfolio.
With increasing sophistication and technical expertise in passenger car and SUV models in India, there is a need for technologies to keep pace with the changes.
CABSIL manufactures parts for hydraulic brakes, a critical vehicle safety component. Another key growth strategy for India includes localising parts that are not easy to ship worldwide.

GROWTH MANTRA: GO LOCAL
"It is very important for us to work on localisation and we are in a very good way in developing local parts," says Matthias Matic, executive vice-president, BU, Hydraulic Brake Systems and board member, Continental Teves AG & Co in an interview to Autocar Professional.
Matic explains that a key aspect of local production is having a local supply base. "We have made very good progress in this direction and are now close to having full localisation."
The company aims to have 100 percent localisation in some product disciplines based on demand and customer needs, which will enable it to evolve a competitive pricing policy. The localisation target is expected to be achieved over two years and will aim to meet global quality requirements. Incidentally, the hydraulic brake plant has an in-house set-up at Manesar for assembly of drum brakes; it also makes brake shoes and has a line for assembling calipers or disc brakes and smaller parts like pins and pistons.
EPB ON THE ANVIL
As a first step towards complete localisation, CABSIL has begun sourcing production equipment locally while also maintaining its global suppliers. The company is also considering introducing an advanced, hi-tech product range. Over the next five years, it plans to bring in the electric parking brake (EPB) which is seen as a high growth area as this product focuses on short braking distances, durability, ease of braking and safety.
EPBs perform a variety of assistance functions in conjunction with electronic brake systems (EBS) and operate at the press of a button. Manufacturers can thereby enjoy greater flexibility in designing interiors without a hand-brake lever protruding amid the passenger compartment.
In addition to stopping and stabilising a vehicle, EPB also helps prevent a parked vehicle from rolling away. Demand for EPBs is increasing in some Asian markets with China among the leading markets for this product. Over time, Continental expects this trend to catch up in India as well especially in cars in the C- and above segments and wants to be prepared to cater to this requirement. "It will eventually percolate into the A- and B- passenger car segments which currently use drum brakes and then there will be an electronic drum brake or electric parking brake with the drum brake," says Matic.
An important benefit of the EPB, according to Murali Srinivasan, managing director of CABSIL, is lightweighting as it frees up space in the cabin by removing the parking lever. "When we see future demand coming, we will invest in technology in the Indian market," he points out.
In retrospect, CABSIL began as a JV with Rico Auto in 2008. It evolved as a fully owned subsidiary of Continental in 2012 after acquiring Rico Auto's 50 percent equity stake and today supplies actuation, caliper and drum brakes to all major OEMs in India. For strategic reasons, until recently, the company was based out of the Rico plant nearby and is now operating out of its new Manesar facility. Continental has invested over Rs 150 crore in the plant and operations here since 2008.
The roadmap for future expansion is there, given that it has spare land at the new plant's location which houses its R&D and production set-up. While it services most OEMs in India, some of its key customers are Mahindra & Mahindra and Maruti Suzuki. It plans to pursue long-term business with these two automakers and currently, talks are currently underway for supplies to additional platforms.
CABSIL has a specific strategy of following its customers in different markets, which it is pursuing in India which has seen several global OEMs set up shop here. "Our customers are working on global vehicle platforms and need a supply base that can support them with the same global standards in India as they are requesting in the entire world. This is our strength where we can support them, and we are ready to do. We also hope to tap the export opportunity and want to be ready to be part of this development. Therefore, we are working with local customers as well as with our established customer base here," adds Matic.
NEW BUSINESS BECKONS
So does that mean that Continental will follow its customers to Gujarat as well where most of the global OEMs are today headed? "At present there are no plans but in future, depending on how the market develops and the demand develops, we are open to further expansion," elaborates Matic. However, he admits that it is not commercially viable to build plants within proximity to every customer and maintain half-empty plants. "I would rather have full plants running that are more efficient. Then you can focus on some extra logistics costs."
With its roots in the Delhi-NCR region, CABSIL is also not too keen to move out. Besides, any decision to set up another plant would have to be whetted by market opportunities. Furthermore, it has engineers dedicated to R&D work in its existing HBS plant and has invested time, effort and resources in building up the engineering knowhow to meet customer expectations here. The engineers are responsible for driving customer projects and deliverables locally, with the support of the global network. Though Continental has developed an application engineering hub for different group companies in Bangalore, the lead in brake development is being undertaken at Manesar.
While in hydraulic brakes, the majority of Continental products are already present in India, in its chassis business it is ready to explore local production in products like sensorics – wheel speed sensors and transmission sensors once it reaches critical mass and once demand spikes up. In the passenger vehicle segment, the Tier 1 player can supply brake products from the entry level car to super performance saloons.
While ABS does not fall under the purview of the HBS division, officials say that Continental has in its kitty an affordable ABS that it is already offering to the B-car segment as well as to SUVs in India through the import route. It was also one of the first to supply it for the motorcycle segment. Continental is also watching developments in legislation in order to bring its safety product portfolio such as ABS or airbags.
Currently, quite a few development projects are in the pipeline and should there be an uptick in passenger vehicle sales, the company will be all set to capitalise on the growth. If June's 12.15 percent overall industry growth is any indicator, then Continental Automotive Brake Systems India will surely be gearing up for new traction in the country.
RELATED ARTICLES