BS VI norms by 2020 to drive demand for Oetiker clamps in India
Oetiker India looks to ride upcoming demand from BS VI emission norms, which will also help the company reinforce its position in the world's largest two-wheeler market. The Switzerland-headquartered connecting solutions supplier is also studying the megatrends in the personal and passenger mobility segments to home in on potential opportunities.
Oetiker's CEO believes that application of clamps on the driveshaft, steering solutions, airbags and air suspension will remain unchanged even as e-mobility takes centrestage.
A typical 130mm-width strip can produce up to 13 slit bands of 10mm, each converted into a separate spool of metal.
BS VI norms by 2020 to drive demand for Oetiker clamps in India
This cooling hose connector features multi-crimp rings that provide 360deg sealing along with good aesthetics.
BS VI norms by 2020 to drive demand for Oetiker clamps in India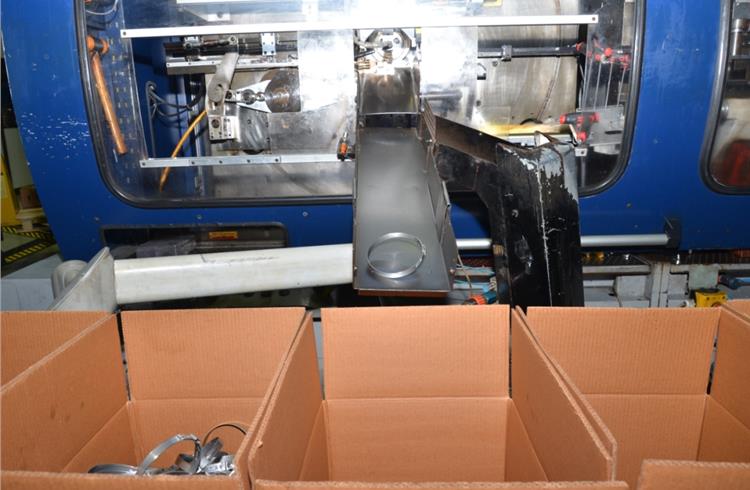 Machine rolls out a production-ready clamp after conducting automated quality check on various parameters on each unit.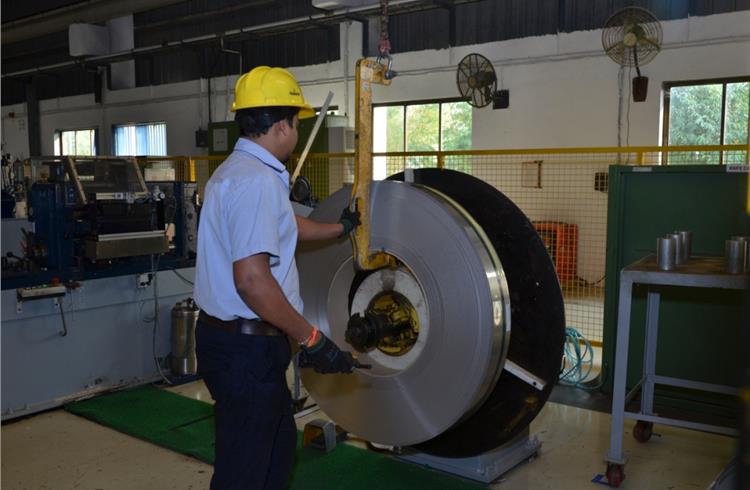 A staffer loads a wide band of steel under a slitter, which is the very first step in the process of manufacturing clamps.
Portfolio of connecting solutions manufactured and supplied by Oetiker in India.
BS VI norms by 2020 to drive demand for Oetiker clamps in India
Freshly minted clamps before they are shipped to customers. Oetiker practices just-in-time to avoid build-up in inventory.
Stock of wide bands of steel, which differ in width and thickness; raw material supplied by POSCO and Outokumpo.
Fully automated machine carries out forming and rounding operations on the slit bands, shaping them into ear clamps.
The Panvel plant, near Mumbai, employs about 75 people in the 26-27 age group, on the shopfloor.
Machine slits the wide band, which typically has a width of 130mm into pre-defined units of 5, 7, 9, 10 or 12 millimetres.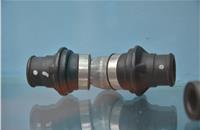 Zurich-based Oetiker, which is celebrating 75 years of manufacturing clamps and connecting solutions, is looking to drive its business in India on the back of the implementation of BS VI emission norms from April 2020. Oetiker is a leading supplier of connecting solutions to the passenger vehicle, commercial and industrial vehicle (including offroad and construction equipment), and industrial applications globally.
According to Dr Thomas Meier-Bickel, CEO, Oetiker Group, his company's current annual turnover stands close to 400 million CHF (Rs 2,542 crore) and has operations spread across 13 locations on three continents. "Our annual growth rate is around 10 percent year on year. We primarily cater to three segments – passenger vehicles, which contribute to about 65 percent of our global sales; industrial applications account for 20 percent of our sales, and the remaining 15 percent comes from commercial, heavy-duty and off-road vehicles," he told Autocar Professional during his recent visit to India.
Speaking in the context of business impact anticipated from the incoming BS VI emission norms, Ashwani G Keswani, executive director, Asia Pacific, Oetiker India, says, "BS VI is actually good news for us. BS VI norms would mean that vehicle manufacturers will demand efficient connecting solutions. We are talking about zero-leakage, lightweight and flexible clamping. With the implementation of BS VI norms, OEMs will be more particular about fuel and exhaust systems. The companies will add more components to their exhaust systems under the upcoming emissions regime. When you add more parts, you will need more connections, and that's when we can provide them with proper clamping solutions that meet the standards completely."
"Oetiker clamps are the default option under the BS VI environment as we provide 360deg sealing solutions, which are easy to assemble. We also provide the engineering services behind it, and aesthetically our products (Oetiker made clamps) look good too. So they meet all the standards. It is a solution that solves all the pain points (of the customers).
They don't have to look at redesigning their tubes when they use Oetiker clamps," adds Keswani. The company, which according to its CEO, commands an impressive share of about 25 percent (in clamping solutions) in passenger vehicles globally, lacks a strong presence in India's two-wheeler market. Nevertheless, the company's senior management estimates that BS VI norms will drive company's business in the two-wheeler segment too.
"The two-wheeler market matters a lot to us as long as we have the right solutions for it. Still, if you look at the large chunk of this market in India, the engines are air-cooled and are carburetor-fed. The moment we talk about liquid-cooled, fuel injection systems, then it opens up a great potential for our (clamping) solutions. As we are gradually progressing into these high-end market segments, we see our business growing in the two-wheeler market," underlines Thomas.
Anticipating incremental business from BS VI norms, the company is also gearing up on the production capacity front, which, according to the senior officials, is quickly scalable depending upon customers' demand. Elaborating on Oetiker's preparedness for Euro 6 norms, Keswani adds, "We had acquired a company, which makes heavy-duty clamps, in Sweden. We have integrated its products and technologies into our own. These products are meant for Euro 6 applications for commercial vehicles
This acquisition was about adding new technologies to Oetiker's product portfolio, thereby making it robust and prepared for the future opportunities. We have a prototype line in factory here (near Panvel, Mumbai). On the other hand, we are a single source for clamps used for EGR coolers by one of the leading carmakers in India. We are keeping pace with the demand from our customers and adjusting our production capacity accordingly." Asia stands as the largest contributor of growth within Oetiker's global umbrella.
The Asia Pacific region, which clubs India with China, Japan, ASEAN and other countries, contributes about 25 percent of Oetiker's annual revenues globally. However, unlike its global business tally, the segments within the automotive industry contribute up to 90 percent of its business in the Asia Pacific region. The balance share comes from industrial applications.
Preparing for megatrends
Most of the stakeholders within the automotive industry globally are investing in new technologies in an attempt to prepare for the anticipated opportunities in the foreseeable future. The future, as the industry views, includes environment-friendly vehicles (with stricter emission norms, battery-powered or hydrogen fuel cell powered cars), autonomous driving vehicles as part of urban mobility and smart city models, and associated implications such as drive to reduce weight of vehicles (and components), newer design modules and others.
How does Oetiker, a supplier of connecting solutions to the auto industry, understand the impact of such megatrends? Explaining the same, Thomas says, "If we talk about electrification (of vehicles), to us it is important that we understand the implications it will have on the applications we supply our products for. Until now many applications have remained the same, so driveshafts, steering solutions, airbags, air-suspension have remained unchanged. In EVs, batteries need to be cooled, so it is important that we are spending into these new solutions – new cooling and heating circuits and this is what we are working on."
Offering an example of what he believes could happen once autonomous cars become mainstream vehicles, he says, "Autonomous driving will, sooner or later, have an impact. I presume also on airbags. So there might be no need for airbags. Thus, it is important for us to analyse these trends and understand the implications of these trends on all the applications because you will always find connecting solutions in passenger cars."
The company has set up a global team of application managers, who are studying the impact of these megatrends and are thereby exploring different opportunities that may arise within the automotive industry. "Yes, we have application managers who focus on cooling and heating solutions or exhaust systems, or driveshafts. There, the application manager needs to understand what are the requirements of today and of tomorrow, and how is the application developing over time? This is the starting point for innovations. So there are two options – either you innovate by yourself or you look out for companies that are working in this area and try to buy them. This is how we are preparing for the future," reveals Stefan Miessmer, CTO, Oetiker Group.
As part of readying itself for future uncertainties, Oetiker's options are include potential acquisition(s). "We are open for businesses with certain market share already in the field(s) where we are interested in, and we can acquire these businesses that reinforce our global operations. The recent acquisitions were of companies that were giving us an opportunity of multiplying global offerings, bringing in new technologies, and potential customers," adds Miessmer.
Thinking big on lightweighting
Oetiker's clamping solutions are mostly made of lightweight metals, typically steel. However, the company is exploring other materials to save further weight on their products."It is very important for us to think about today's and tomorrow's mission-critical applications. So our focus is on (futuristic) applications because by doing so, it allows us to offer best-fit solutions for particular tasks. When it comes to the best-fit applications, you need a complete portfolio that includes new-gen materials and also lightweight materials. For example, the quick connectors are available in various materials in steel, which is more weight, and also in aluminium, which is lighter in weight," adds the company's chief technical officer.
"The polymer-based quick connectors will become part of Oetiker's portfolio soon. But it is important to have all sorts of applications in mind to serve customer requirements with best-fit solutions. Customers are always asking for weight reduction. That always is the focus point. It does not look like a clamp can contribute too much weight to a vehicle, but there can be more than 60 clamps in a car and even more in a truck or a bus. We have products for specific applications and designs. We work very closely with the customers internationally across 28 countries with people employed around the globe," he says, in the context of using thermoplastic materials.
Oetiker's 2030 strategy revealed
According to the senior management, the company has invested about 28 million CHF (Rs 180 crore) in India until now. It is following a 15-year roadmap as defined under its 2030 strategy. Oetiker's management seeks to grow its leadership position in the connecting solutions business. "We want to grow to leadership position when it comes to connecting solutions, and in some selected applications too. This is our playground. We still are global leaders in what we do, we are focusing on the vehicle industry and also selected industrial applications. Why vehicle industry? Because, I believe, by analysing megatrends, the whole mobility thing is going to be big in future across two-wheelers, passenger vehicles, buses and trucks. We believe that this market will grow in future and hence we would like to participate and benefit from this growth," reiterates Thomas, the top boss at the Oetiker Group.
Throwing more light on the company's 2030 strategy and its regional (Asia Pacific) growth, Keswani elaborates, "The Americas, EMEA and Asia Pacific are dovetailed into Oetiker's 2030 strategy. In the current scenario, Asia Pacific has got the highest growth so far, and we have been clocking double-digit growth in this region for the past few years. We think we will continue to grow that way for the next few years also."
"We believe that even though the market reports suggest that growth in China is slowing down, domestic consumption in China is still very strong. If they can sell 24-25 million cars, we have a fair share of business coming from that. Business in Japan, Korea and Thailand has bounced back. India is charting its own growth story right now. From the Asia Pacific point of view, the market growth is very robust. We have application strategy and different nuggets of the strategy that we are going to roll in," adds Keswani.
READY TO TAKE CHARGE WITH EVs
The company has positioned an application manager in China to understand the evolving technologies for Oetiker globally. The strategy at play here is to engage with the carmakers at an early stage to tap into the opportunities under electric vehicles. "We have an application manager for EVs, who is based in China. So our application management program in EVs is being worked out from China. We also have an application manager in Japan who is also keeping a very close track of the Japanese companies. So we believe that early engagement with the OEMs and EV makers will give us this benefit. We are already supplying to Tesla and have Future Faraday on board with us. So there are numerous things going on with the western part of the world. For EVs, early engagement with the OEMs is the key. We need to ensure that we are ready with the technology and components when they are needed," reveals Keswani.
The company follows strict product quality guidelines. According to its CTO, all the machines used by Oetiker across its production plants globally are identical. "All the machines installed in India are the same as in Canada, China, Europe and other markets. This is to ensure consistency in quality of our products globally. This also allows us greater flexibility of adding or shifting capacity to the market where the customer demand is generated or growing," says Miessmer. Finally, giving his thoughts on cost pressures from the Indian customers compared to their counterparts from other regions globally, Michael Erzinger, executive director, marketing, Oetiker Group remarks, "Customers will always ask for better costs. This is true anywhere in the world. In general, we have to have a cost-competitive product. However, in the end, I believe, our customers don't only buy products at that price, they buy much more than that. They buy reliability, a long-term partnership, quality products, a global network of service and experts, and a reliable business relationship.
(This article was first published in the Autocar Professional's December 15, 2017 Anniversary issue)
RELATED ARTICLES