ARaymond Fasteners eyes 40% growth in India for 3-4 years
150-year-old family-owned French supplier of non-threaded fasteners is optimistic about smart growth in India. Now, its Indian arm is looking to increase the value of fasteners per car, says Amit Panday.
The Chakan plant has 13 injection moulding machines. The company sells around 1,000 different parts to OEMs every month.
L-R: Manish Padharia, MD, ARaymond Fasteners India, and Jean-Yves Renoux, VP, ARaymond Network, are bullish on India.
A Raymond's clientele includes Maruti Suzuki, Tata Motors, Baja Auto, Hero MotoCorp and Royal Enfield.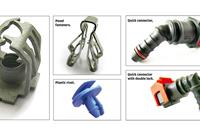 150-year-old family-owned French supplier of non-threaded fasteners is optimistic about smart growth in India. Now, its Indian arm is looking to increase the value of fasteners per car, says Amit Panday.
ARaymond Fasteners India, the local arm of the French supplier of fastener solutions to the automotive industry ARaymond Group, is eyeing a year-on-year growth of 40 percent for the next three-four years. The company, which saw slow growth in 2013, witnessed a good business year in 2014 and a turnover close to Rs 75 crore.
ARaymond in India is working towards its targets for 2018. While it has a massive manufacturing setup in Chakan (near Pune), Manish Padharia, managing director, ARaymond Fasteners India, told Autocar Professional that "it is tailor-made for Indian requirements and its current production capacity will suffice till 2018 considering the incoming demand for its products."
"In terms of current available production capacity of the machines installed, we are utilising close to 60-65 percent of the total production capacity," he added. The plant, built on the company-owned land of 7.5 acres, however, has huge scope for future expansion as the current construction covers only two acres.
ARaymond supplies its fastener solutions to OEMs across the industry, with 75 percent of the total sales coming from passenger car OEMs. Commercial vehicles and two-wheelers contribute close to 10 and 15 percent respectively of the total yearly business.
The company sizes the market to understand the demand for its products by evaluating the value of fasteners used in a car. In Europe, as senior officials of ARaymond Fasteners understand, a car uses an average value of 50 euros
(Rs 3,822) worth of fasteners. In India, this is substantially low.
Talking exclusively to Autocar Professional, Jean-Yves Renoux, vice-president, ARaymond Network, said: "We evaluate the value of fasteners per car to be 50 euro at an average in Europe. This shows that you have a lot of fastener applications in the car. This is the way we size the worldwide market. In India, this obviously is very different. But we are following the growth of the market, and we hope we do better than the growth of the market."
"By 2018, we want to increase the value of fasteners per car. We want to capture the value proposition as much as we can," added Padharia.
NANO BEGINNING
ARaymond's first Indian project was the Tata Nano. While the company saw its inception in India in November 2007 and later its humble two-moulding machine-facility was inaugurated in October 2008 in Pimpri, Pune, it had its team regularly flying from Europe to participate in the development process of the Nano project back in 2006.
According to Renoux, "At each customer presentation, we proudly say that we are present in all the cars – from Tata Nano to Maserati. The Nano is an extremely well-designed car and has a lot of scope in the market."
Later as the company commissioned the Chakan facility in 2011, the plant was built within a year as the operations were moved from Pimpri to Chakan in end-2012. Other than the plant, it has sales and customer support offices in Gurgaon (Delhi) and Chennai.
ARaymond's current clientele includes all big OEMs such as Maruti Suzuki, Tata Motors, Mahindra & Mahindra, Hyundai Motor India, Bajaj Auto, Royal Enfield, Hero MotoCorp and others.
WHAT FASTENERS?
Explaining the business of fasteners, Padharia said, "There are two types of fasteners – threaded (conventional) and non-threaded fasteners. We make non-threaded fasteners, which are clipping fasteners. These are a completely different commodity. We try to replace the heavy fasteners, which are the nuts, bolts and screws. So threaded fasteners can be replaced by the clipping fasteners by removing the many conventional fastener components. Clipping fasteners can be used without tools and that can save time and costs along the assembly line. For example, on a shirt, you can use a button or a hook or a clip or even a tape."
While the clipping fasteners are pricier than conventional fasteners, cost stands as one major concern while drawing up viable solutions for the low-cost markets. Voicing his concern, Renoux states that "cost is a universal concern. However, it is a big stress here in India for sure. This is a booming low-cost market. Our customers expect very low pricing and stay competitive."
With increasingly shorter product development timelines, Renoux feels that it becomes difficult to create cost-optimised solutions. However, Padharia believes the company can bring a number of cost effective solutions to the table when it is involved early in a project. "I think when we are involved in a project from the very initial stages; we have the capabilities of bringing many cost- specific advantages with our customised solutions. While in other markets such as North America and Europe, the fastener companies are involved with the OEMs from the initial stages of project developments, in India this practice is now catching up. In those markets, we work as complete partners to the OEMs," he highlighted.
ENGINE OF GROWTH
Bullish on India and appreciative of the Modi government, Renoux added that, "The government's encouragement for manufacturing here is a very good step. It complements our growth plans. I come here two-three times every year and I can see the change. India in our network is a very important market. Our organisation has a very collaborative approach. Manish is a member of the executive committee of the whole group. So we meet every quarter. All the decisions are made by this executive committee and hence India is a part of the decision making for the worldwide operations."
Having invested close to Rs 85-90 crore in India so far and with production capacity to last a few years, the company management already has its expansion plans in the foresight.
The vice-president added that "to support the market growth in the long run, we have to expand our operations in India, extend our footprints here and
hire more people. We are also thinking about another manufacturing footprint in India. However, this will fall into consideration in the time to come. This plant (Chakan) is 60 percent occupied. And with the speed of growth, we may have to think differently to accommodate our customers' orders."
Padharia, on the other hand, said the company has plans to increase its current headcount of close to 120 people to 250 by 2018. "We plan to develop an advanced engineering team in India for future projects catering to the local needs," he concluded.
RELATED ARTICLES