20 things cars couldn't do 10 years ago
Electrification, autonomy, connectivity are some of the fields in which the global automobile sector has advanced a lot and enabled the cars of today to become safer, faster and more energy efficient.
It's predicted that cars will change more in the next 10 years than they have in the last century. From electrification to autonomy, sci-fi inspired tech to connectivity, the cars of the future will bear little resemblance to the cars of the past. Here is a look at the remarkable things a car can do now it couldn't a decade ago:
Drones as your eyes in the sky
In 2017, Nissan created a special-edition version of the X-Trail called the X-Scape that came equipped with its own drone. The portable camera drone could be used to film your adventures and was available as a £500 extra. Meanwhile, at the Frankfurt Motor Show in September 2019, Audi showed off its 'AI:Trail' concept, an off-roader with its own on-board drones, or Light Pathfinders as Audi calls them.
These rotorless drones replace the need for headlights, lighting up the road ahead and relaying a live video feed to the car. Swiss brand Rinspeed's Etos concept, revealed in 2015, also featured drones as your eyes in the sky.
Alexa in your car
Voice control has been a feature of cars for years, but the technology hasn't quite lived up to the promise. Amazon's Alexa could change all that. Anyone familiar with the virtual home assistant will understand the power of it, from checking if your front door is locked to opening your garage door, controlling your music to sending a message to someone.
Alexa is increasingly being integrated into more cars and manufacturers currently offering it include Audi, Ford, Lexus, Seat and Toyota. You can even retrofit an Amazon Echo Auto to give older cars a high-tech makeover.
Wireless phone charging
The era of cables is over. Most of the major car manufacturers now offer models with a wireless charging pad, allowing you to top up your phone's battery simply and without the need to plug it in. It comes as standard in many cars, while others charge for the privilege as an optional extra.
Remote control
Smartphones have improved the connection we have with our cars immeasurably. Many models now come with an app that allows you to remotely start and stop the car, useful if you want to pre-heat or pre-cool the cabin before you get into it. Some even allow you to lock and unlock the doors, open the boot remotely (useful for remote deliveries) and send navigation instructions to your car ahead of your journey.
Audi, BMW, Ford, Land Rover, Tesla and Volvo are among the manufacturers offering this functionality. Certain Teslas and BMWs even allow you to move the vehicle by remote control too.
Hit 300mph
A decade ago the fastest top speed of a production car was set by a Bugatti Veyron SuperSport, which hit 267.857mph (431.07 kph). Well, it's taken almost 10 years but Bugatti has cemented its place again in the record books when a Chiron blasted to 304.77mph (490.47 kph) in August 2019. Will it take another decade to eclipse this?
Detect cyclists and animals
Ten years ago, cars like the Mercedes S-Class and Lexus LS had a night-vision camera that used infrared to pick out the heat signature of animals, people and other vehicles - a useful feature on pitch-black country roads. However, the onus was on the driver to actively monitor the camera and avoid the accident.
Now, companies like Volvo have created systems that use radar and cameras to detect and help you avoid animals, pedestrians and cyclists and will brake or steer automatically should they foresee a collision.
Auto parking
Many modern cars, from superminis to luxury saloons, now come with a parking aid that will steer your car into a spot while you control the brake and accelerator. Some, like the Nissan Leaf, will even park themselves without any intervention from you, while Tesla and BMW have a system that allows you to remotely park your car from the key fob or your smartphone.
Dog-friendly climate control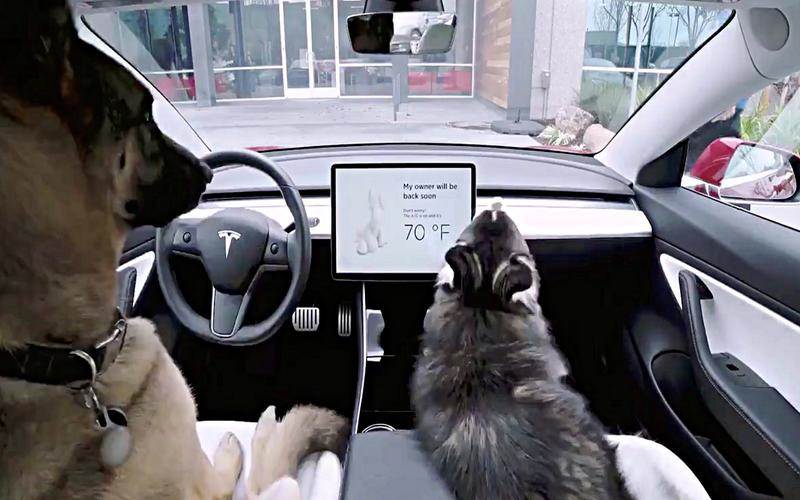 Tesla has come up with the problem of leaving your prized pooch in the car on a hot day - Dog Mode. Push the Dog Mode button on the screen and the car's climate control will maintain a temperature pre-selected by you to keep your hound cool.
The screen even displays a message saying "My owner will be back soon. Don't worry. The A/C is on and the temperature is XXX" to put passersby's minds at rest. You will receive a notification when the battery level reaches 20 percent.
A holographic windscreen
We've all seen head-up displays, with important car functions projected onto the windscreen so you don't have to take your eyes off the road. But now WayRay, a Zurich-based start-up is planning to move the tech up a gear with its holographic augmented reality which displays a 3D image through the windscreen and onto the road.
It can be used to provide a better navigation experience, teach drivers racing lines on track or display local information as you drive. In the future, it could even be used to turn your windscreen into a giant display for watching movies or doing work in driverless cars. A number of manufacturers have partnered with WayRay including Porsche and Hyundai and the tech is expected to be seen on cars next year.
Over-the-air updates
It used to be you had to book your car into your local dealership to have upgrades carried out to its software to keep the systems up to date. Often with a cost attached. Car makers like Tesla are shaking things up with over-the-air updates that push the changes to your car remotely, like firmware updates to your computer.
Tesla even managed to remotely improve the braking performance of its Model 3 with an over-the-air update. Audi, BMW, Ford and Volvo have also now started offering the service on certain models, and increasingly cars are permanently connected to the internet.
Biometrics
Biometrics is the latest big innovation in cars. Fingerprint scanners are already available in the latest Hyundai Santa Fe, allowing you to start your car without the key and automatically adjust your preferences like seats, display and music.
Earlier this year, Volvo announced it would use in-car cameras to monitor driver behaviour to prevent distraction and drink driving from next year - and the tech could even be used to monitor the health of drivers by monitoring body temperature.
Digital door mirrors
It used to be a concept car gimmick, but now digital door mirrors are being used on production cars. The Audi e-tron is the world's first car to use virtual mirrors to display a live feed of the outside surroundings on a display in the car. The Lexus ES gets similar tech, as does the forthcoming Honda E electric car.
Artificial Intelligence
The new Land Rover Evoque comes with something called Smart Settings technology, which uses advanced artificial intelligence algorithms to learn the driver's habits over time. It's a bit like an on-board butler, readying the car before your journey.
Land Rover claims the technology is 'self-learning', so over time it will recognise your patterns and adjust the settings accordingly, like temperature, media, steering and seating position. It will even predict the phone calls you are likely to make based on your pattern.
Inductive charging
Despite the buzz, electric cars are still in their infancy and the infrastructure still has strides to make if we're all going to become hooked on plugging in. But BMW has already launched an inductive charger that does away with the need for cables. Available for the BMW 530e, all you need to do is drive over the inductive charging plate and turn your car off.
It will recharge itself automatically. There's even trials being conducted in the UK that will electrify roads so that as you drive along your electric car's battery will continuously be replenished.
Invisible bonnet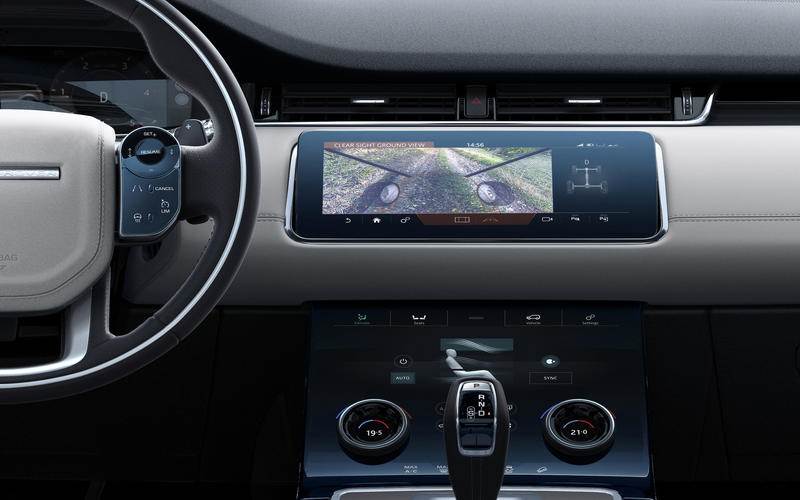 With the new Range Rover Evoque, Land Rover debuted its new invisible bonnet tech, which using cameras gives you a clear view of the road ahead and underneath the car - useful when off-roading or driving on unfamiliar terrain. The Evoque also comes with a smart rear-view mirror.
At the touch of a button, it turns into a screen displaying a rear-facing camera feed so that passengers or loads don't obstruct your view out the back.
Extended reality
Keeping kids entertained on long journeys is something many people have tried to master over the years, but few have succeeded. Headrest screens often cause motion sickness and there's only so many games of I-Spy you can play. Audi thinks it has the answer with its holoride tech.
Using VR technology, the tech can overlay a virtual world to the movements of the car in real time. As the car drives along a street, VR transforms the outside world into a colourful fantasy game and because it feels in sync with the journey Audi claims it reduces motion sickness.
Traffic light countdown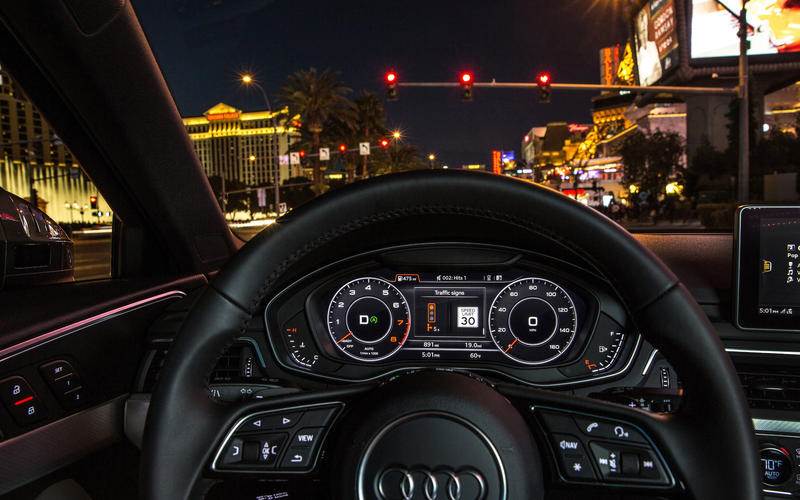 As part of its vehicle-to-infrastructure tech, Audi has introduced a new feature that shows how long traffic lights will stay green for. When you're driving along and you see a traffic light ahead, a countdown in the driver display will show you how long you have left before the lights change to red, giving you time to either speed up and catch the light, or know how long you have to wait for the next one.
Find an address with three words
What3Words has divided the world into 3m squares and given each one their own three-word address, giving precise location information without remembering an address. This is particularly useful for in-car navigation.
You can simply say to your car, navigate to snaps.tells.beams (the address of Autocar UK) and it'll take you there. The Mercedes A-Class became the first car in the world to use the tech and many more have now signed up to use the navigation aid.
In India, Tata Motors recently announced that will introduce the what3words addressing system in its cars, thereby becoming the first Indian OEM to do so.
See around corners
Nissan is one of many manufacturers working on technology to help drivers see the invisible. Its I2V tech uses sensors, real-time traffic information and the cloud to literally see around corners, with the information displayed virtually in the car. It can even advise drivers of the best lane to drive in during heavy traffic.
Predictive cruise control
We've had cruise control for years, and even radar-based adaptive systems that slow and accelerate to keep a set distance from the car in front. Now comes predictive cruise control.
With this system, the car knows its location and what is coming up, from a bend to a traffic light, and will slow the car accordingly. It is halfway to autonomous driving and is available on cars like the Mercedes S-Class, Volkswagen Arteon and models from Volvo.
RELATED ARTICLES