Showing results for "Lumax"
Anmol Jain, managing director, Lumax Auto Technologies, talks about how the company is bullish about its prospects in ...
Lumax Auto Technologies, the market leader in gear shifters in India, aims to diversify into the passenger and commerc...
Acquisition to take place at equity valuation of Rs 587 crores.
The new centre will be involved in augmenting the company's engineering competencies in the areas of process developme...
The company has orders worth over Rs1,000 crore from both car and two-wheeler players, of which 90 percent is from new...
The company will also tap the expertise of its design centre in Europe to cater to the growing penchant of Indian cust...
Vineet Sahni opens up about the company's roadmap to tap technology trends in vehicle exterior lighting.
The company has received approval for production of some cutting-edge auto component products.
According to the company officials, the market opportunity for new age product introductions which would be regulation...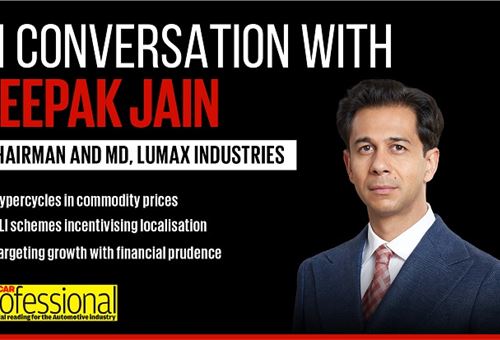 He shares his vision of shaping the future of Lumax into a tech-first company amidst all the disruptions, and changing...