How the SUV and passenger vehicle markets will pan out after the lockdown
The passenger vehicle and SUV market in India had been growing fast until the first half of 2019. The triple whammy of the BS VI transition, economic slowdown and Covid-19 has been devastating.
FCA India's Dr Partha Datta: "The industry will demonstrate innovation to alleviate out of pocket cash."
Dr. Partha Datta, President & MD, FCA India on the state of the passenger vehicle and SUV markets after the lockdown.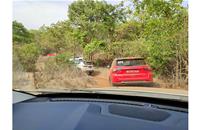 Looking back at the last four weeks I am absolutely stunned.A microscopic 'bug' has brought the sovereign species on this planet, to a standstill.It has affected over 2.6 million people, killing over 183,000 and has left a lasting impact on the worldwide economy.
Consider this, almost every passenger and commercial plane (23,600 in service) has been grounded. Never has this happened.Every country has adopted a lockdown to varying degrees. Every industry has been affected and a pall of uncertainty has descended on our future. Sarah Blakely once said, "When everything is uncertain, everything that is important becomes clear", and so it is today. All prior assumptions, monuments and 'must dos', washed away. Families, communities, nations and corporations, are assessing their options and priorities.
Within the auto industry, the lockdown has had a profound impact.The passenger vehicle and SUV market in India had been growing fast until the first half of 2019. The triple whammy of the BS VI transition, economic slowdown and Covid-19 has been devastating. Until mid-March of this year, auto retail demand was predominantly fueled by discounts on BS IV vehicles. April onwards, automakers were to push BS VI stock but here we are. Footfall at the showrooms has stopped and plants are shut down; consumption and demand are negligible.
Unemployment is expected to increase and household income to fall. Several auto related micro, small and medium enterprises may be unable to sustain losses from the lockdown. Continuing fixed costs, without revenues, salaries and monthly fixed expenses to repay, they may be forced to shut. The extended universe which drives the need for cars including lodges, hotels and tourism will be down for quarter two and three. I expect the passenger vehicle and SUV market to fall by at least 10 percent, with a recovery penciled in for 2021. In 2020, customers will be undoubtedly cautious and conserve cash. Most will question whether their purchase is 'important' or 'discretionary'.
One group who puts more value on their personal space will check 'important' and try to stay away from public transportation. Several of them will be first time car buyers and can only afford entry level vehicles, or consider a second hand car. The second group, significantly financially affected by the lockdown or Covid-19, will check 'discretionary' and put off their purchases.
On the supply side, factory closures and delay in supply (imported raw material shortages), new sanitisation equipment and re-scrolling of lines, will increase fixed manufacturing costs. Most small logistics service providers are close to bankruptcy due to the lockdown. Many drivers remain in their home towns with an uncertain return. Warehouses are full. Immediately after the lockdown, expect hiccups in material dispatch and deliveries. Reducing inventory costs, stock and a focus on online orders will be key. Order management through sales planning will be crucial. Import shipments have been affected by international port capacity and allocation.
This lockdown has had a big impact on consumption. Consumer sentiment is negative despite the stimulus package injecting liquidity, and people are actively conserving cash. The reduction in the cost of capital will boost demand but slowly. Demand from foreign consumption may actually be an opportunity. As a low cost manufacturing hub, India has a clear advantage. The world will look to diversify their supply chain industrial base and India has a strong chance to be part of this diversification.
There is hope that the SUV market will see some recovery during Diwali. Some expect India to be largely unscathed like in 2008. They predict regeneration in six months with the liquidity being introduced and expect some of this liquidity to find its way into the auto industry. They expect new scrappage incentives, including GST reduction to bolster consumption and revive demand. They believe SUVs will start flying again.
Through Covid-19, a new 'need' has emerged. Consumers will be looking for hygiene and sanitisation features to be built into their vehicles. In the near future this will be a strong purchase consideration but willingness to pay for these features remains unknown. Almost every automaker will be quickly developing features with perceived value for hygiene.
The dealership experience and the sales process have and will continue to change significantly. Customers will be more sensitive to hygiene and safety at the showroom and workshops. Across industries, we are seeing investment in a contactless customer experience. Online activity will see an upsurge with a need to deliver rich content and a virtual customer experience. Higher levels of convenience will also be expected, which consumers have enjoyed for some time in other digitally disrupted industries.
A slow start is on the horizon. The optimist in me hopes that it will all go back to normal as soon the vaccine becomes available and people will compensate for what they missed out on. The industry will demonstrate innovation to alleviate out of pocket cash. The automobile market will slow down at least for four to six months. It may take as long as 18 to 24 months to get back to 2018 levels, but it will.
The world we live in has fundamentally changed. This experience has made us all stronger, more aware and more innovative. It has made us re-evaluate what's really valuable in our lives, our symbiotic relationship with each other and nature. We've come closer and shown more solidarity, even as we physically distance ourselves. We've had to break paradigms in how we work. I believe this will lead to new opportunities and efficiencies in business. This storm will pass, we will find a way to thrive again, better and stronger.
RELATED ARTICLES