Yamaha India launches hot FZ25 at Rs 119,500, squarely targets Bajaj, TVS bikes
Yamaha, which is aiming at sales of 4,000-5,000 FZ25s a month, has the 200cc Bajaj Pulsar line-up, KTM 200 Duke, TVS Apache RTR 200, Honda CBR250R and the Mahindra Mojo in its crosshairs with its latest made-in-India product.
Yamaha India launches hot FZ25 at Rs 119,500, squarely targets Bajaj, TVS bikes
Yamaha India launches hot FZ25 at Rs 119,500, squarely targets Bajaj, TVS bikes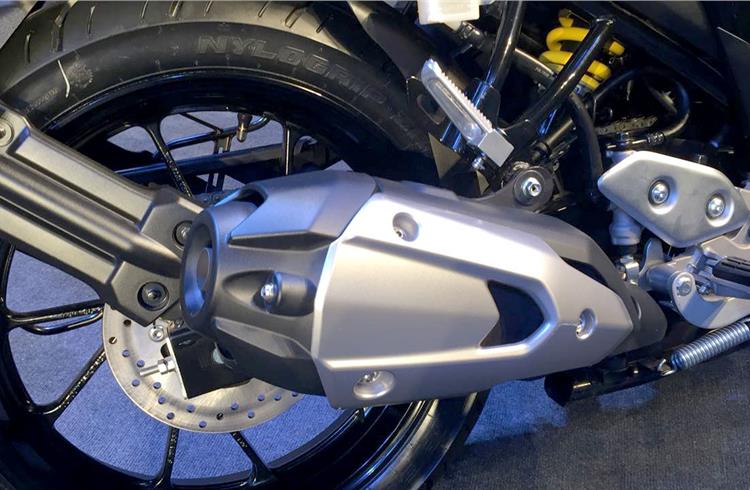 Yamaha India launches hot FZ25 at Rs 119,500, squarely targets Bajaj, TVS bikes
Yamaha India launches hot FZ25 at Rs 119,500, squarely targets Bajaj, TVS bikes
Yamaha India launches hot FZ25 at Rs 119,500, squarely targets Bajaj, TVS bikes
Yamaha India launches hot FZ25 at Rs 119,500, squarely targets Bajaj, TVS bikes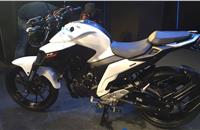 Consolidating its entry level premium motorcycle portfolio, India Yamaha Motor (IYM) launched a brand new model – FZ25 – priced at Rs 119,500 on January 24, 2017. Yamaha is targeting motorcycling aficionados in their early 20s to early 30s for the FZ25.
The aggressive pricing of the FZ25, which is powered by an air-cooled, four-stroke, single-cylinder, 249cc engine developed originally for sportsbikes in Japan but re-tuned for Indian conditions (including role play of costs), is the result of its powertrain's 100 percent localisation at the Surajpur plant in Greater Noida. The two-valve per-cylinder construction of this new fine-tuned 249cc engine, which develops maximum power of 20.6bhp and 20Nm of peak torque, is clearly indicative of an attempt to tone down the peak power output and instead deliver improved fuel efficiency.
Aligned to this package is the nimble handling of the motorcycle, which packs an overall wet weight of only 148kg (including 14 litres of full fuel tank), thanks to the model's lightweight diamond-type frame. The company claims fuel economy of 43km per litre under ideal test conditions.
According to Yasuo Ishihara, managing director, Yamaha Motor R&D India, the FZ25 has been intentionally given the two-valve per cylinder construction (instead of four-valve as on the potential rivals) to optimise the package for Indian traffic conditions and to keep costs in check.
On the equipment front, the FZ25 gets an all-digital LCD instrument cluster (which includes a trip meter as well as a live fuel economy indicator), LED headlight and tail-light, and alloy wheels. Safety features such as ABS are conspicuously missing, with the cited reason being cost concerns. Yamaha did say that they will be added when government norms mandating the same are implemented.
Banking on localisation
The launch of the FZ25 also underlines the evolving entry level midsize motorcycle segment in the domestic market, where OEMs are beginning to locally produce engines in the 250–500cc displacement range in India. Interestingly, the manufacturing of the 249cc engine by Yamaha makes it the third company – after Bajaj Auto and Royal Enfield – among the top six two-wheeler OEMs in India, to locally produce 250cc and above engines.
The company also retails its in-line, two-cylinder, 321cc, 41.5bhp, YZF R3 sportsbike in India in the entry-level midsize motorcycle segment. The R3, however, is a locally assembled model at Yamaha's Surajpur plant, and comes with a substantially higher price-tag of Rs 326,000 (ex-showroom, Delhi).
Speaking at the launch of the FZ25 in New Delhi, Masaki Asano, managing director, Yamaha Motor India Sales, said, "The FZ series has been a great performer ever since its launch in India in 2008, and has crossed sales of over 1.3 million units. The customers of FZ series (FZ 150 models in India) can step up to a premium model, which is armed with more power, new features, sporty look and aggressive styling."
Adding to what Asano said, Roy Kurian, vice-president (Sales and Marketing), Yamaha Motor India Sales, commented: "The FZ25 is a refined mix of raw power along with superb control and balance. It has been personalised for street-smart, new-age riders with aspiration to upgrade to a more powerful bike. While the bike has been engineered for new-age biking enthusiasts, its design and comfort makes it perfect for daily use too."
The FZ25 will go on sale from February 2017 in three colour options – blue, white and black. It is understood that Yamaha is currently working to build its inventory of the FZ25 across its dealerships in the metros and Tier 1 cities.
How the competition stacks up
The FZ25 is squarely targeted at the existing line-up of 200cc models in India, which are the Bajaj Auto-manufactured Pulsar RS, NS, AS and 220 variants along with the performance-oriented KTM 200 Duke. The FZ25 also competes with TVS Motor's Apache RTR 200 and Mahindra's Mojo among the breed of models currently made in India. Some other models that the FZ25 takes on are the single-cylinder, 250cc Benelli TNT 25 and single-cylinder, 280cc Renegade Commando and Sport S models from UM Motorcycles.
India Yamaha Motor is targeting sales of around 40,000 units to 60,000 units of the FZ25 in the first year of its launch. It is understood that the growing bunch of midsize motorcycle riders across the country have been anticipating a 250cc-300cc model from the stable of Yamaha for the past two years, if not more. Although the company has stepped in slightly late than expected in this segment, it aims to lure potential customers of the existing options in the market. With attractive pricing on its side, it would be interesting to see how the Yamaha FZ25 fares in the market in the coming months.
Q&A: Yasuo Ishihara, MD, Yamaha Motor Research & Development India
Shobha Mathur met YMRDI's chief soon after the launch of the FZ25.
The new FZ25 has a new single-cylinder engine with a lightweight frame weighing 148kg. What steps were taken to reduce weight and develop the engine?
Initially we made heavy motorcycles very easily as there was no need to optimise each part, especially the engine and powertrain. But in this case, after the initial design, we analysed and conducted a few evaluations on whether we can cut some bracket or some component. We made several drawings and finally arrived at the prototype. So after repeating this exercise, we reduced the total motorcycle weight.
How much lighter is it than rivals in its segment?
Broadly speaking, this engine power is much higher so there is not much difference in weight. But if we compare with other motorcycles in the 250cc category, maybe this weight will be 5-10kg less.
Have you cut down some components or used more of aluminium?
We don't want to use expensive materials for the customer, so we don't use so much of aluminium material. If we want to create our own sport model, we will use titanium or some lighter and more expensive material. But this motorcycle is not such a concept. So optimisation of each part with the current material is its basic concept.
Which are the other new products under development?
As everyone knows, the advanced brake system is very important but we have launched this model first as a customised vehicle. From next year, we need to equip motorcycles with the ABS system or the combined brake system. So we are preparing advanced safety systems. In terms of airbags, two-wheeler airbags are a lot different compared to those for passenger cars. It suddenly expands which means it is easy for the two-wheeler to fall. It is a very difficult technology and requires maximum care.
Also read:
India set to become Yamaha's second-largest market by end-2017
RELATED ARTICLES