Volvo India launches XC90 Excellence Lounge Console at Rs 1.42 crore
India the first global market for the launch of the XC90 Excellence Lounge Console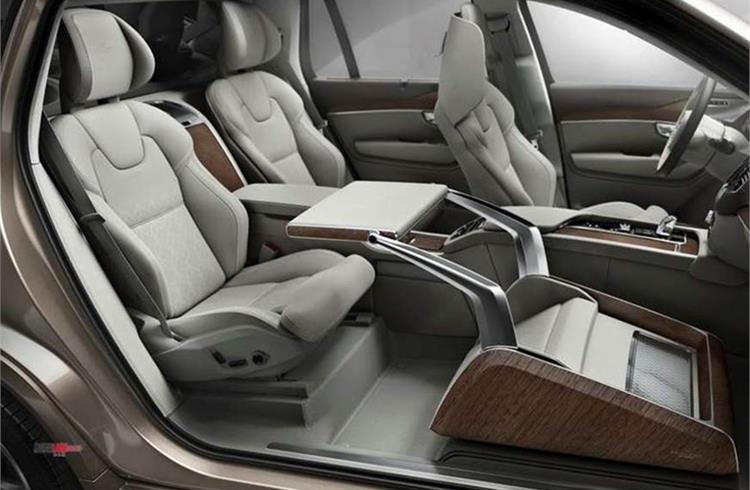 Swedish luxury car maker Volvo is betting big on its India plans. In fact, the company has made the country the first global market for the launch of the XC90 Excellence Lounge Console. The new top-of-the-line variant of the XC90 flagship SUV in the Indian market is priced at Rs 1.42 crore (ex-showroom, India).
The company says India has been the biggest market for the XC90, and in fact around 100 units of the luxury cars have been sold in India, the highest for the brand globally.
The new XC90 Excellence Lounge Console variant comes with a unique three-seat layout where the front passenger seat makes way for a powered ottoman unit that comprises of a rising leg-rest section, lockable storage compartment and a fold away screen that also flips down to be used as a table.
Responding to Autocar Professional's query on the potential timeline for the sale of the three-seater XC90, Charles Frump, managing director, Volvo Car India, said: "There is a demand for ultra-luxury premium cars. Our distinctive approach aims to deliver a luxurious and calming to our customers. Volvo XC90 Excellence Lounge is the most exquisite car we've ever made. We may sell out the car in just 6 days."
Under the hood, the Excellence Lounge Console variant of the XC90 uses the same T8 Twin Engine hybrid system as the standard XC90 Excellence. The system gets a 320hp, 2.0-litre turbocharged and supercharged petrol engine (powering the front wheels) with an 87hp electric motor (driving the rear wheels) to give the SUV all-wheel drive. This, delivers a combined output of 407hp and 640Nm of torque.
The company says under the first production phase only 15 units of the XC90 Excellence Lounge Console variant will be sold in India. What's more, when asked about the potential of increasing the number of units, Frump said, "We want the product to stand out and see our dealers work hard towards making the XC90 Excellence available to the premium customers."
RELATED ARTICLES