VECV launches new coach and sleeper buses, targets mid-premium segment
CV OEM targets white space between the Rs 40 lakh and Rs 1 crore segments with new range targeted at intercity, route permit and staffer transport applications.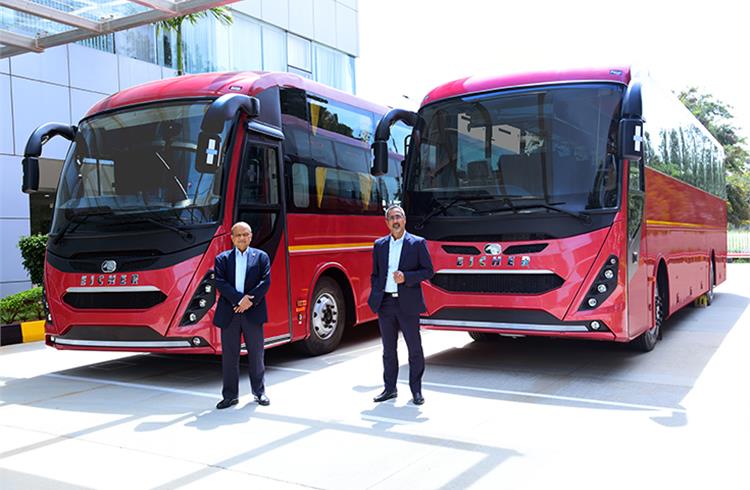 With the pandemic receding, a large swathe of the population vaccinated and the country opening up, new business opportunities are also coming up for companies keen to seize them. VE Commercial Vehicles (VECV) is one of them, aiming to ride the uptick in demand for buses.
On October 12, VE Commercial Vehicles launched an all-new coach and sleeper bus range. The custom-developed buses are designed and built in Volvo Buses India's factory in Hosakote on the front engine Eicher 6016 R LPO 12.4m chassis. The company claims the new range of buses sets a benchmark for bus travel in India with its future-ready design and luxurious interiors.
According to Vinod Aggarwal, MD and CEO, VECV, "A year ago, we announced the formation of a bus division within VECV with the clear aim to shape the developments in the Indian bus industry. Today I am proud to launch a new range that synergises Eicher brand's extensive local presence and expertise in value engineering with Volvo Buses India's competence in premium bus segment. This product truly combines the 'best-of-the-both-worlds."
Akash Passey, president – Bus Division, VECV said: "This is the first milestone in our drive to offer a complete range of market-adapted economy, mid-premium and premium buses across all market segments. With the national permit being rolled out, operators seek high-quality buses – that call for balanced upfront investment – to reliably cover longer distances. The new products are the perfect answer to this rapidly evolving market's needs. We are confident that the fully factory-built coach and sleeper will prove viable alternatives to rail and air travel, due to their best-in-class quality, reliability, and durability."
Tapping the untapped market
The partners are betting on the synergies to address the untapped bus market in India. At present, Eicher products are priced below Rs 40 lakh while Volvo buses cost around Rs 1 crore. With the new product, the aim is to target the mid-premium segment, where the partners do not have any presence. Essentially, this is the 'white space' in the bus market.
According to Aggarwal, "While the current market size is small, in good times, the addressable market size was around 20,000-25,000 units. The new range of buses is in the mid-premium range, which is a vacant space we have filled in. We expect good traction through the product."
He added that "The bus market is in time for revival mode, with schools opening. We expect bus demand from school, offices opening up, STUs have started buying, inter-city travel will start with Covid fears coming down and vaccination picking up. The third wave of Covid is also not expected. With buying not happening in the last two years, we are expecting bus volumes to come back."
The OEM is also expecting with an increase in diesel prices, and the introduction of premium products the average ticket size will also go up, as customers will require newer fuel-efficient vehicles. In addition, VECV will also look at strong export opportunities especially in the Middle-east and South Asian markets.
Key highlights of the new range
The new coach and sleeper range, built on the Eicher 6016 R LPO 12.4m chassis, is powered by the 5.1-litre VEDX5 engine derived from Volvo Group's global powertrain family. It develops maximum power of 210 hp and flat torque of 825 Nm at1200-1600 rpm and according to VECV "best-in-class fuel efficiency".
The fully air-conditioned coach seats 43 passengers with best-in-class 11.3 cu.m luggage space.
Sleeper version offers 30 berths that maximise comfort and safety and offers 6.5 cu.m of luggage space. Berths are separated by full-height partitions to ensure privacy and security in the air-conditioned environment.
Value-added features include cruise control, fuel coaching, Mbooster+ and Intelligent Engine Protection System. a preferred choice for Intercity, Route Permit and Staff applications.
The coach's theatre-type saloon seating, pushback seats and LED ambience ensure comfortable long journeys. USB ports, reading lights, speakers, AC louvres and infotainment systems are standard offerings.
High importance is accorded to driver ergonomics. The dashboard, which is designed in line with global benchmarks, incorporates controls that are positioned and oriented for easy accessibility. The engine hood is suitably insulated to minimise NVH levels. The bus body complies with relevant legislation, with all materials being certified to be fire-retardant.
The new range is supported by Eicher buses all-India service network with over 500 touch-points which offer a one-stop-shop for both chassis and body service requirements.
RELATED ARTICLES