Toyota Kirloskar Motor's 'green wave' grows through afforestation
To date, the vehicle manufacturer has planted more than 323,000 saplings with 650 native species, creating rich biodiversity and accelerating afforestation activity.
Toyota Kirloskar Motor's 'green wave' grows through afforestation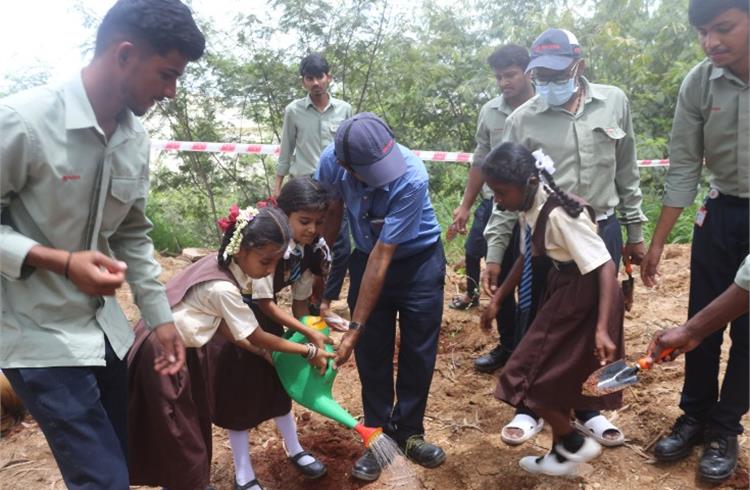 Toyota Kirloskar Motor's 'green wave' grows through afforestation
In its journey of developing a strong sustainable culture in the company, Toyota Kirloskar Motor continues to make strides in creating a green campus through afforestation drives held at its plant in Bidadi (Karnataka).
A recent event saw the participation of over 250 people including students, NGOs, government officials from the Education Department and Directorate of Women & Child Development Department, and Anganawadi teachers. The project covered more than 2 acres with the planting of over 750 fruit saplings to further stabilising the biodiversity in the region.
This afforestation drive also saw Ganganna Swamy, Deputy Director of Public Instructions, and A R Shivakumar, Retd. IISC Scientist (popularly known as Bengaluru's 'Rain Man'), Raju B Ketkale, Executive Vice-President, R Vinaya Kumar, Vice-President and Mr. G Shankara, Vice- President – HR, at the occasion.
Thriving on the principle of living in harmony with nature, TKM over the years has extended unwavering support to the environment beyond just its sustainable product line-up. The announcement of Toyota's six aspirational global environmental challenges, in 2015, continues to strengthen the company's relentless efforts towards achieving 'Carbon Neutrality by 2050' and 'Net Zero Carbon in Manufacturing Operations by 2035'.
The afforestation drive which is inspired by the sixth challenge of 'Establishing a Future Society in Harmony with Nature', aims to conserve biodiversity, create awareness, and promote environmental education through collaboration with our internal and external stakeholders. Thus, in its journey of creating environment friendly premises, TKM has to date has planted more than 323,000 saplings with 650 native species.
Talking about TKM's continued focus on green initiatives, Raju B Ketkale, EVP, TKM said, "Sustainability is a way of life at TKM, which reflects in the environment-friendly practices across our entire value chain. All our initiatives are designed toward lowering our environmental impact and achieving the goal of 'Living in Harmony with Nature'.
He added, "We believe that sustainable living is also important in reducing the carbon footprint and protecting our environment, and these initiatives are crucial to realising these goals. As part of our water and environment conservation efforts, our focus is to co-create projects that not only showcase impact but bring about a behavioural change in society. Needless to mention, the students, teachers, and other government dignitaries play a major role in inspiring others to join the mission, and thereby continuously engaging with them in a variety of activities to support in inculcating eco mindset towards creating a society living in harmony with nature."
Strategic five-year plan at work
In its journey of sustainable development, TKM says it has made significant achievements on the path of carbon neutrality and net positivity, with the help of strategic five-year action plans. Currently, TKM is using 100% renewable energy for its grid electricity needs. On water conservation initiatives, it has seen outstanding results with reduced freshwater usage by 90% in manufacturing. The company not only focuses on eco initiatives to mitigate the impact on the environment but also proactively contributed to the betterment of it, by creating awareness and enabling a good understanding on the topic of sustainable development in Toyota's one-of-a-kind experiential learning centre – Ecozone – covering more than 27,100 people so far.
Set up inside TKM's plant premises, the Ecozone is an outdoor environmental learning centre, specially designed to provide experiential learning to stakeholders. Spread over 25 acres, Ecozone comprises 17 theme parks representing the five modules of Water, Waste, Climate Change, Biodiversity and Energy.
The Toyota Eco Zone project is envisioned as a holistic learning centre for students to engage in the exploration of sustainability in various fields through place-based experiential education. The park is an effort to introduce the crucial elements of Nature connection that are lacking in modern education by creating native ecosystems, working models, audio-visual and other sensory experiences including hands-on activities and experiments.
RELATED ARTICLES