MG Hector sold out for 2019, bookings temporarily closed
Having received over 21,000 bookings for the Hector since June 4, MG has closed bookings temporarily; production will be ramped up to 3,000 units a month by October 2019.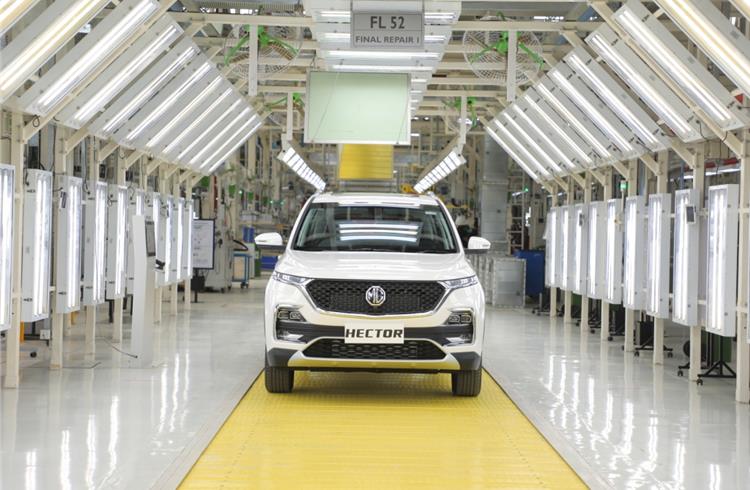 It's no secret that since it was unveiled, the MG Hector has left quite an impression on potential buyers. Since Morris Garages India opened bookings for the Hector on June 4, the company received over 10,000 bookings till June 27, the day the MG Hector's price was announced. Now, less than a month since the price reveal, MG has announced that the Hector is sold out for 2019, as the company has received over 21,000 bookings since the launch. So, for the time being, bookings will close midnight on July 19 as the carmaker works on ramping up production at its plant in Halol, Gujarat.
In an official statement, Rajeev Chaba, president and managing director at MG Motor India, said, "The Hector has received an overwhelming response and we are unable to cater to such high initial demand. We are, therefore, closing bookings temporarily as this will help ensure timely and orderly deliveries for our customers who have shown tremendous confidence in MG. We are also working with our component suppliers to ramp up production in a gradual manner without any compromise on quality."
For now, MG has said it intends to gradually increase production of the Hector to 3,000 units a month by October 2019, and has also communicated that the date of re-opening of bookings will be announced soon. Additionally, the company has also stated the petrol versions make up more than 50 percent of Hector sales, and the variants most in demand are the top two trim levels – Smart and Sharp. We'd previously reported that the Hector 1.5-litre petrol-DCT in Glaze Red was the most popular pick among buyers, with a waiting period of over seven months across India. The other two engine-gearbox configurations – the 1.5-litre petrol-hybrid with a manual gearbox and the 2.0-litre diesel with a 6-speed manual – commanded a waiting period of four and three months, respectively.
The MG Hector's introductory price bracket of Rs 12.18-16.88 lakh (ex-showroom, pan-India) surprised many, and MG also revealed the 'MG Shield' aftersales initiative for the Hector, which is aimed at boosting buyer confidence. It remains to be seen if MG will keep the introductory price even after bookings are re-opened.
RELATED ARTICLES