Isuzu Motors India opens new service facility at Visakhapatnam
Isuzu Motors India's new service facility at Visakhaptnam is in collaboration with the Mahavir Group.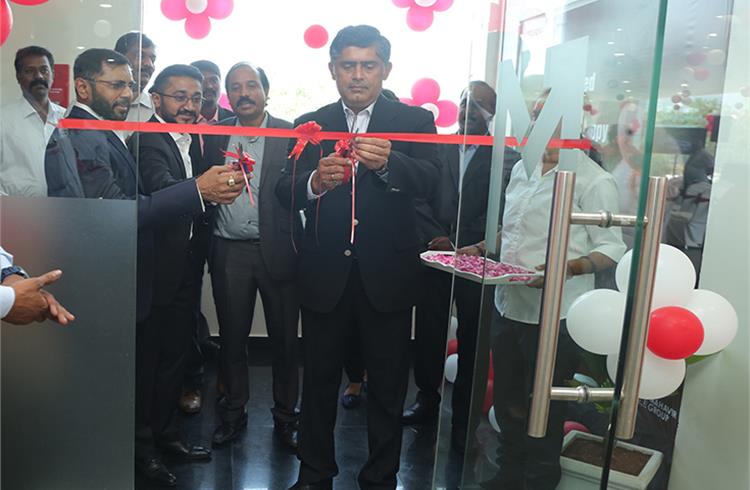 Sr Management Team of Isuzu Motors India and Mahavir ISUZU inaugurates the new service facility in Vizag
Isuzu Motors India opens new service facility at Visakhapatnam
mu-X Vehicle Delivery at the inauguration of new service facility of Mahavir ISUZU in Vizag
Isuzu Motors India, manufacturers of the D-Max pick-ups, has inaugurated a new dedicated service facility, Mahavir Isuzu, in Visakhapatnam. The new dedicated service centre adds to its network of touch-points already operational in Visakhapatnam, Rajahmundry, Vijayawada in Andhra Pradesh and in Hyderabad.
The new facility was inaugurated today by the senior management team of Isuzu and Mahavir Group in the presence of company officials and select customers. The new facility will be equipped with 5 service bays to handle various vehicle servicing requirements. The facility is spread over an area of 22,000 sq.ft and is conveniently located in one of the key industrial hubs of Visakhapatnam on the Chennai – Kolkata highway.
Speaking on the occasion, Naohiro Yamaguchi, managing director, Isuzu Motors India, said, "Isuzu has been strengthening its sales and service operations constantly across the country. Andhra Pradesh, being the home for Isuzu vehicles, is one of the key growth markets for Isuzu in India. Our service operations are backed by various levels of training to provide customers the best service in the pursuit of customer satisfaction. Our association with Mahavir goes back to days when Isuzu started its operations in India in 2012."
The entire range of Isuzu vehicles are manufactured at the SriCity plant in Andhra Pradesh. The plant at SriCity is slated to become one of the key manufacturing hubs of Isuzu globally.
RELATED ARTICLES