Exports energise Bajaj Auto, TVS numbers in April-June 2021
The two OEMs account for an overwhelming 74 percent of total Indian two-wheeler shipments in Q1 FY2022.
Sustained demand from overseas markets for their two-wheelers is helping Bajaj Auto and TVS Motor Co considerably, more so when domestic market demand is yet to find its feet. For both OEMs, their export numbers in the first quarter of FY2022 have been a strong buffer to slackened demand in India.
Of the total India two-wheeler exports of 11,37,102 units, Bajaj Auto and TVS together – with 846,571 units – account for 74.44%, showing their complete dominance of the sector. Export leader Bajaj accounts for 49% of total shipments, while TVS is the next biggie with 26 percent. Next in line is Honda with an export contribution of 7% or 83,800 units.
Bajaj Auto, for whom exports have always been a strong growth driver, shipped a total of 556,753 units in the April-June 2021 period (Q1 FY2021: 213,948). While this performance is a 160% year-on-year increase, it is to be noted that Q1 FY2021 was when the world was first struggling with the Covid-19 pandemic and most countries were in a lockdown.
Bajaj Auto's strong export performance in Q1 FY2022 outstrips its domestic market sales of 342,552 units by 62%, albeit the Pune-based motorcycle major has clocked strong 81% YoY sales growth in India (Q1 FY2022: 185,981).
Meanwhile, TVS Motor India, the second largest two-wheeler exporter, despatched a total of 289,818 units overseas in the April-June 2021 period, notching 316% YoY growth albeit on a low year-ago base. In the domestic market, TVS sold a total of 328,883 units, which makes it the No. 4 player after Hero MotoCorp (940,597), Honda Motorcycle & Scooter India (491,339) and Bajaj Auto (342,552).
Bajaj Auto's and TVS' Q1 FY2021 performance maintains the trend of last fiscal. In FY2021, TVS hit a new high in two-wheeler exports – 764,039 units (12.55%), while Bajaj Auto shipped 17,96,518 (-3.89%). In FY2021, these two OEMs accounted for 78% of total two-wheeler exports – 25,60,557 units.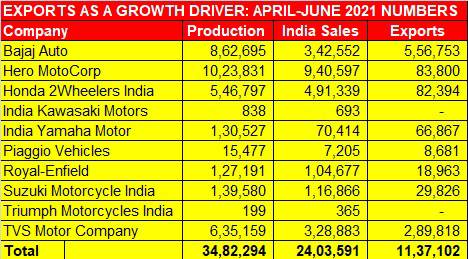 RELATED ARTICLES