E-mobility Conference - Experts debate on how EVs step up the game in the post-Covid era
E-mobility Conference - Experts debate on how EVs step up the game in the post-Covid era
E-mobility Conference - Experts debate on how EVs step up the game in the post-Covid era
E-mobility Conference - Experts debate on how EVs step up the game in the post-Covid era
E-mobility Conference - Experts debate on how EVs step up the game in the post-Covid era
E-mobility Conference - Experts debate on how EVs step up the game in the post-Covid era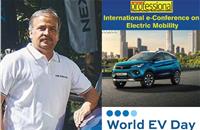 Autocar Professional marked World EV Day on September 9 with the first ever e-mobility conference, titled, 'Scaling up in the Midst of Challenge'. This also included two sets of panel discussion broaching on the various aspects of the EV ecosystem.
The topic for the first session was, 'Can EVs step up the game in the post Covid era?' The star studded list of speakers included
Henrik Fisker, founder, chairman & CEO, Fisker Inc
Anand Kulkarni, Product Line Director – Electric Vehicle & ALFA Architecture - Passenger Vehicle Business Unit, Tata Motors
Naveen Munjal, MD, Hero Eco Group, and President, SMEV
Kishor Patil, CEO, KPIT Technologies
It was moderated by Autocar Professional's Sumantra B Barooah.
Henrik Fisker, founder, chairman & CEO, Fisker Inc kicked off the discussion highlighting the importance of collaboration to aid greater EV adoption, "Over next 3-5 years, EVs may struggle to be competitive on account of the large batteries and range anxiety. Collaboration and creating value together are crucial."

Offering a perspective, Fisker said that in ICE vehicles, engines play a very important role and in fact defined a brand. However, that is not the case with EV and even the most trained person cannot easily detect the difference between engines to two different makes. "That means we can share all these components, " Fisker added, emphasising that OEMs can rather spend that money on creating sustainability in their business.
According to Fisker, earlier there used to be race amongst manufactures of ICE vehicles over coming out with engines that have higher Horsepower. However, with EVs, the race has now moved towards range. "There is a race for who can make an EV with the longest range" Fisker continued.
Seconding Fisker on the issue, Kishor Patil, CEO, KPIT Technologies said, "Outside there is collaboration that will allow the OEMs to source components. Otherwise it is very expensive". According to Patil, "profitability is still a challenge across the EV manufacturers and therefore is necessary to develop the ecosystem and the software support is crucial for greater and affordable EV adoption."
Following the global trend, some of the leading Indian OEMs have already formed a consortium so as to develop a supplier base for EV components. Sourcing the components from a common base of suppliers helps in bringing down the prices of these components, thereby providing economies of scale to the involved companies. Experts predict that collaboration and sharing of resources are likely to increase going forward amongst the companies as industry tries to gather itself from the devastating impact of pandemic.
According to Anand Kulkarni, Product Line Director – EV & ALFA Architecture - PV Business Unit, Tata Motors the current pandemic has helped in creating awareness about the benefits of a cleaner environment. "Expect 25-30 percent growth in the EV segment on a year-on-year basis" said Kulkarni
Offering his insights, Naveen Munjal, MD, Hero Eco Group and president, SMEV said that India's EV dream will ride on two-wheelers. "By 2025, expect nine percent of two-wheelers getting converted to EVs and 30 percent will be converted to electric two-wheelers by 2030" Munjal said.
RELATED ARTICLES