Delhi government to induct 1,500 electric and 450 CNG buses by September 2023
In line with its game-changing EV Policy, Delhi government makes speedy moves to accelerate eco-friendly bus mobility in the capital city.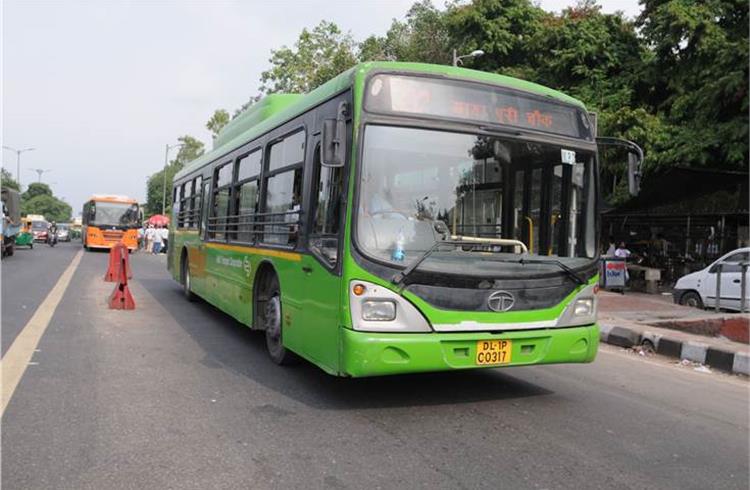 In what can be viewed as a huge boost to the electric mobility movement in India and the capital city, the Delhi government has given a nod for the induction of 1,500 low-floor electric buses by the Delhi Transport Corporation. The city's bus fleet will also see an addition of 450 CNG buses. By 2025, two-thirds of Delhi's bus fleet will be all-electric.
The Delhi government's Cabinet decision yesterday is in line with the 'Grand Challenge' floated last year by Convergence Energy Services (CESL), a wholly-owned subsidiary of state-run Energy Efficiency Services. CESL's 'Grand Challenge' is a set of homogenised demand for electric buses aggregated across nine cities in India that will provide a big thrust to the adoption of green public mobility. The cities to be covered under the Grand Challenge are Mumbai, Delhi, Bangalore, Hyderabad, Ahmedabad, Chennai, Kolkata, Surat, and Pune.
The CESL tender invited State Transport Undertakings (STUs) to express their demand for electric buses and access the FAME II subsidy, for which a total of 3,472 buses of subsidy equivalent were available. CESL was to aggregate this demand and based on a rating system, STUs will be allocated their total number of buses. The aggregated demand will be tendered out for the participation of OEMs and/or operators for the discovery of prices on the basis of rupees per kilometre.
In a video message following the Cabinet meeting, Delhi Chief Minister Arvind Kejriwal said: "The Delhi government is aiming to make the transport sector comfortable and of an international standard for its citizens. From the past two-odd years, large-scale bus buying, particularly of electric buses and air-conditioned buses, has begun keeping in mind people's comfort and Delhi weather. I am happy to announce that following a Cabinet meeting the decision to purchase 1,950 buses has been cleared. These buses will start plying from August-September and the full complement will be available by September 2023. Right now, there are 7,200 buses in Delhi; there will also be replacement of old buses. By December 2024, there will be 11,910 buses plying on Delhi roads."
Air pollution in India
Air pollution has been a vexing subject for much too long, especially in recent times when climate change and global warming have caught the attention of policy makers as well as industry leaders worldwide, who now look at all possible sustainability solutions to go eco-friendly.
India, with a grim scenario of a predominantly coal-based power generation, mass-scale operation of unorganised industries adhering to negligible levels of environmental norms, agricultural and automotive emissions, and a stark rich-to-poor divide, is also grappling with the issue of severe air quality in many of its cities across the vast landscape, putting the lives and health of its over 1.3 billion population at stake.
As per the 2021 World Air Quality Report, released in March 2022 by IQAir, a Swiss group that measures air quality levels based on the concentration of Particulate Matter (PM) 2.5, New Delhi continues to be the world's most polluted capital city for the fourth consecutive year. In 2021, India was home to 11 of the 15 most polluted cities in Central and also in South Asia.
The latest IQ Air report says, "India's annual average PM2.5 levels reached 58.1 µg/m³ in 2021, ending a three-year trend of improving air quality. India's annual PM2.5 averages have now returned to pre-quarantine concentrations measured in 2019.
India was home to 11 of the 15 most polluted cities in Central and South Asia in 2021. Delhi saw a 14.6% increase in PM2.5 concentrations in 2021 with levels rising to 96.4 µg/m³ from 84 µg/m³ in 2020. No cities in India met the WHO air quality guideline of 5 µg/m³. In 2021, 48% of India's cities exceeded 50 µg/m³, or more than 10 times the WHO guideline."
In view of this grim situation, the Delhi government's move to sizeably expand its electric and CNG bus parc is laudable. It may be recollected that the government has banned the entry of heavy goods vehicles from November 1, 2022.
Data charts courtesy: IQ Air
RELATED ARTICLES