Continental-Nisshinbo's new plant in Gurugram to drive up localisation of electronic brake systems 
Joint venture plant to manufacture valve blocks, further increasing the localisation content of Continental's Electronic Brake Systems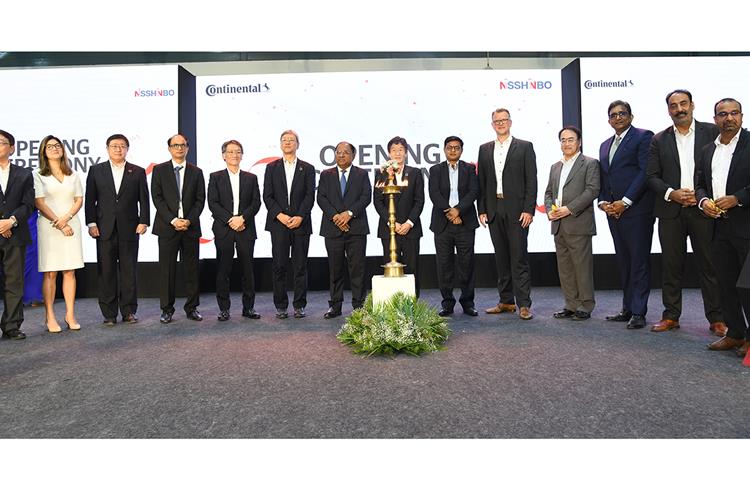 In line with its strategy of 'in the Market, for the Market', technology company Continental has announced the inauguration of a new plant in Gurugram, together with its joint venture partner Nisshinbo Holdings.
The JV was announced early last year, with Continental holding a share of 40 percent and Nisshinbo 60 percent. The new JV plant will produce valve blocks for Continental's Electronic Brake Systems (EBS) in India.
Nisshinbo will provide machining for producing the valve blocks, which get manufactured in the new JV plant, and later get assembled into a complete unit at Continental's plant in Gurugram. With the increasing content of safe technologies in vehicles, the demand for EBS is huge and continuing to grow, eventually benefiting the industry and end consumers.
To date, Continental has produced 7.3 million EBS units in India, including Electronic Stability Control (ESC) for passenger cars and Anti-lock Brake Systems (ABS) for passenger cars and two-wheelers. This is in line with Continental's commitment to the Indian market, driven by proactive safety legislation.
Dennis Fritsch, Continental's Head of Active Safety and Controls segment within Business Area Safety & Motion said, "Vision Zero, a vision of a world without traffic accidents, is our goal. As a market leader in safety technologies, we are committed to the Indian market. We have a strong partnership with Nisshinbo Holdings globally, and this milestone today is another positive step towards shaping safe mobility for the future."
Prashanth Doreswamy, President and CEO, Continental India, said "Safety is non-negotiable, and the last few years saw legislation that prioritises safety on the road in India and an equal commitment from vehicle manufacturers. Continental has been consistently investing in the Indian market and this JV partnership is a fitting example. We will continue to grow and invest in India."
In India, Continental has been a pioneer in EBS technology with a manufacturing range of ABS and ESC including products such as MK120 ESC for passenger cars, and the one-channel MK100 MAB and MiniMAB, and three-channel MK 3-2 MAB for two-wheelers.
RELATED ARTICLES