Continental India's Bengaluru plant wins VDMA Manufacturing Excellence Award 2021
The award recognises excellence in energy efficiency and conservation
Continental India's Bengaluru plant wins VDMA Manufacturing Excellence Award 2021
Continental India's Bengaluru plant wins VDMA Manufacturing Excellence Award 2021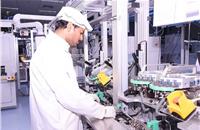 Technology company Continental's Indian arm has won an award at the fourth VDMA Manufacturing Excellence Awards 2021 in the 'Energy Efficiency and Conservation' category.
The prestigious award recognises the German Engineering Federation "Verband Deutscher Maschinen- und Anlagenbau" (VDMA) members who have implemented sustainable manufacturing processes, and creates a platform to share best practices for a better environment. The award is a testimony to the company's effort and commitment towards sustainability and energy efficiency.

Commenting on the award, Phanindra Karody, Plant Manager Bangalore, Continental Automotive India, said: "At Continental, we do not just focus on creating path-breaking technologies; we have an equal focus on how we do it. We are committed to sustainability throughout our manufacturing processes. Being recognized by the German Machinery and Plant Manufacturers Association (VDMA) for our energy efficiency and conservation efforts gives us great pride and motivates us to further improve our sustainability initiatives for the future."

Bengaluru plant: making a difference
Over many years, Continental India's Bengaluru plant has introduced various measures for high levels of energy efficiency. The plant's rooftop solar panels and a 5MW solar plant set up by a third party on behalf of Continental, ensure that over 93 percent of energy for the plant is from renewal sources. Another example is its energy-efficient chiller facility which has resulted in a 5.6 percent reduction in energy consumption and annually saves up to 5,400,000 units. Several other small and large projects and practices established in the plant address end-to-end of the value chain to contribute to the sustainability goals.

The award-winning Bengaluru plant is ISO 50001:2018 certified for Energy Management System. The plant also has a Level 5 rating of sustainability rating from one of the top Indian automotive OEMs in 2020.

Beyond products and operations, Continental supports several social responsibility projects that contribute to environmental protection and conservation. The most recent is its 150th-anniversary project of planting 1,500,000 trees across India.

Continental worldwide has defined clear sustainability targets and has set a roadmap to accomplish this journey. Along with the value chain partners, it aims for 100 percent carbon neutrality, 100 percent emission-free mobility and industry, 100 percent circular economy, and 100 percent responsible value chain by the year 2050 globally.

With around 3,400 member companies, the German Engineering Federation (VDMA) is the largest industrial association in Europe.
RELATED ARTICLES