Continental India Strengthens safety solutions for two-wheelers
Continental is providing localised two-Wheeler safety solutions and is also ready with new-age Advanced Rider Assistance Systems.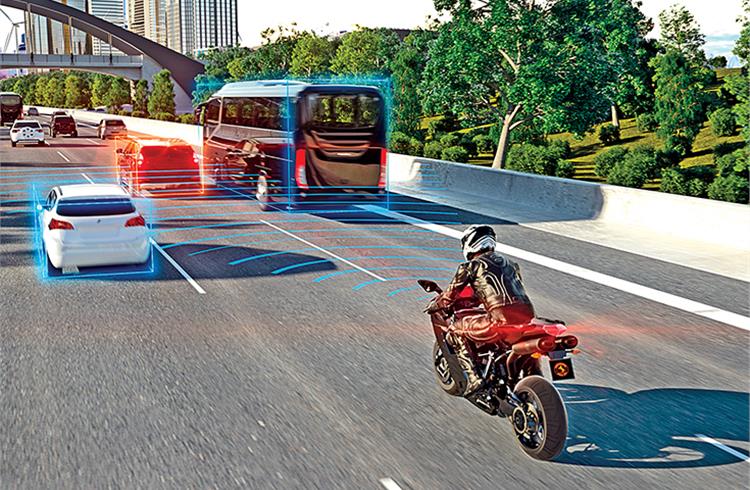 Continental is strengthening its safety solutions portfolio, particularly for the two-wheeler segment. Continental is providing localised two-Wheeler safety solutions, in line with the 'In the market, for the market' approach and is also ready with new-age Advanced Rider Assistance Systems.
With India being the largest two-wheeler market in the world and poised to grow further, Continental is committed to delivering affordable and intelligent safety technologies to ensure Vision Zero - A future with zero fatalities, zero injuries, and zero crashes.
Krishan Kohli, Head of Vehicle Dynamics (VED) and Hydraulic Brake Systems (HBS) business segments said, "The Indian two-wheeler market is growing swiftly, for which manufacturers are constantly looking at higher safety standards and technologies to tackle an equally high number of on-road fatalities. At Continental, we have been supporting the market with affordable and reliable safety technologies, which are further complemented by our localization strategy."
Localisation is at the core of company's strategy in India, creating an end-to-end value creation starting from marketing, R&D to production and sales. In 2020, Continental reached a milestone of 50 Million Wheel Speed Sensors (WSS) at its Manesar plant. Apart from increasing production in India, Continental is also innovating to produce technologies driven by local market requirements with an R&D setup.
Two-wheeler safety technologies
As per the Ministry of Road Transport and Highways' report published in 2020, around 37 percent of those killed in road accidents in 2019 were two-wheeler riders. Since 2019, the legislation mandated ABS (Anti-lock Braking Systems) for 2-wheelers above 125cc has aided better controllability, stability, and steerability for the riders to support safe braking on roads. There some of these crucial technologies which further enhance rider safety in critical riding manoeuvres.
Optimized Curve Braking , Traction Control System (TCS), Front Lift Protection (FLP), Motorcycle Hold & Go (MHG) feature are among the key safety and convenient features that ensure a safe ride for the passenger. The Tire Pressure Monitoring System (TPMS) by Continental measures the tire pressure using a sensor, transmits the reading, and displays it to the rider. Taking a step ahead, the ARAS (Advanced Rider Assistant Systems) for two-Wheelers along with the Blind Spot Detection (BSD) solution and the Forward Collision Warning (FCW) features alert riders. The Adaptive Cruise Control (ACC) enables motorcyclists to have a more relaxed and safe riding experience.
Krishan added that "As the newer and well-informed generation of consumers are becoming more aware of the safety features, the demand for advanced safety technologies will increase. Going by the trend, we can expect features like traction control, optimized curve braking, FLP, FCW, BSD, and others, to become increasingly prominent in the Indian 2-wheeler market in the course of next years," said Krishan.
Today, the tier 1 automotive supplier, tire manufacturer and industrial partner operate across India – with about 8000 employees across 14 locations, including seven plants that cater to the Indian market and a Technical Center that supports Continental's global R&D activities.
RELATED ARTICLES