Clean Motion India CEO says Zbee EV's India model has global potential
Clean Motion AB of Sweden, which develops, manufactures and sells EVs for a sustainable urban environment, says its urban transport model, currently practised in Gurgaon, can be replicated globally.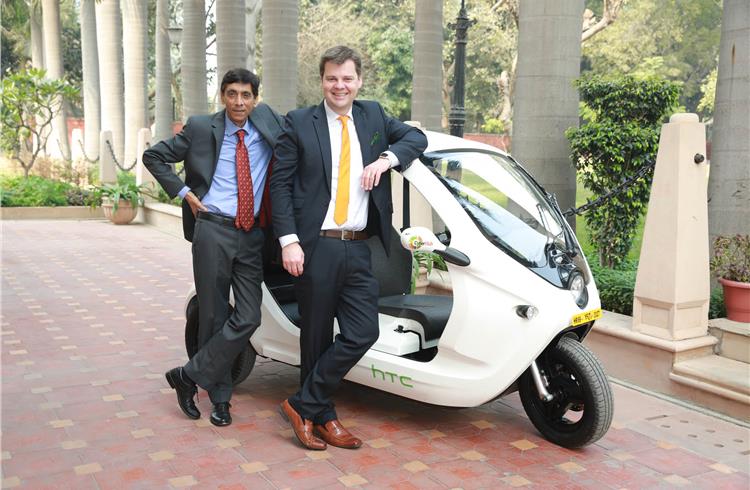 Clean Motion AB of Sweden, which develops, manufactures and sells electric vehicles for a sustainable urban environment, is bullish on India. In fact, the company says its recently introduced India urban transport model could be replicated elsewhere with success.
On February 2, 2016, Clean Motion had launched the Zbee all-electric three-wheeler in New Delhi. Designed as a safe, efficient and eco-friendly transport solution particularly for traffic-congested Indian cities, the company entered into an arrangement with DLF to operate Zbees from various retail formats in Delhi-NCR. It began the operation with a cluster of 25 Zbees that offer last-mile connectivity from DLF Cyberhub to nearby offices (of DLF Cyber City) and to Metro stations.
Operational for the past four months, the company now plans to expand to other formats such as The DLF Mall, Saket and Mall of India, Noida.
According to Anil Arora, country head of Clean Motion India, "The premium service that is offered in Gurgaon, India, can be replicated all across the country and the same model also has global potential. Zbee will make a great change into eco-friendly everyday transport. I am very pleased with the progress we have achieved so far and very excited about what we can achieve in the future."
India, with its population and increasing pollution issues, sees the public transport system under immense pressure to deliver clean and efficient solutions for urban mobility. While there has been considerable progress by way of organised corporate public transport and metro rail services in major Indian cities, however, their efficiency is limited by the lack of last and first- mile connectivity to passenger destinations.
Light and eco-friendly
The Zbee is made up of an FRP (Fibre Reinforced Plastic) body, due to which the 270kg vehicle manages to strike a good balance between lightness and safety. It comes with an advanced lithium battery and a full charge allows it to be driven for up to 50km.
Homologated by ICAT Manesar and certified by government authorities as an electric vehicle with a registered number plate, about 100 Zbees per month are locally assembled in India at Faridabad in Haryana; local manufacturing is being envisaged at a later stage. The Zbee is currently imported as a CKD kit from Sweden. Clean Motion has thus far invested over US$ 1 million (Rs 6.31 crore) in India and would be pumping in US$ 10 million by 2017.
The Zbee can be recharged within an hour. Later, a rapid charging device will be introduced that will facilitate a recharge within 30 minutes. The company claims that three Zbees can be fitted into a single parking space, thereby saving space. Energy efficient and a zero-emission vehicle, the Zbee's operating cost is 30 percent of the cost of a conventional fossil fueled vehicle. It can seat two passengers and the driver and has a top speed of 45kph.
Meanwhile, on May 26, Clean Motion AB's shares received approval for listing on Nasdaq Stockholm. "We´re in a very exciting phase where we see the listing on Nasdaq as a natural step in our development. The interest in our public offering has been great. As Nasdaq now has approved our application for listing, we look forward to the first day of trading which will attract an even greater interest in our activities both in Europe, Indonesia and India," said Göran Folkesson, CEO of Clean Motion AB.
Also read: Increased localisation will have Clean Motion slash Zbee price from Rs 5 lakh to Rs 3 lakh
RELATED ARTICLES