Bajaj Auto reveals its first EV – the electric Chetak scooter
Bajaj Auto today took the covers off its first electric vehicle, marking its entry into the world of emission-free mobility.
Bajaj Auto has become the first mainstream Indian motorcycle brand to enter the EV space. It has also returned to the scooter market with its new Urbanite sub-division and the Chetak.
The Chetak, which has a 4kW electric motor and IP67-rated lithium-ion battery pack, has two riding modes – Eco (95km range) and Sport (85km range) – and a reverse assist feature as well.
The scooter, which has an in-built charger, can be charged with a regular 5-ampere home power outlet. Full charge will take 5 hours. Bajaj will also sell a home-charging station at a 'nominal cost'.
Bajaj has equipped the new Chetak with a fully digital instrument cluster that will display a host of information, but it isn't a premium TFT unit as seen on the Ather scooter.
The front suspension is handled by a single-sided trailing arm unit that appears to have coilover setup with an exposed external spring.
At the rear, the Chetak gets a monoshock suspension. The scooter runs a disc brake at the front and a drum brake at the rear. The 12-inch wheels are shod in MRF Zapper-K tyres.
Nitin Gadkari, Minister of Road Transport and Highways; Rajiv Bajaj, MD, Bajaj Auto and Amitabh Kant, CEO, NITI Aayog unveil the Chetak electric scooter.
'Chetak Electric Yatra', flagged off by Nitin Gadkari and Amitabh Kant, will see riders on 20 e-Chetaks undertake a 3,000km Delhi-Pune ride through northern and western India.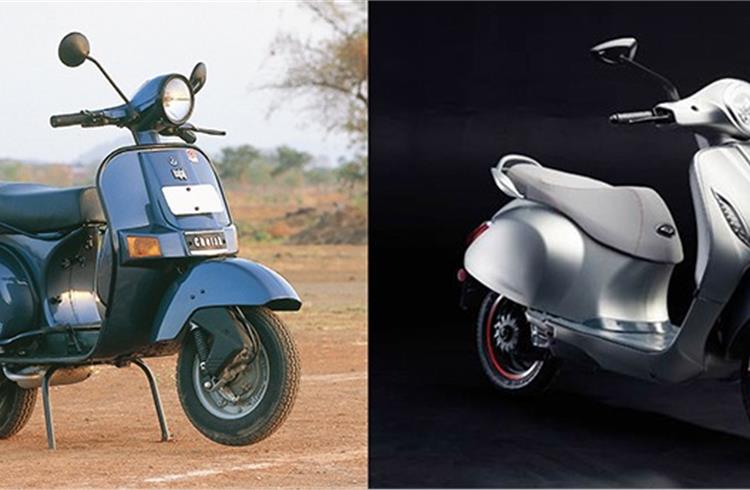 Nearly 14 years after production of the iconic IC engine Bajaj Chetak stopped, the Chetak brand has been reborn in an all-electric avatar.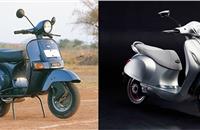 The Bajaj Chetak is reborn, in an electric avatar. Bajaj Auto today took the covers off its first electric vehicle at a high-powered product reveal in New Delhi, attended by Transport Minister Nitin Gadkari and Amitabh Kant, CEO, NITI Aayog.
Speaking at the product unveiling, Rajiv Bajaj, Managing Director, Bajaj Auto said: "I have been surprised to see the enthusiasm when people came to know we were developing an electric vehicle. I am also surprised to see the people who want to revolutionise Indian roads are often failed IC two-wheeler manufacturers who want to change the world with their EVs. We are not a battery or steel maker – we are engineers who do our own work, we are a company with a rich past and a strong legacy. We have a solid foundation to make a foray into the future."
Nearly 14 years after production of the iconic IC engine Bajaj Chetak stopped, the Chetak brand has been reborn in an all-electric avatar.

The Bajaj Auto boss, while delving into the company's past and the "golden period of the 1960s to the 1980s" said the company stopped making scooters, a decision which could be attributed to his father, Rahul Bajaj. He said, "In the early 1990s, our chairman said that Bajaj Auto had to be dominant not only in India but also globally. This was 30 years before 'Make in India'. He said, we must export at least 20% of our production. The best strategy to achieve this is of narrowing our focus. Become more and more of a specialist if you want to be a global champion. So, the chairman is responsible for stopping the scooter (from Bajaj Auto). We decided to become a specialist in motorcycles. We think our strategy works – we exported 40% of our production last year. Two million of our 5 million vehicles went to 79 countries."
Rajiv Bajaj cited global entrepreneur Jack Ma of Alibaba Group: "Don't wait for the environment to be ready. Don't wait for all the policies to be ready. When everything is ready, there is no opportunity for you." Bajaj said, "It is with this attitude we have decided to move into electric vehicles."

Transport minister Nitin Gadkari, Bajaj Auto managing director Rajiv Bajaj and NITI Aayog CEO Amitabh Kant with the Chetak electric scooter. ​

Electric Chetak high on connectivity
The new Chetak features a horseshoe-shaped LED headlight with DRLs, feather-touch activated electronic switches and sequential scrolling LED blinkers. A large digital console intuitively displays vehicle information with clarity. Bajaj Auto claims fine craftsmanship is visible in the smallest of details – from handlebar grips, levers and mirrors, to the softly opening of the glove box and the damped seat closure mechanism.
At the heart of the new Chetak is an IP67-rated high-tech lithium-ion battery with NCA cells, which can be charged using a standard household 5-15 amp electrical outlet. The on-board Intelligent Battery Management System (IBMS) controls charge and discharge seamlessly. Additionally, an elegant home-charging station is available at a nominal cost.
The Chetak offers 2 ride modes (Eco, Sport) and a reverse assist mode to ensure that all the demands of a rider are satisfied. In Eco Mode, the e-scooter has a range of 95km and 85km in Sport Mode. Regenerative braking via an intelligent braking system that converts braking heat into kinetic energy helps maximise its range.
The Chetak offers a fully-connected riding experience by virtue of being embedded with mobility solutions like data communication, security and user authentication that will enable customers to have a seamless ownership and riding experience. The Chetak mobile app gives the rider a comprehensive overview of all aspects of his / her vehicle and its ride history.
The electric Chetak has a rigid frame clad with sheet metal body panels and a tubular single-sided suspension. The powertrain employs a unique single-sided cast aluminium swingarm which houses the traction motor that drives the wheel through a high-efficiency automated gear box.
To commemorate the vehicle launch, the 'Chetak Electric Yatra' was flagged off by Nitin Gadkari Amitabh Kant in New Delhi. Riders on 20 Chetaks will traverse through North and Western India to travel approximately 3,000km each to a rousing welcome at Pune in Maharashtra.
Retail sales of the Bajaj Chetak are to begin from January 2020, with Pune to be the first market, followed by Bangalore. While the company has not announced the vehicle's pricing as yet, managing director Rajiv Bajaj said, "It won't be as high as Rs 150,000."
Nitin Gadkari: "We must make India the EV hub of the world."
Speaking at the Chetak's reveal, Nitin Gadkari said: "I commend Rajiv Bajaj for this effort and I am sure the Chetak will get a solid market response. Amitabh Kant and me have been focusing on EVs since long. India has a Rs 7 lakh crore fuel import bill annually. Products like this are import substitutes, pollution-free and indigenous. We must make India the EV hub of the world. It may be difficult but not impossible."
He added, "We are looking to reduce production costs by reducing logistics and power costs, which will help India become globally competitive. The scrappage policy is coming soon and with it global scrap will come here for recycling."
Amitabh Kant: "The first scooter and motorcycle I rode was a Bajaj."
Amitabh Kant, CEO, NITI Aayog and a firm believer in electric mobility, said: "The first scooter and motorcycle I rode was a Bajaj. The one industrialist who I always admire for his focus on manufacturing in India is Rahul Bajaj. I am a great believer in that the future will be shared, connected and EV world. We are in the midst of the biggest disruption in the mobility world. Like it or not, this disruption will take place, reducing the number of parts from 2,000 (in an IC engine car) to 20 parts in an EV. Lithium-ion battery prices have, over the years, come down from $1,100 kwh to $176. In another three years, they will fall to $75 – and at that point, the IC car will be on par with EVs. Therefore, the total cost of ownership of an EV will be low and consumers will go for it."
He added, "India must be the champion of electric two- and three- wheelers for the world. This is a massive opportunity for India and we need to seize it. We must become global champions for electric two- and three-wheelers. I am delighted that Rajiv Bajaj has delivered an electric vehicle. He has the hallmark of a champion – he believes in delivering the product, believes in size and scale, and cutting-edge technology. Once he has delivered, this vehicle will capture the entire global market. We, in the government, will act as catalysts and facilitators. His perspective of make in India will get all support."
RELATED ARTICLES