Ather Energy to begin exporting e-scooters this fiscal
Electric scooter maker, whose 100,000 unit capacity plant in Hosur will go on stream in December, to begin with limited volumes in FY2021. Also explores setting up assembly plants in overseas markets.
Upcoming plant in Hosur, Tamil Nadu will have 100,000 units capacity, which could help cater to feed overseas markets.
Ather launched the 450X in January this year. The Hosur plant will be the production hub for this premium model.
Ravneet S Phokela, Chief Business Officer: "Our target to venture out of India remains. We are hoping to start exporting to at least two new markets abroad in this financial year, albeit with limited volumes."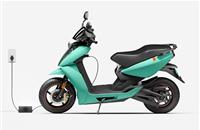 Electric scooter manufacturer Ather Energy is thinking big. The Bangalore-based company, which is to begin production of the new 450X model at its Bangalore plant this September-October, expand into eight new cities in India and is readying a new manufacturing plant in Hosur, is also plotting export of made-in-India EVs. This even as it plans a smooth transition from a company-owned retail model to a dealership model, while pushing an EV battery subscription programme.
What is giving a fillip to the company's export strategy is the upcoming 100,000 unit plant – the hub for the 450X's production. Importantly, giving the adjoining land at the Hosur location, Ather Energy can scale up capacity five-fold to 500,000 units. The Hosur plant is slated to commence production in December 2020.
Speaking exclusively to Autocar Professional, Ravneet S Phokela, Chief Business Officer, said: "We have had an interesting conversation with a cluster in South East Asia where electrics are already popular, so much so that we were very close to doing pilots in these markets and we were in very advanced stages of discussions.
"We saw good interest coming from Europe, from markets like London and Rome, which have the ability to absorb the kind of pricing Ather operates at. We were also in talks with a couple of markets in Latin America — which are somewhere in between South East Asia and Europe in terms of product attributes and price acceptability."
"Our plans have definitely been pushed forward by a few months but inherently, our target to venture out of India remains and we are hoping to start exporting to at least two new markets abroad in this financial year, albeit with limited volumes. While the Hosur plant has the capacity to scale up to 500,000 units using the adjoining land, even if we begin exporting, it just opens the doors for us to actually set up a local assembly plant in that particular market and sell directly there. With a significantly lesser number of parts, it is not tough to assemble electric two-wheelers."
Full interview with Ravneet Phokela in Autocar Pro's Two-Wheeler Special
RELATED ARTICLES