Ashok Leyland's 200,000th LCV rolls out from Hosur plant
The production landmark has come six-and-a-half years after the company introduced its first LCV, the Dost, in September 2011.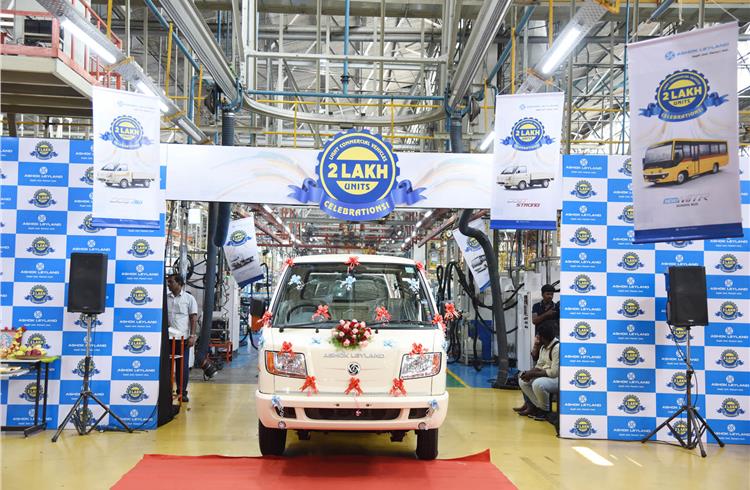 Ashok Leyland today rolled out its 200,000th light commercial vehicle from its Hosur Plant six- and-a-half years after the Dost, the company's first LCV, was commercially launched in September 2011. The 100,000 production milestone of Dost had come up within three years, in March 2015.
In FY2018, the company expanded the Dost stable with the launch of the Dost+, which targets the upper end of the small CV market in the country.
Commenting on the milestone, Nitin Seth, president, LCV, Ashok Leyland, said, "Having 200,000 Ashok Leyland LCVs on road in about six years is a proof of trust that our customers have placed in us. Even with our limited portfolio and no-discount policy, we have always maintained our market share. FY2018 was very significant for us as we achieved our highest LCV sales of 43,441, a growth of 37 percent over the previous year. We ended the last financial year on a high note by crossing the 5,000 mark per month for LCV sales for the first time since we got into the LCV business. For us, this milestone is the beginning of our next growth chapter where we focus on bringing in more LCV products in the market and by increasing the share of LCV exports by making left-hand-drive vehicles to enter other markets."
The LCV space in India is set to see some major action. It has already seen the entry of new players (Isuzu, Maruti Suzuki) and some major product interventions by leading players Mahindra & Mahindra (Jeeto, Supro) and Tata Motors (Ace Mint, Xenon Yodha). Ashok Leyland is also set to step up its game.
"You will see almost a new product coming out from our LCV division every quarter," Vinod Dasari, MD, Ashok Leyland, had told Autocar Professional last year.
Ashok Leyland's share in the LCV (goods carriers) segment currently stands at 8.78 percent only. To enhance this figure, the company has planned a "slew of products".
Also read: Ashok Leyland to launch an LCV every quarter
Ashok Leyland breaks ground on new bus and EV plant in Andhra Pradesh
RELATED ARTICLES