ACMA-McKinsey study urges suppliers to sharpen focus on sustainability for future growth
Comprehensive joint study details five-pronged strategy which calls for leveraging a host of sustainability-led measures which can enable component suppliers to achieve global competitiveness and 20-30% growth in their valuation.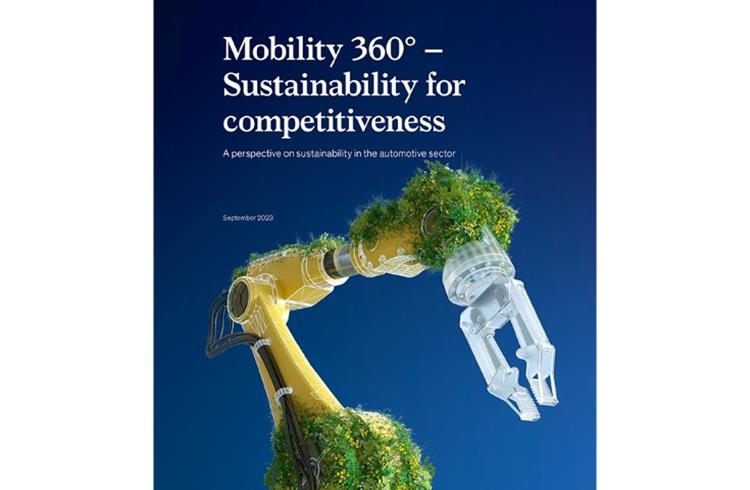 ACMA-McKinsey study details five-pronged strategy which calls for leveraging a host of sustainability-led measures which can enable component suppliers to achieve global competitiveness
The India component industry study was released at the 63rd ACMA Convention in New Delhi on September 13.
Sustainability and innovation are the buzzwords in the global automotive industry, which is undergoing a massive transformation to offer environmental-friendly mobility solutions to cut down on global carbon emissions.
While the automotive industry is making an accelerated push towards electrified vehicles as well as those than run on alternative propulsion technologies such as biofuels, CNG, and hydrogen, it is also making significant progress on making its core operations greener. Use of renewable energy, green infrastructure, and focus on material circulatory, are some of the key initiatives being undertaken by automotive players to ensure sustainability.
The Automotive Components Manufacturers Association (ACMA), which hosted its 63rd annual convention in New Delhi, today, saw it fit to pick sustainability and decarbonisation as the core topics to make its member companies realise the importance of conforming to green targets.
According to Sunjay Kapur, President, ACMA, "Sustainability is playing out in the real world and today, there are over 900 policies on sustainability, including Scope 1 and Scope 2, as well as upstream regulations. Sustainability is an opportunity, as opposed to a challenge, to prove ourselves, and around 180 ACMA member companies have published their sustainability report."
"Sustainability is also being driven by regulations as well as customer preferences such as the increasing switch to EVs, which is also pushing this change," he added.
Kapur mentioned that there is a lot of dialogue around environmental consciousness, and the ESG mandate eventually leads to sustainability. "There is a great opportunity in circularity and the recycling space within the automotive ecosystem, which is changing so rapidly. Therefore, we call it Mobility 360-degree, and that is why the theme of the 63rd ACMA Convention," he said.
UPPING SUSTAINABILITY QUOTIENT CAN ENHANCE GLOBAL COMPETITIVENESS
The component industry body used the convention as a platform to release an ACMA-Mckinsey report titled 'Mobility 360deg – Sustainability for Competitiveness'. The detailed analysis drives home the focus on sustainability for driving future growth and competitiveness at automotive players, including component suppliers. The study's findings reveal that companies can uplift as much as 20-30% of their valuations by deploying sustainability-led growth and cost reduction measures, which are being adopted at a pedestal globally.
The report further states that around 94% of the capital being infused by global automotive companies is related to sustainability measures, and Indian companies are following suit. It further mentions that sustainability ensures business continuity and compliance, and could also be leveraged as a competitive advantage.
"OEMs today are talking about not just their own but the sustainability targets of their suppliers as well. RFQs are particularly asking for decarbonisation targets. India is where Europe was 4-5 years ago, and the inflection point for suppliers has come, and 3-4 years down the line will see the need for sustainability grow tremendously. The industry has to pull up its socks to be able to drive it," said a McKinsey analyst at the inauguration of the joint report.
According to Shradha Suri Marwah, President Designate, ACMA, and Chairperson, Subros, "As more companies realise the importance of sustainability on both their top and bottom lines, they will accelerate their efforts. We, at ACMA, are driving several sustainability initiatives, including the ACMA cluster programmes, which are nudging organisations to deploy technology and align to the sustainability requirements."
"With the US and Europe accounting for over 30% of the components exports from India, the components industry must ensure that it conforms to the sustainability requirements to tap into future growth opportunities. The drive to sustainability would reach an inflection point and likely explode in years to come," enumerated Marwah.
Reiterating the component industry's push on sustainability, Hisashi Takeuchi, Managing Director, Maruti Suzuki India, "ESG will unlock greater value for our business, and while it will not only make us future ready for regulatory compliances, but also enable us to tap into future opportunities."
"New technologies are making businesses more complex, and to ensure continuity, it is important to focus on our core capabilities. This is important for us to make our business sustainable and competitive," added Takeuchi.
SUSTAINABILITY AS A BUSINESS OPPORTUNITY
Sustainability is not an imperative alone, it could also make good business sense. While there is increasing pressure from stakeholders to adopt and ramp up their sustainability agenda, Indian automotive and auto-ancillary companies could see this as an opportunity to capture value in a changing environment.
That's something which ACMA president Sunjay Kapur emphasised in his keynote address at the convention. Kapur said: "Sustainability is an opportunity to prove ourselves. It is also being driven by regulations as well as customer preferences like the increasing switch to EVs, which is also pushing this change."
The ACMA-McKinsey report details a defence versus offence strategy. While 'playing defence' means just managing the bare minimum compliance necessary, 'playing offence' is about embracing new possibilities by going beyond compliance to actively create value for their business. With the global thrust on sustainability, voiced by all stakeholders, the challenge with playing defence is that companies could be staring at a growing cost of capital when they lose out on the benefits or subsidies available to companies doing more on sustainability. Over time, their market share could decline as customers take their business elsewhere, and they could be perpetually in reactive mode, trying to stay ahead of ESG regulatory and reputational risk.
On the other hand, companies that choose to play offence could register a 20 to 30 percent rise in their valuation across EBITDA and multiple expansion, putting greater strategic distance between them and their competitors. The offence strategy rests on five broad drivers:
- Going after new business opportunities: Companies could build new green businesses by tapping into existing assets, capabilities and relationships. - Targeting sustainability qualification–led growth: Offering green products that match customer expectations (e.g., green packaging) and requirements (e.g., carbon neutral steel) could lead companies to command a higher premium in the market.
- Achieving sustainability-led cost reduction: Thrifty, thoughtful use of resources such as energy, water, waste and raw materials could help improve resource efficiencies.
- Improving employee productivity, well-being and morale: Companies could implement a holistic strategy for employee engagement to cut down attrition, boost sales productivity, and control absenteeism as employees feel rejuvenated and inspired by their organisation.
- Growing valuation impact (equity): A compelling sustainability story and credible strategy could drive up valuation and expand multiples.
The survey of Indian auto suppliers conducted by ACMA indicates that respondents find three of these themes most relevant – new business opportunities, sustainability qualification–led growth and sustainability-led cost reduction. Many suppliers in Europe, and a few in India, are already on this journey, and could offer inspiration as Indian companies explore their options.


Riding on strong domestic market vehicle sales of 21.20 million units, a robust aftermarket and steady exports despite recessionary trends in key global markets, India Auto Component Inc delivered its best performance in FY2023. Supplies to the EV industry were 2.7% of industry turnover.
STAKEHOLDERS AS ENABLERS OF A SUSTAINABLE INDUSTRY ECOSYSTEM
The drive towards a sustainable ecosystem will necessarily have to be a team effort amongst all stakeholders. OEMs could support suppliers in their sustainability journey by setting up timely decarbonisation targets and helping them create a roadmap towards net zero. OEMs could also provide targeted support such as access to renewable energy and support on material circularity. The government could explore further strengthening reporting regulations and implementing more policies or subsidies to promote a circular economy.
As per the ACMA-McKinsey report, automotive industry bodies could develop scalable sustainability frameworks, foster capability building and collaboration for innovation, and recognise suppliers who lead the way on sustainability metrics. And private entities such as financial institutions, energy providers and private[1]equity firms could create a conducive environment for these transitions.
Auto component manufacturers or suppliers could be at the forefront of this transformation by prioritising sustainability, investing in energy transition initiatives and working closely with OEMs to drive circularity and invest in green business. The right strategic approach, supported by frameworks to address the most feasible drivers for change, could help make a difference by embedding sustainability in industrial practices and also unlocking significant value.
ALSO READ: India's component industry records best-ever turnover of Rs 560,000 crore, grows 33% in FY2023
RELATED ARTICLES