Thomas Schafer: 'India 2.5 is an initial idea but maybe it has a 3.0 and a 4.0'
As the Volkswagen Group targets emerging markets, Skoda has been given full technical control of the Group's entry-level MQB-A0 platform — the first time it has had responsibility for a cross-brand architecture.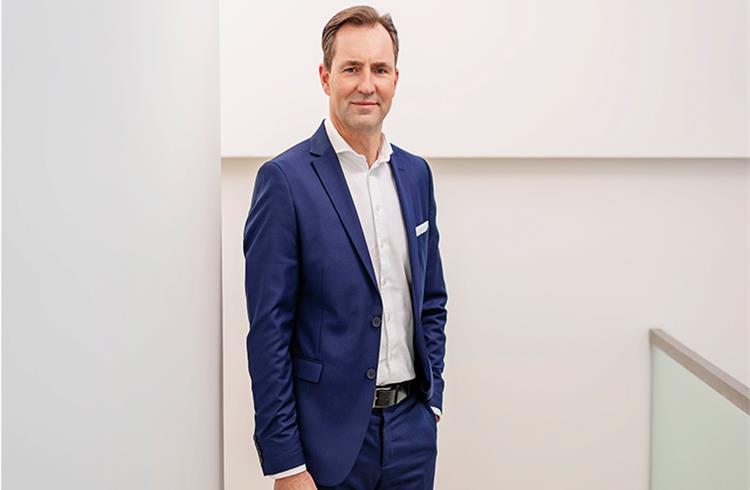 As the Volkswagen Group targets emerging markets, Skoda has been given full technical control of the Group's entry-level MQB-A0 platform — the first time it has had responsibility for a cross-brand architecture. It's a significant step in Wolfsburg's plan to use the Czech firm as its lead brand in India, Russia, Africa, ASEAN countries and Latin America. Thomas Schafer, CEO of Skoda Auto, speaks to Hormazd Sorabjee on the growth drivers going ahead.
On October 14, the Volkswagen Group gave Skoda Auto full charge for developing the Group's existing MQB-A0 Global Platform. The move comes on the heels of Skoda's specially adapted MQB-A0-IN platform for the Indian market. Skoda is drawing on its high level of development expertise, ability to coordinate complex Group projects and experience in entry-level segments to implement this project in individual regions.
Skoda Auto's CEO Thomas Schafer elaborates on the three pillars of focus for the company — Expand, Explore, Engage — that form the crux of the 'Next Level – Skoda Strategy 2030'.
You have launched the Slavia and the Kushaq as part of the India 2.0 strategy. I understand there's not a 3.0 but a 2.5 plan, because you have already got enough investment from this kind of carried forward or saved investment, with which you could do the next few products?
We push forward because India obviously is super invested now — we spent a billion (euros), got the 2+2 models, the factories are ramping up. The teams are working on ideas but it is little too early to ignite the firework because it's a tough area to work in, specifically the sub-4-metre segment is a tough segment. That's why platform work is so important. If you have 70 percent of the vehicle dependent on another group within our big family that does the work for you, that's not doable. But now that we get the responsibility, we can really dive into it but there's still homework to be done. It's not an easy car and as you know, the cars need to look good.
You can't have a car only for India just to satisfy a tax opportunity. It's got to be something that we ideally also want to use the globally. That said, we're not quite finished with it yet. So that's why we call it 2.5 — it is an initial idea, as a working title but we'll see, maybe it has a 3.0 and a 4.0.

The Skoda Kushaq SUV is the first series model based on the MQB-A0-IN platform. Skoda recorded a 116 percent jump in October sales on the back of Kushaq sales. Like the Kushaq and Volkswagen Taigun, the all-new Skoda Slavia premium midsize sedan, which has a localisation level of 95 percent, uses the MQB-A0-IN platform.

But the fact is that Volkswagen has handed over MQB-A0 and possibly it will not be going in for the sub-4 metre segment. The Virtus could be the last mass-market VW brand in India. Is this still a big concern or do you think you will have to open up many more markets to get the scale?
Just because we have taken the initiative, it doesn't mean that Volkswagen isn't coming onboard. This is our first step. We have been working on this idea as we do with the other models too. It always is about scale and that is the strength of our company, that we have more than one brand that can participate. So, don't take it as a given that Volkswagen isn't part of this journey — that is not true, not how it works. But the fact remains you need to prove that it is feasible.
In the phase that we are in and the transformation as a company in general, you need to look at every euro, every dollar that you can possibly save to survive. We have to save time, we are developing IC engine vehicles and battery electric cars, the software topic is consuming billions of euros.
So, this is not the time to do a project for the project's sake. It better be carrying the margins and the financial success of the others, otherwise it's not the time to invest and that's the reality. India has to face this challenge and come up with a plan that is successful otherwise it is not going to happen now.
Do you think there should be some structural changes in India to make it more profitable for global brands like yours because it is a very difficult market and a lot skewed toward the lower end?
Yes, what I mean is we have to do our homework. We at Volkswagen and Skoda do our homework so that we fit into that bracket in a way that actually brings the result as necessary. We are not doing this for market share or for looking good with big numbers. Whatever number comes is under the bottom line; if it is not feasible, then we will not be doing it. This is not the time for experiments; it is the time for bringing in results that finances the overall transformation of the company into the future.
This means what you will bring will have to be profitable. I think there is a different outlook right now where it has to have a business case before you go forward, any new product.
Absolutely, 100 percent. And the Indian operation has to contribute to the overall success of our brand and of the company in general. There is no 'Hey Ok, let's do some numbers and you are going to be cross-subsidised from somewhere else.' Everybody has to carry their weight in order to make this transformation of the future. And the team has taken the challenge. Mr Boparai and team have been working hard and the success proves that it is doable. With models like the Kushaq, Slavia and the Taigun, this is just a fantastic step forward and the right strategic direction.
As regards the way forward, is your strategy a combination of localisation and high volumes or do you feel you still need a little bit more scale to make the bottom line work?
The first key is obviously localisation. We now have the right products, I am very happy about that, it is really focused on the Indian customer. Then you need to drill down on localisation. India is the place to purchase your parts, localise deep all the way down to raw materials and the team has done a phenomenal job but it is not the end. There is always room to do (more) and we can do more global sourcing. And then it's scale. There is nothing else that helps more than scale.
We are lucky because we have two brands from the start which are great at manufacturing, but the factory can be easily mirrored. Ideally, the optimal range for a factory to run is 60 jobs per hour. Now we have invested, the 30 jobs we have optimised to almost 40 jobs per hour. But going into more is always better. So, the space is there and we now need to see the growth of the models. If that continues, we will also continue the investment and ramp it up; that will give the cost advantage.


The first Enyaq iV produced in Skoda's all-electric SUV range was presented to the National Technical Museum in Prague. The company has delivered 28,200 units of Enyaq iV in first nine months of 2021.
Electrification is so much the flavour of the industry. What are your thoughts on this? Could the Enyaq as a CKD be a possibility. Does it make business sense? And with electrification, would you be looking at partners?
Firstly, we are very positively surprised by the success that our first electric car that we have in Europe, the Enyaq, has. We recently won the Golden Steering Wheel in Europe (for the best electric SUV); it has 75,000 orders. We don't know how to satisfy all this demand, which is fantastic.
But the Group in general has lit a bit of fireworks of models across Volkswagen, Audi, Skoda, Seat, Porsche. Everybody is coming out and the magnitude of it is amazing and the general market is leading that way also. Specifically western Europe, it's unbelievable how the demand all of a sudden comes through. And that's not only driven by government incentives or anything; it's really the natural demand is now coming through in many countries, which is really encouraging.
Skoda will probably have 50-70 percent electric vehicles by 2030 in the mix. Some companies are going stronger, Audi is going faster, Porsche is pushing crazily. So there is an amazing push towards 2030 and the fact is that India is now leaning towards it. We are doing the ICE cars and at the same time working on development on the electric stuff. So the numbers we are calling on in investment, in engineering cost is ludicrous and to survive this, it would be easier if we all moved in the same direction.
It's a bit too early to announce anything but there is no way that India will stay behind for the next 30 years. It is a journey — for example, you need a tripling of energy production in Europe to satisfy the journey and that's not coming overnight either.
So, would it be fair to assume that Enyaq is something that could be evaluated. I'm not saying that you're planning to launch it but you could be looking at it?We will probably bring in some Enyaqs next year to test the market, to see how the car performs and so on, get some more intelligence on it. Going forward, we have a clear path into the future and it would of course be great if India is not a stage behind. So, we will see. The transition is not going to be easy but the direction is clear and that's encouraging.
You have taken over MQB A0 which is an ICE platform and also the TSI engine development. Is it fair to say that Skoda will be the last man standing as far as ICEs go within the group and maybe even in the industry?Last man standing, I don't know. We are very successful in many countries that will most likely not transform at the speed that other countries do. The product offering, that's a stretch and to keep supplying them at the same time. A brand like Skoda cannot stay behind, we cannot say we are the guys that are serving those countries only.
Is Skoda looking to cater to that market? Sometimes, it's a part of a group strategy that Skoda would cater to the pure IC markets that remain until they finally transition to EVs.
The question will be how long can that carry on because the reality is that today's vehicles are either developed with a strong focus on Europe, USA or China and maybe Japan and the development cost for models is mainly carried by the success of these markets.
Over the next 10 years, we need to come to some fundamental call on how does the world develop and where can we go with it. That's why I am so focused on a lot of regions that have not had the development yet and there is still a lot of potential — Africa, North Africa. Let's create some opportunity that potentially gives us the time that we can transition for the next 10, 15, 20 years and still be able to produce some IC-engine models that will be ready for many parts of the world even though Europe has gone electric. So, that will be the trick now and I think we can do this. Skoda has the engineering capacity and the cost discipline.
So what you are saying is that there will be no big development in ICEs anymore. You will just be doing developments to meet local regulations, but no new engine family in ICEs anymore?
If you have regionally different regulations, that would make the project immediately unfeasible and to develop a whole new engine going forward now is not the way to go. You need to make sure that the end point is clear. It's electric. Now, we have to get there with the least damage. Since our products are still pretty new and flexible, I'm not so worried about it. I'm more worried about the global demand dipping once Europe dips. Once you have reached a certain threshold and the start of development pulls through, the projects in itself would be really tough to uphold. We will see. It's all a crystal ball at the moment. But I am really encouraged by India also taking steps in the right direction.
When do you see the semiconductor issue easing up? What are still the challenges? How has this impacted Skoda globally?
There is a general shortage, but it's not overly critical because in swings of demand between consumer electronics and automotive, it always sort of equals out. Whenever there was a natural disaster of some sort — Fukushima or earthquakes or volcano eruptions or whatever — the supply chain gets interrupted. But normally it's for a little while, but you can handle it. Then, Corona happened; it was the winter in Texas where factories were switched off. There was a fire in Japan and one of the biggest suppliers was impacted. Now recently, there was the Covid-19 outbreak in Malaysia. Those events caused an interruption of the supply chain that then further down the line sort of ripped a hole in the supply that we had to buy it with for the next six, seven, eight weeks. So, most of these events are now through the system. Now, they are ramping back. I'm cautiously optimistic that for the next two months we can produce half-normally again and perhaps even a little more. It's almost like all shifts have run flat out now. We were standing still for a couple of weeks, it's been quite challenging. For next year. there seems to be still a structural shortage, but not hopefully of the magnitude that we have seen in the last couple of months. So, the next year it will not be out of the system, but won't be as critical.
This interview was first featured in Autocar Professional's December 1, 2021 issue.
RELATED ARTICLES