Tata Technologies' Anand Bhade: 'EVs have changed the way we travel and the way we build vehicles.'
Anand Bhade, president- APAC, Tata Technologies talks about the latest innovations in the manufacturing processes and how the demand for advanced products is actually transforming the entire manufacturing process.
Speaking at a recent round -table session organised by Tata Technologies and NASSCOM, Anand Bhade, president - APAC, Tata Technologies spoke exclusively to Autocar Professional's Ujal Nair on how the digital transformation is reinventing both the manufacturing sector and the customer experience.
In the automotive industry, there is a lot going on at the product end. What are the key disruptions taking place on the manufacturing side?
The automotive industry worldwide is at the cusp of transformation driven by the demand for electrical, autonomous and connected vehicles and also smart and sustainable methods of producing them. The need for evolved products has led to the need for new manufacturing solutions, including IoT, machine learning and machine-to-machine connectivity, which all form part of the Industry 4.0 revolution.
Tata Technologies, being an industry leader in the engineering services space for the past 25 years, has worked with global OEMs to understand the need for digital intervention in manufacturing which forms a catalyst in developing vehicles for the future. In fact, we are the only Tata Group company to be solely focused on manufacturing, which is in line with the vision of Mr Ratan Tata, our Chairman Emeritus, who founded this company. He said, "Don't be everything to everyone, aim to become the world's leading design and innovation house."
Understanding the need for innovative solutions and better products which the industry requires, we have re-invented ourselves in the past 2-3 years in India with the advent of electric mobility, connected cars and autonomous driving. We invested in a lot of solutions for the automotive industry as it forms a big chunk of our business, especially in the electric vehicle (EV) space.
We are currently investing in the 'rightweighting' proposition because for any EV to be successful, the conventional weight of the car has to be reduced. That is why we invented our IP in '5R' rightweighting, a value proposition through which we will achieve the right weight of the car with the use of right material at the right price in the right amount. We have also invested in the connectivity aspect — connecting the car to the phone, to the house, and, obviously, to another car.
In the manufacturing domain, it has been globally observed that PLM (Product Lifecycle Management) solutions are gaining a lot of demand in modern manufacturing facilities as it is no longer a standalone solution but integrated with the whole connected solution. While designing a car, a lot of data is produced and this data is also being shared with global hubs in this connected world.
This is precisely the reason why we have invested in rapid PLM, an accelerator solution wherein an EV manufacturer can roll out the entire PLM lifecycle in its ecosystem, thus facilitating better and swift management of gigabytes of the data being generated every second.
Is there any proof of concept of these manufacturing solutions?
Tata Technologies is currently handling around 11-12 EV programmes around the world. Of these, 5-6 are in China, 3-4 are in the US, and about the same number are in Europe. We are going to start a few of them in India as well. We are engaged with the customer from the concept to the pre-production of the project.
We started our journey in China 3-4 years ago and right now we have about 300 employees in China. The Nio ES8 SUV that was launched in December 2017 was completely worked upon by Tata Technologies. We helped Nio to transform from zero employees to getting a car in the showroom in just 36 months. By conventional car standards, this would have taken almost 52 months. The Nio ES8 is an all-aluminium, eight-seater SUV which has the best lightweighting index in the world.
Nio ES8
Where do you see India in this race?
Interestingly, there is a proposition that we have developed for the customer, which is called RACE (rightweighting, autonomous, connected and electrification). We are working with a few electric vehicle programmes in India. Most of them are in a nascent stage and most of these OEMs are start-ups.
To have 100 percent EV adoption by 2030, first and foremost, India needs to start securing some lithium-ion reserves and we need to see some solid strategy for the battery manufacturing plants in India. A robust charging infrastructure policy needs to be in place too.
To put things in perspective, at present, almost 2 percent of the USA's annual production of 17 million vehicles constitute EVs. China is the largest exporter of rare metals in the world today. 2018 recorded EV sales of 2 million units worldwide. This is 72 percent more than a year ago at an average market share of 2.1 percent. Production of EVs in the US has jumped 80 percent. This is largely because not only is the US government pushing the norms and helping develop greener and sustainable mobility systems but a good amount of contribution and investments made by private players is leading the transformation in the EV ecosystem.
Advancements in batteries in the coming years would definitely kill the EV-related range anxiety issue. Already, battery cost is becoming as low as an IC engine and with the battery density going up, its capacity is also increasing. If Tesla, as it claims, really comes out with a battery with a range of 1,000km from a single charge, then it would beat the IC engine.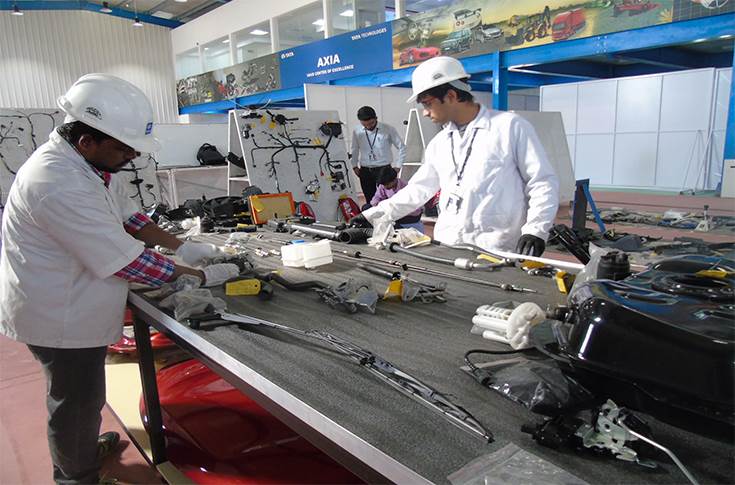 A glimpse of AXIA - Tata Technologies' Teardown & Benchmarking Lab.
How promising is the Indian automotive industry today?
The Indian automotive industry is the fourth largest in the world, witnessing disruptions just like the global auto market in terms of shared mobility and providing opportunities for electrical and autonomous vehicles. The government of India has also given a lot of impetus to the adoption of EVs in the commercial space as well as public transport through schemes like FAME I and FAME II. Tata Technologies is a supporter of the government's 'Make In India' campaign and has actively contributed to developing the local ecosystem for vehicle manufacturing. We periodically evaluate several local players, who could integrate the solution
and make it comprehensive for us.
As engineering, research and development is our core area of expertise, we have locally developed an R&D AXIA VAVE (value analysis and value engineering) lab in Pune, where vehicles are not just designed virtually but undergo a complete teardown, benchmarking, value engineering, costing and frugal engineering.
This 800 square-metre facility is Tata Technologies' biggest multi-million dollar investment for R&D in India. Out of our 17 global delivery centres worldwide, the biggest is in Pune. All this is due to the massive interest being generated in Indian industry, which has led to more development in products in the past five years than in the past 50 years.
RELATED ARTICLES