Rajan Wadhera: 'The Marazzo's platform is a unique one.'
The Vice-President of apex industry body, the Society of Indian Automobile Manufacturers and President – Automotive Sector, Mahindra & Mahindra talks about the Marazzo MPV, leveraging engineering excellence in Detroit, life for M&M as an OEM in North America, expansion plans, India Auto Inc's current performance, the evolution of the Indian automobile industry, and much more.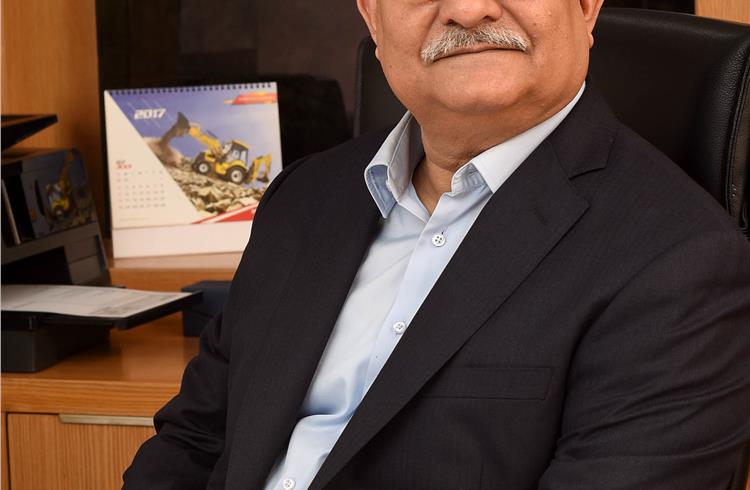 Rajan Wadhera, President – Automotive Sector, Mahindra & Mahindra, and Vice-President of apex industry body, the Society of Indian Automobile Manufacturers, talks about the Marazzo MPV, leveraging engineering excellence in Detroit, life for M&M as an OEM in North America, expansion plans, India Auto Inc's current performance, the evolution of the Indian automobile industry, and much more. An exclusive interview by Sumantra B Barooah.
The Mahindra Marazzo MPV was expected much earlier but perhaps there were delays. How did you approach the project from an engineering perspective as well as the strategic move in the market?
Typically, for any new product development, you work to a plan. We have patented the new platform (U321) which is very unique. It is a new product development, not just product localisation where the product is already developed and then you can lift it to the time. The Marazzo has taken the time that is taken for any new product development.
I believe this is the first product wherein the Mahindra North American Technical Centre (MNATC) played a key role. What kind of inputs did it give?
The advanced engineering of the platform and conceptualisation was done at Mahindra Research Valley. We thought of a platform for a seven- to eight-seater affordable car with certain attributes.
Subsequently, there was the process of creating a technical centre abroad for benefiting from the skillsets and knowledge which existed in Detroit, the city which has been designing and engineering cars for over 100 years and where there is skilled knowledge and experience available.
We wanted to tap that knowledge and experience and, going forward, to make our products global. So we set up MNATC with five people and when the Marazzo was being conceptuliased, we thought, "Why not scale it up?" So we scaled up the centre to 70 people, then to 100 and currently we have around 200 people there. These five staffers started doing the detailed engineering for the Marazzo. We planned for the best attributes of the product within the frugal orientation of the Indian customer because price is very important.
Therefore, there was a struggle because Detroit engineers have a different orientation – they have the knowledge, speed but frugal thinking (for engineers) was a challenge. It was my role – and a challenge – to ensure that we are within what way we wanted the product to be. And I am glad that I have been able to bring the best of the two cultures – our orientation for costs and the engineering excellence of Detroit, that's what has gone into the Marazzo which got prototyped in America.
The initial validation for performance, measurement and tuning was done there, after which mass production, tooling, validation, durability and Indian environment testing was conducted in Chennai.
This patented platform is modular and therefore scalable. What are the 'top hats' that you can put on it?
Yes, it is. It can take a seven- to eight-seater product, be it a crossover or a typical blue-blooded SUV. The lines between a car, hatchback, SUV or MPV are very blurred these days and not as deep as they used to be. Customers are now willing to change over which is why you see a lot of them moving from hatchbacks to SUVs. It's a platform of a C-sized segment, typically seven- to eight-seater, which can be scaled up or down to even a compact segment car.
Talking about SUVs, the upcoming Y400 (Mahindra's version of the SsangYong G4 Rexton) will be quite critical for Mahindra?
Not very critical, because the volumes for the Y400 won't be of that kind (high volume). For instance, the S201 (new compact SUV slated for a festive season launch this year) is the huge number volumes that we are looking at.
So you see this more from a profitability perspective?
Yes, it's (the Y400) a product that is in a different price-point and the numbers are also not very huge; the total industry volume (TIV) is not very huge there, but it's important to have a product there. The Y400 is our tried-and-trusted new-generation platform from SsangYong, Korea and it is doing extremely well. There is a pick-up variant that's also doing very well in overseas markets. This product has all the features required for advanced driver assist, safety and performance.
Coming back to the new Mahindra Marazzo, given that you have inputs from MNATC and MRV, is it fair to assume that it is projected as a global product?
Yes, the Marazzo has been designed by global engineers, almost designed to global standards, and it can meet the requirements for most of the global markets.
Does it meet the requirement of the North American market?The requirements for North America are very different. The product will get too expensive in terms of meeting crash, safety, emission and other norms, which will then make it unviable for India. The Marazzo is targeted at India and similar markets like South Africa and Chile, among others.
Will you consider assembling it overseas?
Not at the moment, right now we are concentrating on India. We want to do well and then look at selling it elsewhere, because export markets are also changing now. It is moving from CBU to CKD markets, and it is not going to be easy.
Any anecdotes that come to mind in the development story of the Marazzo?
There are quite a few in the area of components and aggregates where there was a very deep desire to continue certain generation of parts we have been used to, whether it is in door closures or inside the cabin. But then there was a tussle, and we largely supported and optimised NVH improvement, ride and handling because the level of cars in terms of comfort, noise, ride and handling is going up drastically. That's why I think we have a very good product when it comes to space and NVH.
We debated about the cooling inside the Marazzo as it is a very long vehicle and all the rows need to be cooled equally well. Therefore, for the air-conditioning to cool the entire cabin, we have side vents which enable direct cooling and there is also diffused cooling, which is a very big deal. We are very confident that Marazzo customers are going to love this feature.
As per our understanding, the Marazzo slots between the Toyota Innova Crysta at the top and the Maruti Suzuki Ertiga at the bottom, both fierce competitors. How confident are you with the Marazzo?
Very confident! The product gives us the confidence. And you have already said the Marazzo is there (in between) not because of the size or the spec, that is one confidence level and the other is the product itself.
Mahindra at one point of time was the undisputed leader in UVs. With the market moving towards SUVs, is the company facing strong headwinds?
The market has moved towards CUVs (crossover vehicles), SUVs is our right. We were the ones who had the majority in SUVs, which are typically ladder-frame products. That market has also grown as has our share but the definition of an SUV has changed. A number of crossovers have come in and now the entire market is called the UV market.
Looking at the overall PV market, Mahindra's market share has remained the same, maybe a shade below last year. How do you plan to revive it?
With these three new products – Marazzo, Y400 and S201 – our numbers and market share will go up. For market share to go up, either your current products need to sell more or you have more new products. The UV segment is growing faster than cars, which means more players will come in. Thus, market share will get fragmented and an OEM's ability to dominate will be very difficult and transitionary. Those who have new products will have higher market share for a while, till somebody else comes with a new product.
There are only two homegrown key OEMs in India — Mahindra and Tata Motors. Do you see Tata Motors' revival as a challenge for Mahindra?
They (Tata Motors) are coming up with new products, and we also have to come up with new products. You know what happened to some European SUVs that entered the market and wanted to challenge the Scorpio, where are they now? It's a game of new products and growth will come to those who have them.
How do you see the overall market this year?
The market is good, not only for UVs but also for commercial vehicles, sub- 1-tonne and sub-2-tonne. Mahindra is not only about UVs, we are a large player in CVs too and that industry is growing at around 50-60 percent in the less-than- 3.5-tonne category where we are already the No. 1. We foresee good growth backed by continuing infrastructure and rural growth.
However, there are a few derailers like oil prices, interest rates and monsoon. Also, commodity prices are a very big derailer right now because the ability to pass on price increases could be very difficult. But, overall, I am very optimistic that this year is going to be the year of growth where UV growth will be around 15 percent and CV growth will be good too.
Mahindra has begun retailing the Roxor in North America. How has the response been for a new player in the market?
The Roxor has been engineered on our Thar platform, where 50 percent of the parts go from India, while the remaining parts are sourced locally in America. It's a hobby vehicle for off-roading, one with tremendous capabilities. It is a utilitarian as well as recreational vehicle, you can call it part-sports or you can use it for farm activities and off-roading.
We started production of the Roxor in April and we are already ramping up. The initial response is very positive.
How many Roxor customers have you got so far?
It's not just about how many customers we have right now. We have produced around 800 vehicles, which have all been dispatched and around 400 have already been retailed. The market response has been good. We have around 300 dealers. We will be expanding the dealer network to Canada and some more in California as it is a very big market.
When do you plan to enter the Canadian market?
Maybe next year.
We are a 71-year-old nation at this juncture. India recently overtook Germany to become the fourth largest car market in the world. When do you foresee it being in the Top 3?
We will be able to achieve the numbers but not the quality of the functionality of the cars. Because it is a matter of affordability of the country, and the people who are buying as well as the kind of cars being produced and sold in those markets, the numbers are not comparable. So, volume-wise we may be able to overtake but in terms of features, quality and vehicle size, they are not comparable.
Although we don't see truly high-end cars here, a lot of engineering inputs for them go from India. Therefore, we are seeing the likes of Daimler, Jaguar, GM, Continental and Bosch setting up their technical centres in India. Do you see India playing an increasingly crucial role in the overall scheme of things for these global organisations engineering-wise?
What happens in any build-up of engineering in any product is that there are all kinds of skillsets that are needed. There is CAD engineering, vehicle prototyping, validation and testing. As the skills become more and more expensive in the developed countries, they will get outsourced to different parts of the world. So what you see getting outsourced to India is not the real top-level skills of engineering, it is middle- and lower-level of skills.
What message would you like to convey to engineers who are keen to enter the automotive industry?
My message to all the engineers in India is that India should become the nerve centre for car engineering in a decade. We should be designing our own cars, with our own people, and that needs a lot of work. It needs an ecosystem of labs, institutions as well as boutique engineering and a very high level of knowledge acquisitions, very fast. Then, we can start designing and engineering cars – something that South Korea did in 25 years, we should be doing that in the next decade.
How would you sum up this journey of independent India in the automotive space, with Mahindra being a key player in that?
As a country, we have done really very well in this area (automotive), because Mahindra and Tata Motors are the two OEMs who have been designing cars, SUVs, pick-ups and small trucks through their own efforts, with some amount of consulting help. But they are the ones who have had the courage to design, engineer, test, validate and produce these vehicles. Everyone else is bringing in their own engineered designs into India and localising them; they don't add to the skills of engineers. So, the engineering community building for cars is truly done by the Indian OEMs.
July 2018 sales numbers show that the SUV segment, which is the market driver for PVs, has seen a drop of 9 percent year on year (79,092 units). Is it a blip or are there some reality checks happening here?
I think it is a blip because July had a number of events like a transporters strike, floods in parts of India and agitations including some in Maharashtra. I think it is a blip and not a trend.
Are there any concerns in terms of the growth outlook for the rest of the year?
I think the next 3-4 months, which will see the festive season, will add to sales growth. In terms of the overall scenario, I do not see any big negative factors or headwinds coming. My estimate is that the UV market will have a growth rate of about 10 percent. And the combustion engine vehicle industry will grow close to 30 percent, and that includes some pockets growing more – for instance, the SCV segment may grow faster. These are all consequential to all the economic developments that are going on, increase in consumption, rural growth, and all factors are poised to be positive for growth to happen.
As regards the evolution of the Indian automotive industry, where do we stand today? There are global megatrends that are making their way into India, some with varying degrees, for instance EVs at a higher degree, autonomous at a lesser degree.
These are very interesting times. By April 2020, we will have BS VI, which is the equivalent of Euro 6 norms, and the so-called pollution will drastically go down. Consequent to BS VI production, there is a lot of work that each and every one has to do, and the kind of costs that it is going to add to the products.
Secondly, with crash-and-safety compliance, safety is going to be very important and again there is a regulation on that. Vehicles will become safer and less polluting consequently; we will be very close to global standards. So that is the changing face of the auto industry. It is a big deal, and a lot has happened.
On the electrification side SIAM has given a statement that by 2047 when India turns 100, it foresees a fleet of full 100 percent EVs.
Electric vehicles are the thrust area by the government for various reasons. Obviously, they are very low on pollution except when you generate electricity that adds to the pollution. But, overall, it is part of the energy security for the country. Therefore, I do not see this industry not coming up. The EV industry across platforms – buses, cars and UVs – all-segment proliferation will happen,
it may happen slowly, but I do see it becoming a reality in around 15-20 years from now.
This interview has been published in Autocar Professional's September 1, 2018 issue
RELATED ARTICLES