Naveen Munjal: 'A number of companies are now thinking about ESG goals'
Hero Electric's MD on why increasingly Environmental, Social and Governance factors reflect a company's ethos and its efforts at sustainability.
Naveen Munjal, Managing Director, Hero Electric, who attended COP26 in Glasgow, tells Mayank Dhingra that increasingly Environmental, Social and Governance factors reflect a company's ethos and its efforts at sustainability.
You were one of the delegates at the COP26 convention. What were the key takeaways from a global standpoint?
Globally, there is a huge push towards environment-friendly vehicles as well as for countries to become carbon-neutral. So far, India had not set a goal for itself in terms of when do we want to attain net zero emissions. But, at COP26, India has finally taken the ground and announced that we will become carbon-neutral by 2070 by adopting key measures such as fulfilling 50 percent of the country's energy requirements by renewable resources by 2030, and reducing carbon emissions by 1 billion tonnes by the end of this decade.
Therefore, we have to start looking at electrifying vehicles right away . . . it's not something that can be pushed any further. Achieving net zero emissions also means that not just vehicles, but even manufacturing processes need to be sustainable.
While India is a low-per-capita economy, with respect to carbon emissions, we rank high up in the order with Europe, China and the US being the other large emitters. Therefore, it is imperative to dig our stakes in the ground. Moreover, going electric will have dual benefits — it will be important from an oil-dependency standpoint, as well as from a climate change and clean air perspective. When we think about converting mobility to electric, the two-wheeler segment is the easiest to make the switch.
Has India set realistic goals of CO2 reduction? What efforts are required by the government and industry?
The primary factor is that the goal is now in place. While there is a clear intent and push from the government in terms of policies like the FAME II which is now stronger than before, as well as PLI scheme, the industry has to also step up in terms of doing its bit for the environment and meeting these goals.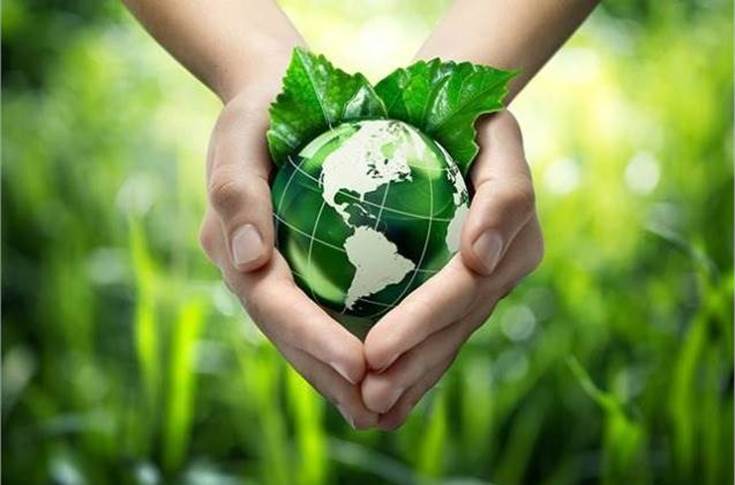 For the industry, the ESG (environmental, social and governance) factors and sustainable development goals (SDG) have to be taken in much strongly and much earlier. Going forward, even markets will be favouring companies which have strong ESG goals in place. ESG will become a very important factor for any company looking to either raise capital or go to market, because environment does play an extremely important role today, especially after Covid. So, a number of companies are going to start moving into that direction.
We also need a forward-facing, unidirectional push towards electrification of mobility and achieving zero emissions. From a governmental standpoint, subsidies are bridging the price gap between conventional vehicles and EVs, but there needs to be long-term policies, as well as infrastructure development suiting the needs of individual vehicle segments.
Do you see schemes such as PLI facilitating India's net zero mandate?
In order to accelerate the pace of EV adoption, we need to set up battery manufacturing facilities in India at the earliest, and in that regard, there has been a very good response to the government's PLI scheme on advanced chemistry cell (ACC) batteries. I am very optimistic that we will see batteries coming out of India in the next 18 months. And I wouldn't be surprised if players run out of capacity earlier than expected. In my opinion, companies should actually be thinking big in this case as local cell manufacturing is going to form the base of the pyramid.
The Rs 76,000 crore incentive for semiconductor localisation is also a very good start and will prompt companies to come to India with this governmental support for setting up manufacturing in the country. The demand has already been there and when we consider EVs, the penetration is less than two percent of the overall market. So, there is a phenomenal headroom for growth of consumption of the semiconductor chips in the automotive sector as well.
Is there enough demand for players to start considering capacity expansion? What is your strategy?
The market for electric two-wheelers is just exploding right now. What was earlier a push market is now being pulled by the consumer. We see tremendous room to grow, which is why we are scaling up capacity in a modular fashion to a potential five million units over the next four years. We had earmarked around Rs 700 crore for expansion and we are on track for that. But it is not going to be enough and we will raise more capital and debt at the right time.
We are also expanding our retail network and targeting sales in excess of 300,000 units next year. We aim to double our footprint from the current 700 touchpoints across India to 1,500 over the next two-and-a-half years. We are also going to significantly increase our online presence as 20 percent of Hero Electric's sales last year came through the digital channel, which is going to play an extremely important role for us going forward. Hence, we are creating numerous touchpoints for customers to be able to approach us.
Will demand sustain and scale be achievable in a non-subsidy era? Is there a fear of overcapacity?
After a while, subsidies should taper down. In my view, rather than adopting a time-based approach, incentives should be based on achieving milestones. For instance, there could be some support from the government upon hitting 25 percent conversion levels from ICE to EVs, and then some on reaching the 50 percent mark, and maybe when we hit another number, one wouldn't need that support any longer. End of the day, businesses have to be built on commercial viability, and not on subsidies.
Honestly, I don't know how many of the announcements currently being made are going to see the light of day in terms of real capacity installation. It may just turn out that a lot of them remain mere announcements as there has to be a supply chain that caters to that capacity, a distribution network and most importantly, customer acceptance for the product. So, everything has to fall into place for a company to expand capacity. Manufacturing facility is just one element in the whole string of things. What I see right now is that a lot of companies are not realising the importance of factors like a strong service network, skilled technicians and spares availability.
Is the industry going to see consolidation of smaller players entering the electric two-wheeler space?
What I don't believe is going to happen is that there would be over 200 companies in the EV space, like what we are seeing right now. When the dust settles down, a lot of companies which have zero experience with automotive and customer facing would not be able to survive and make a success of their business models. That's the nature of the game. It's also not going to be one winner who takes it all.
There are going to be a bunch of players who have a large footprint in the market continue to stay relevant, as automotive is all about a large expanse, large volumes, and economies of scale. Of course, there would be outliers, for instance, very high-performance vehicles, targeted at a particular segment. But broadly speaking, anybody thinking of operating in the mass-market segment, will have to establish a large footprint.
This interview has been first published in Autocar Professional's December 15-2021 magazine edition
RELATED ARTICLES