Liou Jia Ciao: 'Maxxis has come to India because of the market size, not the low cost of manufacturing.'
The commercial head of Maxxis Rubber India reveals his sales and distribution strategy for Maxxis Group in India and his targets in the market.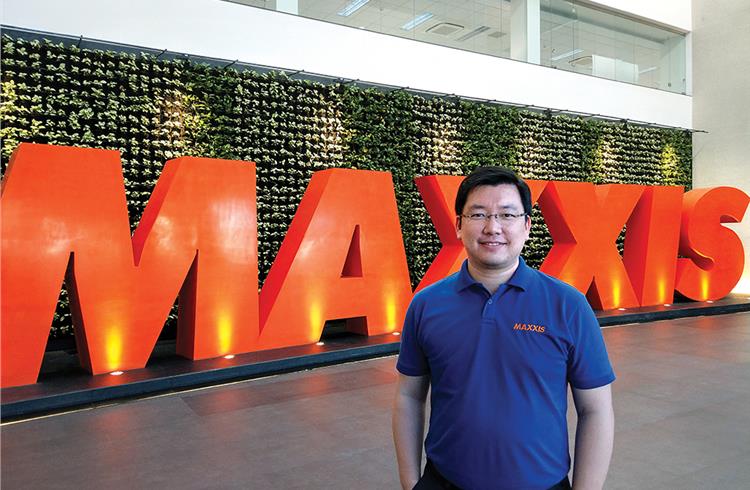 The Maxxis Group, which claims to be the world's largest two-wheeler tyre maker, has opened a new plant in Sanand, Gujarat. The Commercial Head of Maxxis Rubber India speaks on the company's India roadmap, targeting high localisation levels, retail strategy and its readiness to manufacture and supply tyres to electric vehicle makers.
The following is an excerpt from the interview with Autocar Professional.
Maxxis has made a rather belated entry into India. Why did it take so long?
Before we enter a market, we conduct a thorough study. Our India journey began six years ago when our team had come here for a feasibility study. It is going to be a very exciting market and in alignment with our company's goal. India is of huge importance to our global target.
The journey is going to be very tough and it's the first time we have entered a market where the domestic players have a very dominant presence along with advanced technologies and capabilities. When we initially planned to set up manufacturing in India, there were around 3-4 players with premium offerings. Now there are 10 and the market has become very crowded.
Sanand plant, in Phase 3, will be able to make 60,000 two-wheeler tyres, 40,000 tubes and 12,000 passenger vehicle tyres each day.
We believe that only if you know a market well can you make the best product for the market. Tyres are not just a black, round thing for your car – we make the same-spec tyre differently for each country.
What is your sales target and what will the distribution plan be?
We aim to achieve a 15 percent market share in the next five years in the two-wheeler segment (including OEMs and aftermarket). It is not an easy goal but this is what we have set out for ourselves. We have the investment ready and now is the time for us to expand our network and reach, not just with OEMs but also in aftermarket distribution.
We have already started recruiting distributors across India and are looking to further expand our network. Depending on the different markets, size and geographic constraints, we will decide what kind of network to have in each market. In the initial phase, we will be focussing on scooter products in the urban, Tier 1, Tier 2 and Tier 3 cities. After we build our product portfolio, we will move to the rural market.
Are you also aiming to enter the PV and CV segments? And what about exports?
We are already supplying in the segment through our global plants. But supplying products from the Indian plant is part of our five-year plan, but to what kind of scale and commitment to be put in this segment, we have not decided yet.
Visual inspection section at the manufacturing plant
Our key focus is the Indian market but we are already looking at export market options. Since we have a network of around 180 countries, we want to bring the best Indian-made product to all our customers around the world.
How much do you expect the India plant to contribute to Maxxis' global numbers?
Currently, the contribution from the Indian facility is quite minimal but we hope it will be a key contributor for our '2026 company goal' to be among the global top five tyre manufacturers. So definitely, India will need to play a key role in this.
India is home to many global R&D centres, not just for OEMs but also component suppliers and other ancillary industries. Do you also plan to have an R&D facility in India?
We already have an R&D team here for the groundwork, research, validation and testing. It is working in sync with our headquarters, including product development. Several phases of product development have to be conducted in the market only. We will look to expand our R&D to get a better, in-depth understanding of different markets.
In the past decade, Maxxis revenues have increased four-fold. Do you also expect India to play a bigger role in the next phase of growth?
Definitely, we have set India as our strategically most important market for growth. Going forward, you will see us putting in a lot of resources (investment) and expand aggressively here.
India has a deficit in terms of producing rubber. From where are you sourcing the raw materials?
We have to import around 98 percent of raw materials. Initially, getting natural rubber in India was not an easy task. The raw material is now being imported mostly from Southeast Asia.
Maxxis is the official tyre supplier to the Gogoro electric smart scooter in Taiwan.
Our goal is to first maintain our quality; whatever raw material we are using in other plants is being used in India. Nevertheless, we will still localise as much as possible because this is the only sustainable way.
Which segment are you targeting in two-wheelers?
When we talk about any market, we first look at the future of the market. In India, we are supplying to Honda which has a very clear roadmap. Around 3-4 years ago, the motorcycle segment was dominant, now you see scooterisation growing. This is a common trend in other countries too; in Taiwan too, people are shifting from motorcycles to scooters because they can be easily maintained, operated and benefit urban riders. But in the rural market, a motorcycle is still the preferred option.
What's the ratio between OEM supply and aftermarket in India?
Maxxis' brand presence in India has been for very long. We registered the brand here in 1991 but before that we were trading with local vendors and distributors, who would import our tyres and market them here. Back then, we were a small company; we have grown a lot in the past decade. We are now among the Top 10 globally and envision being in the Top 5 by 2026.
Electric two-wheeler owners in Taiwan have taken to battery swapping with ease.
For any tyre maker, I believe a healthy ratio should be 70 (aftermarket): 30 (OEMs). But we have a very clear roadmap that OEMs will be our initial major focus in India. It is the same in China where we supply to Mercedes-Benz and BMW among others. All OEMs know the market and have their roadmaps. Cooperating with them is a good combination because we know what a good tyre is and they know the type of performance their vehicle requires at what stage. In India, it is still preliminary and the ratio keeps changing (60:40, 50:50).
What is your sales and distribution model?
We operate a single-business model across the world – we have distributors. We believe our distributor is not just buying our tyres and reselling it – he is also the co-owner of our brand. Distributors have a better understanding of the market, about what works best in a particular country. We work very closely with them in terms of marketing strategy and other things.
For me, India is not just one country – it's 29 very diverse and very different states, regions. We also want to operate this model with our distributors across India and customise our strategy in each part.
How do you plan to establish brand recall?
The first step for us is to establish what kind of brand we are. I assume many people, if they don't know the brand, think it comes from China. If the customers see that this product (tyre) is approved by OEMs, it brings along a lot of confidence. This is one angle that we want to work around; that's why for us the OEM strategy is very important. Instead of just working with the big names, we will also work with new start-ups and build products for the next phase of the auto industry. So it's about getting OEM representation to show our technology is being approved by them and that we are a global player offering world-class products at a competitive price.
Are you developing tyres specifically for EVs?
We have good experience in EVs. In Taiwan, we are at the forefront for e-scooters and have already built one complete ecosystem. In Taiwan, we are the official 100 percent supplier of tyres for Gogoro, an electric scooter and battery swapping infrastructure company. The battery swapping model for e-scooters is widely available there; it takes around 30 seconds and is hugely accepted.
So is Maxxis geared up for electric mobility in India?
We are already ready for all the challenges. We know when electrification comes what kind of requirement will be sought, and we will be ready with the tyres. We already have successful products for EVs and can introduce our technology to the market and implement it very fast.
Is this one of the USPs for the Maxxis Group?
I think this is one of the USPs since we are No. 1 in the two-wheeler tyre segment in the world. We have a huge product database and it is difficult for us to select which product is good. OEMs is one way (by developing products together); we also conduct rigorous tests along with riders across all types of terrain. India has one of the most diverse terrains. From Kashmir to Kanyakumari, you can find almost all terrains of the world (sub-zero to 50 degrees C). It is a very big challenge for a tyre to survive all kinds of terrains, but we are very confident about our technology.
With different materials used for making tyres, how do products compete?
With tyres, we have always tried using different materials to reach our goal but finally, the economics should also work. We can use the best materials available to create LRR (Low Rolling Resistance) and develop the best tyres, but you have to understand that there is no best tyre. The best tyre depends on your riding. If you ride your vehicle for 20km each day, LRR will not matter much, it does not make sense. But if you travel long distances, it makes a huge difference. Sometimes, people do not wish to invest much in tyres for LRR as their usage scenario is not suitable for that tyre, then it is not the best product.
Will you be targeting export markets from this new plant?
With many OEMs exporting to the African and South-American markets, the Gujarat plant makes perfect sense for us. We will be starting soon as we have already identified certain countries and clients.
How much difference will local manufacturing make in terms of cost for Maxxis?
Not much. Even if you import tyres, the duty is high and now with GST of 28 percent on raw materials, the cost remains almost the same. But it is not that we have come here because of the low cost of manufacturing, it is because of the market.
Can you elaborate on the level of tuning for tyres for different regions?
One has to take into consideration many conditions like temperature, humidity, electrons in the air, road conditions, usage behaviour and weather, among others. It is not similar to building a cellphone that everyone can use. It is a black, round thing that might not look much of a technology product but it is a lot of hard work from the structure, compound, production processes and tuning among others. At the end, the first priority is safety – there is no bigger purpose for tyres. Safety is one thing that we can never forget as a tyre maker. Once you have safety, then you consider mileage and different special needs for different users.
(This interview was first featured in the 15 March 2018 issue of Autocar Professional)
RELATED ARTICLES