Dr Axel Tuchlenski: 'I think it's a lot about improving the local emissions. And that is of big interest for cities in India and all over the world.'
Dr Tuchlenski and his team are playing an important role to make future mobility even more sustainable.
Dr Axel Tuchlenski is the Vice-President, Global Product and Application Development in the High Performance Materials business at Lanxess. Dr Tuchlenski has a rich background, about 20 years of professional experience in the chemical industry. He holds a PhD in chemical engineering. In his current role, Dr Tuchlenski is responsible for research development and innovation of the plastics business at Lanxess. The focus is to provide innovative polymer solutions for applications in new mobility such as electrical powertrains, fuel cell cars, charging infrastructure and autonomous driving. Dr Tuchlenski and his team are playing an important role to make future mobility even more sustainable. Autocar India Editor Hormazd Sorabjee caught up with him for a candid chat on the roadmap for green mobility going forward.
What is the scope for performance polymers during this transition from IC engines to EV? How quickly do you expect to see the transition from IC engines to EVs because a lot of manufactures have also announced that they will be going pure EV by the end of the decade. And just from the performance polymers point of view, how does this impact you all?
To answer your question, it is an exciting transition of the entire industry. I mean, we at Lanxess, we have been supplying solutions to the automotive industry for more than 30 years and a lot is related to applications under the hood. With Polyamide is being used where it's hot, where you need a good mechanical performance of the material, where you need good chemical resistance and all this is fading away now with the transition of the automotive industry to electro mobility. We at Lanxess have started basically back in 2016, so already five years ago, at the time when the 'dieselgate scandal' just started in Germany and also in the US. At that time, we already felt that something is changing and we founded an e-mobility group consisting of engineers and chemists. As a results of this initiative we see even bigger demand for engineering plastics in the electrical powertrain than we have today in under the hood applications.


You said that you had seen the whole issue with Dieselgate and you are seeing this transition away from diesel more towards non-diesel products and even EVs. What are the challenges with EVs? You know with IC Engines one would imagine, as you said high thermal loads, heat, which seem to have gone. Are there any challenges or areas in EVs that are coming up which you need to focus on?
Yes absolutely. There are completely different and new material requirements. For example, everything that is related to the traction battery, whether you take connectors or battery modules, frames for battery module housings, all these components require flame retardancy. Halogen-free flame retardant material, this was a material requirement which was so far completely unknown to the auto industry, but now OEMs are asking for flame retardant solutions just for safety reasons.
Moreover, applications that are related to high voltage beyond 48V have to be equipped in orange color to signal potential danger. This is another new challenge because polymers have typically ageing properties, they tend to turn brownish when they are exposed to higher temperatures. Especially in case of polyamides, maintaining an orange colour for a period of 10 years,over the entire lifetime of a car is tricky and you need to develop material stabilisers, you need to develop new recipes to deliver that kind of function with the material without making compromises in functionality. So, on the one side it is the development of new products and on the other side it is of course about developing the applications.
As you said, moving from 48V now all the way to 800V architectures, which a lot of the OEMs are giving. But Dr Tuchlenski one little bit of a prickly point which the EV industry is yet to give a proper answer is on recyclability. Clearly this is one issue, you talked about the ageing process of some of your materials. Where do you think your contribution could be in this going forward?
Well, sustainability is on the very top of our agenda. Lanxess has committed itself to be climate neutral by 2040 and in addition to that we are also working on pretty specific solutions for circularity. So, one objective is basically reducing the carbon footprint of our material in scope 1, scope 2 and scope 3 emissions. And second is also closing the loop. We will be launching the first 100 percent sustainable material, consisting of recycled polymer and recycled glass fibres. It is very important to mention that this material consists of prime quality. We never compromise on performance when we talk about sustainable solutions. It is always premium quality.
Just moving on to the macro picture which is growth in the EV industry across the globe and the potential foreseen in India – Now, obviously India, in terms of our EV footprint is much smaller right now but government has made a lot of commitment, there is a lot of positive noise so far. But to be honest a lot of the action is yet to be seen. What is your sense on how the EV industry is growing globally and also the Indian potential?
Basically what we see now is a penetration of battery vehicles, which is much faster than we had expected two or three years back. And in Europe with the European New Green Deal, there are pretty strict regulations coming in to play. For instance, in 2035 no new combustion engines will be permitted anymore. The Biden administration in US have the target to increase the share of battery electric vehicles to 50% by 2030, and also China is moving forward. So, I think India is now also picking up, most likely for two- and three-wheelers in the beginning but later on maybe for commercial vehicles and buses too. Back in 2016-2017, we have estimated future powertrain scenarios, for instance how BEVs will penetrate. From today's perspective, we completely underestimated the dynamics of this industry. There's such a big change, we did not believe that this is going to happen so fast and with such a high pace.
This seems to be a pretty common narrative that the pace of electrification has caught a lot of people unaware. So, just to understand, how prepared is Lanxess for this growing demand in terms of investments? Are you accelerating the pace of that for products and services to cater to this growing demand? Do you need to re-look at forecasts from time to time and maybe revise what the projections are, going forward?
Yes absolutely. We are prepared and of course we also are trying the utmost to accompany this growth and the possible change in this industry. We have compounding facilities all over the world, we just recently completed a capacity expansion in Germany. We are thinking about adding additional capacity in Asia and we are also thinking about adding capacity in the Americas. This kind of investments are much more flexible and their lead time is not that long as you would need for an upstream facility. Therefore, we are quite flexible and also fast in adjusting our capacities to the demand. In addition to that, of course we have a global supply network. This means we can also shift capacities from one region to the other.
Just to get a sense, what is the sort of lead time you would need when you suddenly see a certain spirt in a certain market and you feel you need to kind of put in capacity quickly?
Typically, the lead times for compounding are approximately 18-24 months.
Right, I think you have a good flexibility that and are well placed to react to the way the market is growing. But just looking into your crystal ball, five to ten years. Where do you see? Do you think we will be much faster than we felt? And if you could just share some broad numbers with us.
We expect 40 percent of battery vehicles by 2030 in Europe and in China, slightly less in the US. India, to be honest, we still don't have a good feeling for India because it's just now kicking in. But I can also imagine that once government incentives come into play demand is also picking up. In addition to that, we also believe in fuel cells as an alternative powertrain technology.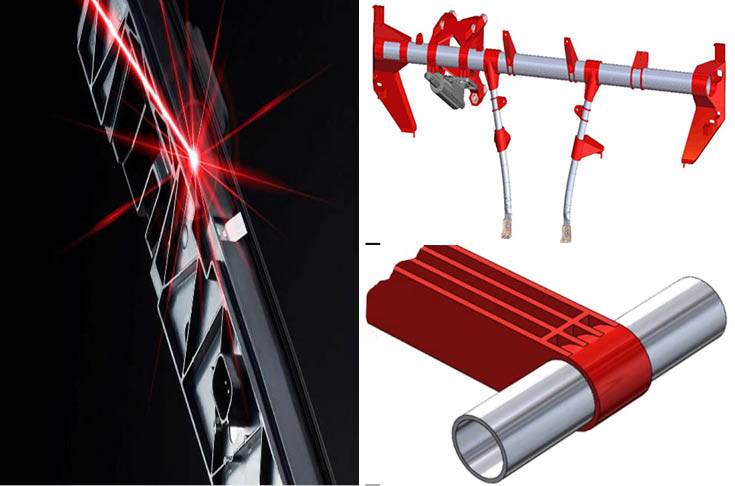 Absolutely, you know in fact, I was going to talk about the charging infrastructure industry, which is something which hydrogen doesn't need. So before we get to that, I just want your thoughts on hydrogen. Do you think hydrogen, though a late starter, but frankly, that could be the eventual silver bullet for going towards zero carbon?
I'm a strong believer of the feasibility, the technical, also commercial feasibility of a hydrogen economy, because simply, if we are looking for instance into Germany, we do not have enough space to supply all the electricity which is needed for industry and transportation just from renewable energy sources. The carbon-neutral energy has to be imported from areas like Africa, the Middle East and I think here in India it is the same. I mean, how do you want to supply the electricity for transportation to cities in India reliable and sustainable? You have to produce the carbon-free energy in remote areas and use hydrogen as a flexible distribution channel. even though you have losses in converting the energy into hydrogen and then back into electricity, simply the fact that you have to transport & store the sustainable energy you need hydrogen. We at Lanxess have technology in place which is used for the coating of the inner liner of hydrogen compression tanks with a polyamide 6. The liner technology was developed to minimize hydrogen leakage of high-pressure tanks. With partners, we are working quite hard on concepts for mass production. Yes, we see big growth potential for our liner technology in hydrogen driven vehicles
Right. So what you're saying is Lanxess is betting on hydrogen as well. And obviously storage is one issue, and clearly that's one area you're focusing on with materials go make it a little bit more feasible?
We believe in both. I mean, for trucks, for buses, for commercial vehicles hydrogen is definitely a viable solution. And if you look into short distance traffic within cities, electrical cars are most likely the better option. So, it's not either- or, it's both basically.
Just turning to the charging infrastructure industry. Of course, this again is one issue in certain markets - the infrastructure sometimes doesn't keep pace with the growth?
We have been also supplying solutions to the E&E industry for more than 30 years. And from that knowledge we had a kind of kick-start into the charging infrastructure. We can already provide solutions for charging couplers. We can provide solutions for charging stations, for wall boxes, as well as for wireless charging. So many solutions from housings inlets and outlets for AC-DC charging, sensors, circuit breakers, covers to housing structure parts, there is a whole bunch of solutions for the infrastructure which is made from engineering plastics. If we talk about electro-mobility, we basically see three areas of growth for engineering plastics. The powertrain, the charging infrastructure and sensors for autonomous driving such as radar sensors, LIDAR sensors, ultrasonic sensors. So, these are the big three areas where we will grow our business.
Which, do you think, are the high-growth markets globally? And looking at your experiences from China, drawing parallels with other Asian markets and India, if you could just give us a broad basis as to which markets you really see a lot of action in? And yes, we know Europe, China, the kind of traditional markets are there. But are there any other pockets where you see a lot of potential?
Well, I see big potential for India. If I look at cities like Mumbai, Delhi with their heavy tail-pipe emissions, I think there's nothing better you can do but change from combustion engines to electrical vehicles just to improve life in these megacities. Yes, I'm a strong believer and I think there are thousands of good reasons to switch to electric mobility. It happens in Germany, it happens in China and it happens in Europe. I am sure it will also happen in India.
RELATED ARTICLES