'We may start some kind of collaborative work with Indian companies and institutions.'
Murata Manufacturing Co of Japan, which makes advanced electronic components, is expanding its operations in India. Jaishankar Jayaramiah met president Tsuneo Murata to learn more about the company's plans for India.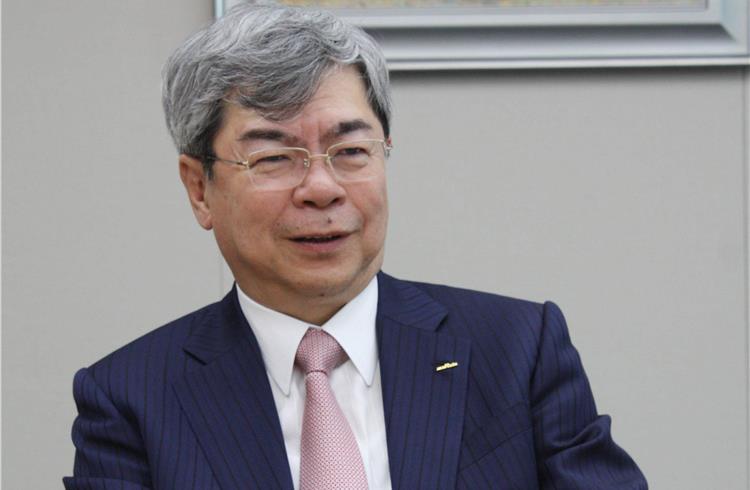 Japan-based Murata Manufacturing Co Ltd, a global leader in advanced electronic components and solutions, is expanding its operations in India. Autocar Professional's Jaishankar Jayaramiah met president Tsuneo Murata on a recent visit to Japan to learn more about the company's strategies and future plans for India.
We understand that you have three-year plans for your global business. What is your plan for India?
We have three-year plans as well as a long-term 10-year plan. I can indicate that the automotive sector looks promising in India for Murata. We are focusing on automotive, energy and healthcare industry among other sectors in India. In our global business strategy, we are focusing much on the developing markets like India.
Do you have any specific target or programme for India and how do you see India as your market?
We see India as very important market for our products. On the other side, one needs to also mention that the market requirements in India have not matured up to the mark of creating demand for our high-end products, particularly in the consumer electronics area.
The automotive segment is growing and we see the potential for our products in the automotive in the coming years. We have already established our sales offices in key cities like Bangalore, Chennai and New Delhi. Currently our Indian operations function under our Singapore subsidiary.
Going forward, how do you see the India automotive industry absorb advanced electronic components like the ones produced by Murata and what kind of business you look from this market?
Our products relating to the automotive industry in India are still used in the dashboard type of products like car audio and navigation systems. Of course, we have products like gyrosensor that can be used in various components pertaining to vehicle safety applications like Electronic Stability Control (ESC). But the demand for this kind of advance electronic products in India is less compared to Tier 1 markets in Japan and European countries.
I believe the Indian automotive industry is growing at a faster pace at present. So it will require lot of new technologies that in turn will create demand for high-end electronic products in the automotive sector.
Your products are more of R&D-based ones. India is emerging as an important R&D powerhouse in the world, particularly in the automotive sector. Are you looking to utilise R&D talents in India, IT talent in particular?
The quality of all our global products is very high. The cost is comparatively little bit higher than the price expected in the Indian market. We may need to develop specific products suitable for the Indian market. To develop such products, we consider Indian engineers to design our specific products suitable for the Indian market. In this way, we are interested in utilising R&D power in India.
So are you looking for some tie-ups with Indian R&D firms?
We may start some kind of collaborative work with Indian companies and institutions which are interested in developing the product which Murata would like to sell in India.
The Indian government is promoting local manufacturing through its 'Make-in-India' movement. Is Murata looking to utilise this opportunity?
Our products are small in size and we are currently comfortable exporting them to India. However, if the requirement arises, we will look for all opportunities offered by the Indian government.
What are your future investment plans in India?
We made a capital investment of Rs 50 lakh in India for our sales operations. The investment plans will depend very much on how the market in India is going to grow. We already have many Tier 1 and Tier 2 customers in India.
Murata is known for acquisitions. Will you be interested in acquiring companies related to your products in India too?
Yes, Murata has been active in merger and acquisitions in the recent past. It made one in 2007 followed by three in 2013, four in 2012 and one in 2014. If there is any suitable opportunities arise, we may look into it.
How do you see India as a source for raw material for your products?
We are studying to utilise some raw materials from India to manufacture our products in overseas countries. Our team in Singapore is studying the feasibilities of utilising some raw materials from India.
Which are your focused regions in Asia?
We produce around 70 percent of products in Japan. The largest manufacturing location outside of Japan is China and the second largest is Thailand, followed by the Philippines. Markets like Vietnam, Indonesia and India are growing. We are putting our efforts to increase sales in these countries.
Which area or sector is your personal favorite to focus in the next five years?
Currently over 50 percent of our sales come from the communication sector. I think this is very much related to cellphone. We are trying to develop new business in the areas like automotive and healthcare. Among these areas, of course, automotive is promising and moving fast with the concepts of electric cars and hybrid vehicles.
RELATED ARTICLES