'We plan to launch 30-odd grades of oil in India next year.'
Nitin Prasad, managing director of Shell Lubricants India, speaks to Shobha Mathur about the company's market plans, R&D initiatives in India, customising lubes for OEs and trends ahead.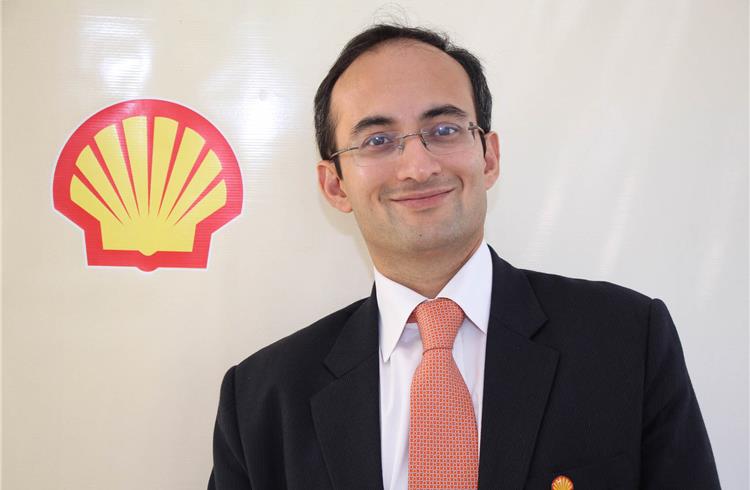 What is Shell Lubricants' future roadmap for India?
The lubricant business has been increasing rapidly and we are working with a number of partners.
If I largely break up the business in different areas, one area is to provide the most technologically advanced lubricants to the market. A number of our customers are focusing on the total cost of ownership, fuel efficiency, better economics and lower emissions, and these are major issues that the industry is faced with today at both a customer level and OEM level. They are looking at the next generation of lubricants that are used in countries across the world.
So our first plan is to bring these solutions to India and create greater awareness about them leading to their higher adoption as they result in greater benefits, higher efficiencies and lower cost of ownership.
The second major area that we want to work in is to partner with large companies and large OEMs as they expand their businesses and move forward in technology and in a globalisation journey to be competitive. Shell is looking to partner with them in all these aspects and help in taking their businesses forward. There are many companies that we work with today – Maruti Suzuki, Hyundai Motor India, Tata Motors – on the automotive side and an equally large number of partners on the industrial side.
The third platform is working very closely to expand the coverage and reach so that we can bring the solutions down to a consumer level – whether it is for a truck driver or a fleet owner or a bike owner – down to small and medium enterprises so that they are all able to take advantage of the solutions and understand the value of these solutions.
The challenge that we see is related to the awareness level about the value of lubricants that is quite low and this might be true at the mechanic level, at the retailer level, and even for the production team in a small factory.
We need to be able to attract these individuals and make them aware about the benefits of these lubricants. We have built a distribution channel and have over 250 distributors across the country and are engaging a large population to create a broad understanding about these solutions.

Can you detail the new technology and new products that you are looking to bring to India?
We have 500 products and we launch 30-40 new products every year. Shell Lubricants has 2,000 customers and services 20 sectors in the country.
In 2014, we launched our PurePlus technology, which is the most advanced lubricant available and has been developed over 20 years. We have spent billions of dollars in the production facility in Qatar for it and are now bringing these solutions to the Indian marketplace. It leads to fuel efficiency of over three percent as well as longer maintenance cycles. It was launched in India in September and in October we launched a Tata fuel economy oil that also gives a benefit of three percent and beyond.
Equivalently, we have rolled out products for the industrial sector that look at both low cost of ownership, thermal properties, longer fuel span and also drain intervals for example, for construction equipment and the agriculture industry we have taken the lifespan of oil from 250 hours to 500 hours. For TAFE, we launched a product this year that increases the drain interval for tractors from 250 to 500 hours almost doubling it, a solution that they wanted to offer to farmers.
Which other new products will be launched in 2015?
We plan to bring more fuel efficient and more leading- edge solutions as well as better technologies. We will probably launch another 30-odd grades of oil next year.
Which type of lubricants are OEMs asking for?
As emission standards become more stringent, moving from Euro 4, to Euro 5 and to Euro 6, it is very important that the lubricant supplier works at the design stage of the engine. Hence, we work with the OEMs at the starting point, on what we call the co-engineering model, so we trade off solutions both in engine design and the lubricant design. The created lubricant works for the specific engine and delivers an optimum solution and as the engine becomes much more complicated, it goes after the leading edge specifications.
This is an area that we have been working with a number of Indian OEMs – Volvo Eicher, Tata Motors Maruti Suzuki and Hyundai Motor India – to develop solutions. We start at the OE level and work at the workshop level, with OEs franchise workshops to be able to realise the solutions.
We also work in the aftermarket with independent workshops as well as retail outlets, at consumer level and at mechanic level. You have to work on end-to-end solutions across the value chain to make them work.
In terms of engine management, how important are lubricants in enhancing engine performance?
They are very important in terms of performance of the engine delivering three percent fuel economy in a world where adulteration is very high, and the sulphur content in fuels is also very high; the strain and stress of overburdening is very high so it delivers a step forward in savings.
A three percent fuel saving is more than the cost of the product itself and leads to substantial savings under very difficult conditions. As emission standards become more stringent, it will be very difficult for car companies to meet those standards unless they work in partnership with their vendors and suppliers and we have seen similar challenges in Europe.
When you talk of customising lubricants for the OE, does that mean different requirements for each manufacturer?
Absolutely. Many OEs have different types of lubricants in the market – a category that is OE branded and these have been heavily tested and heavily customised for the applications.
There is a category of lubricants that is OE approved and tested and co-branded and there is a category that is based on specification needs and has a range of benefits. Clearly, the more closely you work with the OEM towards designing the lubricants the better it will be.
Can you elaborate the R&D initiatives of Shell Lubricants in India?
We have a broad portfolio of R&D. We have a major facility in Bangalore that carries out global R&D for the Shell Group and is one of three facilities across the entire Shell organisation.
We spend about $ 1 billion on R&D every year globally in a sequence of three different areas – on the innovation side creating the next generation of products and solutions; the PurePlus oil is part of that innovation.
We work on a partnership basis with companies like Ferrari, Ducati and Tata Motors on a co-engineering basis and thirdly on an application basis using technology and providing services to customers to use these technologies better. The three global R&D centres work hand in hand to develop technologies and new products.
What is the current status of Shell's India operations?
We have invested $1 billion in India so far and have a diversified presence. We have an LNG facility at Hazira and a new energy facility is coming up on the East coast, besides financial outsourcing in Chennai, lubricants, aviation among others. For the lubricants business, we have four offices and 250 distributors in the country and provide services across India.
Can you elaborate Shell's plan for LNG? India was developing a grid pipeline for distribution of gas. Does Shell see a role for itself there?
The grid pipeline is for distribution of gas and depends on what your source of gas is – there are two different sources, gas that is extracted and gas that is imported that is the liquefied natural gas side of business.
Gas is clearly a major technology on which India needs to spend more in terms of developing infrastructure. There is plenty of gas in the world and is a credible alternative to crude oil that can reduce our dependency on oil and equally important is CO2 efficient. In terms of generation of power or utilisation, it reduces CO2 compared to coal or oil based power plants. So it is a technology that most countries need to think about adopting.
How big is the lubricant industry in India and how is it expected to grow?
The Indian lubricants industry is one of the fastest growing sectors in the world. The market has grown at a CAGR of 17.8 percent during FY 2008-2012, expanding from $ 1,044.87 million to $ 2,014.85 million in the same period. The overall lubricants industry in India is expected to grow at a CAGR of 11.5 percent to $ 7,713.7 million in FY'2017.
All the national companies are players in the market – Shell, Castrol and Mobil. We focus on specific sectors that we call the available sectors and hold a 10-15 percent market share in those sectors.
Lubricants are available in different parts of industry whether it is agriculture, manufacturing, construction, infrastructure development and is heavily correlated to GDP. The lubricant industry has been growing but slowly as the GDP is running at about 5 percent; higher the GDP growth, the higher will be the growth rate in the lubricant market.
Currently we supply 60 percent lubricants for the automotive market including tractors and 40 percent for industrial use. Rural consumption forms a much smaller portion of the total consumption pattern.
RELATED ARTICLES