'We have only just embarked on our journey.'
Frank-Werner Mohn is one of the fathers of the ESP system – the decisive idea came to him during a business trip to Sweden.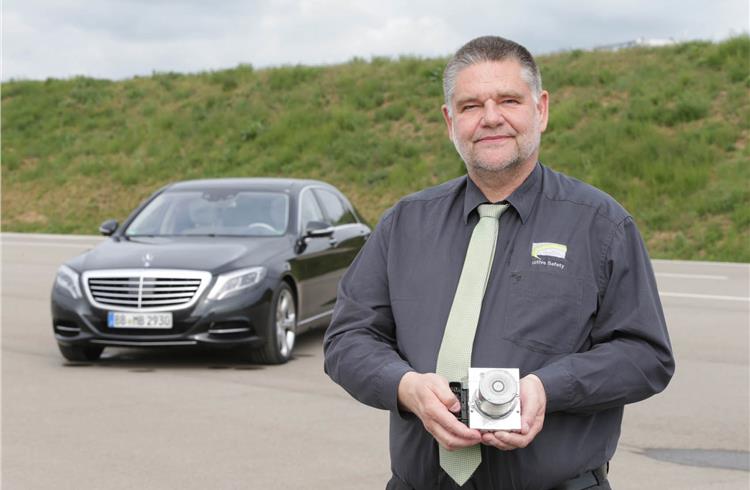 Frank-Werner Mohn is one of the fathers of the ESP system – the decisive idea came to him during a business trip to Sweden. After studying mechanical engineering at RWTH Aachen University, in 1982 he embarked on his professional career at Daimler. In 1987 he switched from engine development to the electronics group, taking on responsibility among other things for the pressure metering of what was a brand new system at that time, namely ABS. Today the 57-year-old qualified engineer works in the driving assistance systems department of Mercedes-Benz. In addition he gives lectures on vehicle construction and driving dynamics at the Mannheim University of Applied Sciences.
Mr Mohn, the catalyst for inventing ESP was an accident in Sweden. But not the accident which everyone now automatically thinks of…
Precisely, I have even kept all of the documentation relating to the expenses claim made at the time. You see, at the time it was called "recovery assistance", and the towing operation cost 485 Swedish krona. On the way to some test drives in the north of Sweden, on 29 January 1989, I ended up in a ditch.
It had been very cold at night, then the sun came out, and as a result the road was as smooth as glass in the middle of the day. I was driving a 124-series Mercedes 300 E‑24, gave a bit of gas, the rear end broke away and we eventually ended up stuck in a wall of snow near Strömsund. Of course it also had to happen precisely where the entire test team were on hand to witness me "going for a ride"…
Wasn't that rather embarrassing as a young engineer?
Yes, so much so that I wasn't able to sleep over the following nights, and I spent my time pondering how such a thing could be avoided. Clearly the lateral forces had been too high at the front and too low at the rear.
So in a manner of speaking that was the moment at which ESP was born?
Yes. I came upon the idea of stabilising the vehicle by means of forced braking.
Where did things go from there?
I was able to convince my head of department at that time, Professor Adam Zomotor, about this vision. In April 1989 I took on a new task involving the verification of vehicle models, and was assigned an employee, a young engineer called Thomas Wohland – and unofficially we pursued the idea further. Initially we developed a mathematical model for calculating torques, which we were able to present in the form of the three operating conditions of oversteer, neutral and understeer.
This wasn't possible without any hardware though, was it?
No, we got hold of the necessary components from colleagues, through direct official channels. You mustn't forget here that at the time, ABS only came out with two speed sensors at the front and one at the rear. We needed the sensor system on both rear wheels, and just about managed to cobble something appropriate together. Later we had to deal with the vehicle's rotation around its vertical axis – this gave us the idea of using a gyro sensor from a model helicopter… Ultimately, at some point in the winter of 1990 we were ready and had fitted out a functional vehicle. On board we had a display similar to a traffic light, with three lights, and the corresponding light flashed depending on the driving condition.
So after two years of undercover advance development work, in the spring of 1991 it was time for the showdown?
Yes, we were able to demonstrate our prototype, an inconspicuous mouse grey 124-series model, at an exhibition for developers in Arjeplog in Sweden. Joining us on the test drives was a colleague from transmission development, who was a very careful and rather slow driver. Once in our self-stabilising vehicle, he immediately drove around the frozen lake almost as fast as the others – his enthusiasm also certainly contributed to series production development then taking off…
Was this in conjunction with Bosch?
Yes, series production development began in 1992. More than 40 engineers from Mercedes-Benz and Bosch, including Anton van Zanten, another father of ESP, worked on the project and competed with each other to build cars. At the time I stayed in the Advance Development section.
In 1995, the Mercedes S 600 came onto the market as the first model fitted with ESP as standard. So today, 20 years later, has the topic of ESP been exhausted?
No, further development has been rapid over the years but is not about to stop now. As far as I'm concerned, we have only just embarked on our journey. There are still so many possibilities: from networking with other safety systems, which is something we are currently already doing with 'Intelligent Drive', through to linking with the information from other cars using Car-to-X technology.
Read more: Mercedes-Benz celebrates 20 years of life-saving ESP
The above interview is courtesy media.daimler.com
RELATED ARTICLES